Shinybass journal entry 01-16-12
Life moves pretty fast.  If you blink, you may miss something.
Good morning!  If you are reading this, then you are breathing, which is key to being alive, which is what we need to be everyday – alive.  Alive with wonder, determination, a good umbrella, and the number for a good handyman. I guess the umbrella is optional, really.  In the movies there is always someone trying battle the rain with a newspaper.  How well does this work?  It sounds like making a papier-mache submarine to me.  Ahh Hollywood.  Oh, how they can take a story and completely ruin it.  And because it was on the big screen, we believe it.  'Based on a true story' is such a crappy disclaimer.  That's like saying Big Mountain's version of 'Baby I Love Your Way/Freebird' is based on an actual song.  It is, but MAN, they screwed it up…
Forgive the gypsy-like meandering of my mind this morning, for I am working on a little less sleep than usual.  This is extremely strange, because I was on the bus for 20 hours yesterday.  One would think I was well-rested, but alas, I am not.  I have my reasons – if I sleep all day on the bus, then I won't want to get to bed when I get home, and I get up early, making my actual sleep a lot less.  If I stay up, then I sleep better at home, but since I was down at 1:30 and up at 6:30, now it's all a mess.  Of course, my brothers (and everyone else) with small children laugh at me right now, wishing they could have 5 hours of uninterrupted sleep.  The bed is always greener.
The reason for the long trip was a show at the Grizzly Rose in Denver.  The rest of the band was on the road all week with acoustic radio shows, so I flew into Denver on Friday to meet up with the boys.  There is something wonderfully pimp about being picked up at the airport in a tour bus, even if it isn't your name on the title in the glovebox.  Friday we were treated to dinner by Phil and celebrated our one-year anniversary with the organization.  I can't believe it's been a year already, but wow, what a year.
The past year with Phil has taken me places I never would have dreamed, and been able to experience life on the road in a more fulfilling, rich way than before.  The crew I am with now wants to get out and see things – lots of things – and our days are filled with adventure and finding treasures on the road.  From vintage airplanes in Chino to 18th-century bars in Maryland to hanging out with a 90-year-old Little Jimmy Dickens at the Grand Ol' Opry, this past year has been nothing short of amazing.  We've played a number of beautiful theaters, rocked 15,000 at Summerfest, and paired up with some of the biggest acts for memorable shows.  We've eaten brisket in Texas, BBQ in Kansas City, chowder in New England, and lots of coffee and microbrews in Portland, Oregon.  My friends tell me they live vicariously through me by reading about my exploits on the road.  I hope I haven't let you down.
The first big show of the year for us in 2012 was really a great one – the place was packed and not soured by the loss the Broncos suffered that evening.  We debuted a new song that night called 'Don't Miss Your Life', which is a song that almost moved me to tears the first time I heard it.  It hits home with a common thread that binds a lot of us – that we are so busy with 'life' that we are missing 'life'.  It makes a lot of sense.  Don't work so hard and miss the things that are important.  It makes a lot of sense.
As the year moves on, I think this will be the next single release, and I am hoping it does huge things for Phil.  If you saw the amount of work he put into his label last year, you would be amazed.  He was running the show, in addition to the concerts and radio/TV appearances, he was also taking care of his kids.  His devotion to his family and to his craft is amazing.  Inspiring.
Only one picture this time around – it seemed that with the clouds, I was looking at a kind of window.  There is a beautiful serenity to seeing mountains, but I think in our subconscious we look at them and want to conquer them.  And that isn't a bad notion at all.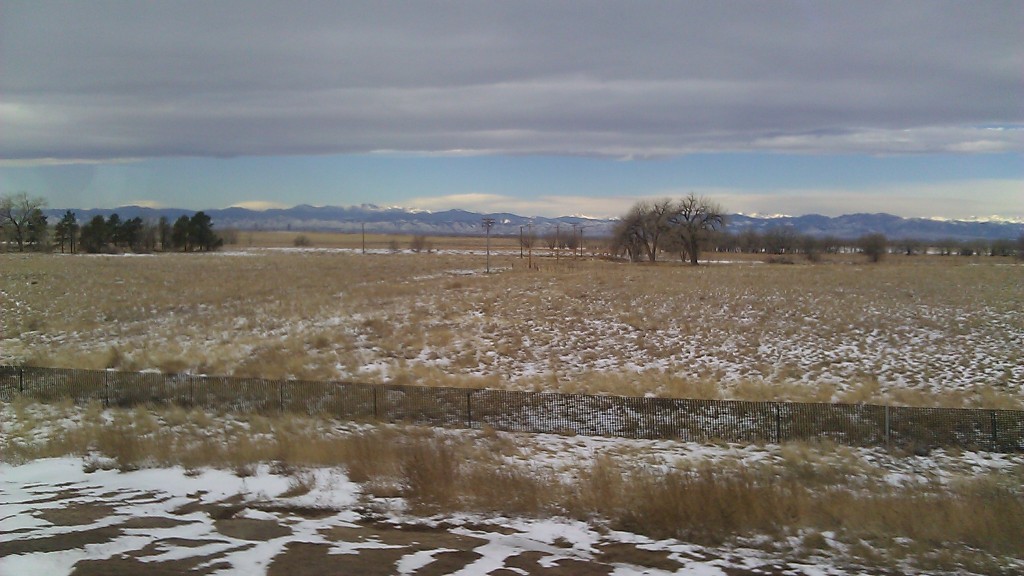 So enjoy your Monday, and go climb your mountains.
See you on the road!
---
---