06-13-15
2 weeks from anywhere…
It's been 2 weeks since I checked in, which in dog years is like 2 weeks. I promise you I have been busy in the downtime – crazy busy to be exact – and these words have been pinging around the pachinko machine that is my brain, aching for daylight. The world is still turning, fast as hell for some, a snail crawl for others, and for me, it's all of the above. To wake up and have purpose is the greatest gift someone could ever have, and lately I have been purposing like a sonofabitch.
As you may know, I am a Dad. That's job #1. That would be full time, but those with kids know this. I suppose I could say 'The usual stuff' if you ask me what I have been up to. Video, music, writing, dog hair sweeping, lawn maintenance. Pretty much boring, right? Not really. As the age-old expression goes : 'It's always something.'
We've been in the studio with Phil again getting more tunes ready for a record. There are like 700 in the can or something close to that. We're thinking of releasing a 10-disc opera based on War and Peace. I think that will show those bro country guys who's really running this show. Or we could go all ukulele/piano duets. It's a coin toss.
My video work has been ramping up lately – I am putting the finishing touches on another corporate video, and I am getting some personal videos together to get out there. Not that I want to be a 'chops' guy, but I know the road needs to be seen by more than just us few folk.
And speaking of road, yes, we've been on it. There's been a few days between shows, so I shall get you caught up here, then in a few days, we'll move to the CMA Fest wrap up. (See? It's almost like a cliffhanger, but without all that movie theater and talent business).
Our lone show last week was in Fargo, ND. Yes, Fargo. I suppose that the name itself describes the amount of travel it will take to get there. Luckily we flew the friendly skies to reach the land of funny accents and woodchoppers. I don't think I've spent much time in Fargo. The last time we played there, I think I saw the stage and the hotel for a grand total of 3 hours. This time, we flew in rather than bussed, getting us in a day early. I don't like missing time at home if not necessary, but I can honestly say that Fargo is pretty cool.
Upon arrival, the first order of business was food. Fargo has a great indie food scene downtown, and we were hipped to the Vinyl Taco, a Cantina that spins records during the day, scratches and all. Simply amazing food, and the atmosphere was hip without being hipster. My kind of place.
After filling our bellies with best taco Fargo has to offer, we walked the downtown streets, which was hosting a classic car show. Now we're talking people. This was going to be a good walk. In addition to the cars, there were lots of great things to see. I found my four-sided clock, and the old train station was now one of the coolest bike shops I have ever experienced. The Catholic church was simply breathtaking, and the coffee at Atomic was slamming.
The next day we headed to sound check at the Rib Festival, and after a few quick tunes, we had some time to kill. I couldn't have planned this show location better if I tried: The Fargo Air Museum was a block away. Score!
We had a big ol' crowd waiting for us when we arrived that night. That makes the night go a lot better.  10,000 people lining the stage makes for a great time, and the weather couldn't have been nicer. Fargo was fast becoming more like a nice place to live, but then I remembered the snow. I'm good in TN…
Sometimes I take random pictures just for funsies, and my tele bass dramatically leaning against this Marshall 412 cab gave me 1977-era punk thoughts galore. I would never actually play through that rig. Well, never is a long time. Yes, I would crank the hell out of that rig.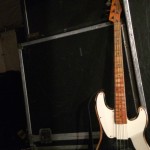 The Rib Festival in Fargo had an interesting lineup over the course of the weekend. The night before us had Fastball and Gin Blossoms, the next night Phil, then Jackal, LA Guns, and Great White on Sunday. A little something for everyone, I think. The bass player for Great White hung out for our show, and he was great to talk to and get some inside scoop on the rock world.
Our flight home was early, but that just means we get home a little sooner, too. We generally fly Southwest, but this time we were on another carrier, and flew through O' Hare rather than Midway. The beauty of it – I win either way. There are WWII planes on display in both airports.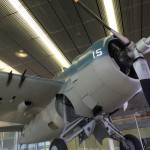 So there you go. LOTS of travel for one show, but totally worth it. Downtown Fargo is pretty cool, and I can honestly say that I would visit again on my own just to get a little more crusty with the locals. I love downtowns that have been properly restored, and kudos for small towns that get their acts together to attract local businesses. It's a win/win for all.
Next up – CMA Fest wrap up. I know, you can probably hardly stand it. I'll be as painless as possible.
See you on the road!
---
---