11-14-11
Yins gone dahntahn?
That's the best way I can spell the 'Pittsburghese' expression meaning 'Are you going downtown?'  'Yin's', I have gathered from years of research is short for 'you in's' (or 'you un's), which is similar to 'you all' or 'y'all' for our southern friends and family.  Confusing?  I thought so as well.  It just takes some getting used to.  In the same way that folks from Pittsburgh need subtitles to understand anyone south of Maryland (yes, southerners – we have accents), the find people of Pittsburgh have their own wonderful way of doing many things (Primanti Bros. anyone?)  And hearing the accents this past Saturday was music to my ears.
Originally to be the third show of the week, our show in Greensburg, PA was a 'one-off', with the other shows being moved to later dates.  When not in the typical touring groove, I sometimes forget things.  This time is was a razor and saline solution.  I did manage, however, to bring my credit card, my bass and my GPS.  When I got into Greensburg, I drove into Pittsburgh, the Steel City for a little family time.  I managed to snap a couple of pictures while 'dahntahn' but no clocks.  All I got were leaves. If that seems confusing, read on.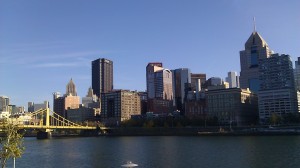 My family has been in Pittsburgh for a while.  I think we've had a representative of one side or the other for over 100 years.  My Grandfather on my Mom's side used to watch wresting in the appliance store windows, and my Grandpa on Dad's side used to get tickets through work to see the Pirates play.  I never saw Forbes field, only went to one baseball game at Three Rivers, and have been to PNC a few times.  On October 13, 1960, my Grandparents were at Game 7 of the World Series where 'Maz' hit the homer to win, arguably the greatest in baseball history.  The Pirates recently dedicated a statue to him and this feat.  You can see the original shot here.  My grandparents are somewhere in the crowd…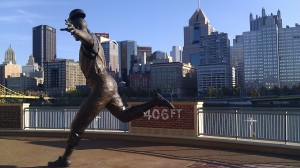 When the statue was conceptualized, the powers that be made a push to offset the cost by offering fans to be a 'part' of the display by selling leaves to symbolize the ivy at Forbes.  I was lucky enough to get the last two spots.  I am glad we did.  I like to think they watch a lot of games now.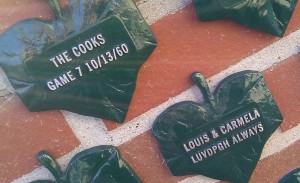 And then the brief afternoon was over.  I had to head back to Greensburg to play the last 'real' full band show of the year.  The Palace Theater is beautiful, and a real treat to experience.  We were a bit 'loose' that night (well, more than usual), and in great spirits.  And I was able to wave my terrible towel onstage, so life was grand.  We were at a local watering hole for a few minutes after the show, then it was off to Nashville.
I am not going into the official 'year-end' summary yet – we have shows in Nashville with Charlie Daniels for his charity, and a private show (on my birthday no less), so we are back on the bus again before New Year's Eve.  Maybe I'll have a year in review photo display of all the stuff that hasn't made the journal.  It's mostly silly bus stuff involving Brock and Andy.
So now the real fun begins.  I have taken on a client (my first real client) and started editing video.  The final edit is going out today, so I am pretty excited about that.  I like editing video, so it's a great side project, but my passion for making music has suffered.  So with the time off, I am happy to say a balance is about to be struck.  And not a moment too soon.  I was about to go crazy!
I hope this last week of nice weather is a good one for you – at least here in the middle of the country.  I have a sneaking suspicion that it will be a brutal winter since we have been rewarded with 70 degree weather this late in November.  Today is a gift, that's why the call it 'present'.
And don't worry, I will be documenting my 'off time' as well.  There may be more dog pictures than anything, but at least he'll be cute.  Enjoy the week!
See you on the road!
---
---