Shinybass 11-11-13
Money, meet mouth.
Yep.  It's 'money where your mouth' time is. (Again).  For real.  Honestly.  No sky is falling or crying wolf – the sky IS falling, and there is a wolf at the door.  I, Steve Cook, being of sound mind and body, as proclaimed on this day, the 11th of No-shave November, will finally record a 'solo' album.  Yes.  That scary, dreaded word – 'solo' record.  It's not like I have a band or anything anymore, so I guess it's just a record.  And it's never really a solo record (unless your name is Matthew Sweet), and so because of this I will be soliciting the help of some great musicians and dear friends to help with the project.  For the record, (no pun intended) it won't be country, and it won't be 'acoustic rock'.  So all of you that know me from Phil Vassar, Luke Bryan and Bucky Covington, well, you'll probably hate it.  For those that know me from King Konga and Sister Hazel, well, you'll hate it too.  So that pretty much only leaves my family to purchase it.  My marketing degree is NOT showing itself right now… I will say this – it will be heavily influenced by R&B and soul, which are two of my loves.  Yep – white boy sings the blues.  Or something like the blues.  In the spirit of Dr. John, The Funky Meters, and shades of John Lee Hooker, I am channeling my inner New Orleans, and hope to sell a copy or two.  There.  It's out there for the world to see.  Now I have to make good.  And that whole 'you'll hate it part'.  I was just kidding.  You'll love it, and you'll want to buy into the project early.
And now on to something completely different.  Not that much different, I suppose.  We have been lucky enough to play some outstanding shows lately, and I think I've been making some folks jealous.  I failed to post last week, just because I was a little behind on some homework, however, now that I am home again, I can focus.  And honestly, recovering from two days at the Fairmont Princess at Scottsdale was rough.  All that fresh desert air in my lungs and chlorine in my bathing suit and all.  Terribly difficult indeed.  And In-n-Out.  Can't forget that sweet artery-clogging goodness.  We had a private show out there, and took an extra day take in a Suns game.  As you can see, this weekend was awful.
Then the week of work hit at home. Yadda yadda yadda, then back on the bus Thursday night for Wisconsin.  It's a harsh reality going from the beautiful, sweet desert air to the chilly latitudes of Eau Claire.  I will say, however, as reluctant as I was to wear my tuke around town, it was needed, and I am happy I took my usual walkabout.  I stumbled upon a fun store called 'When I'm 64', a Beatles memorabilia store that had some great old items.  There I met the store owner, Eli, who told me about a reggae band playing later that evening, after our show.  More on that shortly.
You would think that Eau Claire has the romantic charm of a root canal, and for some, you are right.  For me, I saw a revitalized downtown, with riverfront trendy lofts, old-school blue-collar corner bars and I loved it.  Our show was a huge boost – the crowd gave and we gave back.  Then Brock, Jefferson, and myself went off to seek out Wisconsin reggae.  And we found it.  The band was Tugg and they completely rocked our world.  They were tight, non-stop, and the energy was genuine.  I found Eli, and we had us a big time, until our land sub came and picked us up out front (that's a little pimp, I'll admit), and I was happy that we had some time to get 'crusty with the locals'.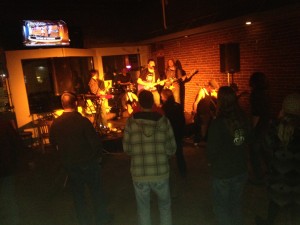 After a grueling 200 miles, we were once again in Green Bay at the Meyer Theater.  If you know the area, then you know about Al's, a greasy spoon of legendary status, serving burgers and cheap breakfast since 1934.  Well, they had a fire not too long ago ( I guess the grease finally met its match ) – yes, I just said that – but I am happy to report that they are once again open for business, and the food is as wonderful as ever.  So burger on, my friends.  Burger on.
What can I say?  The Meyer Theater is always good to Phil, and this past show was no exception.  Sold out, and energetic as can be.  We played a long time and we all had a LOT of fun (although with the 2 hours of constant smiling it was hard to tell, I know), and we cannot wait to get back to Wisconsin.  And I just found out that we are doing two nights in Milwaukee.  That will be a nice layover for all of you that can't wait for Summerfest.
So there's the latest and greatest.  If you managed to read this far, then remember we're slowing down this winter, but not shutting down, with lots of great shows all over.  We just booked the Franklin Theater in Franklin, TN, which is going to be a great in-town show.  Check out Phil's website for the latest news on, well, everything, and get ready for a crazy-ass 2014!
See you on the road!!
Oh, and one last thing –
This little reunion MAY have been the final 'push over the cliff' that inspired my new musical venture. Nothing fires you up like trying to recapture fire.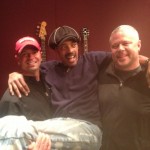 ---
---