Shinybass entry 01-20-14
Quick and easy.  Relatively.
Happy Monday to all of you!  After much deliberation, I have decided to show you the latest addition to the house.  I know a lot of you want to see Nola, our new puppy, however, I will make you wait until the end of this entry to see her.  (Of course the smart ones of the bunch have already scrolled to the bottom of the page and ruined Christmas) I ruined my own Christmas one year.  I went hunting for presents, and found them.  I confessed to my Mother after I did it, and I felt awful.  The joy of the surprise was totally lost, and that Christmas morning I learned that I could play ball or not play ball.  From then on, I decided to let Santa, friends, whomever, surprise me.  Sometimes the surprise of thoughtfulness is better than the gift.  And of course, I can't keep a surprise – I always call home and tell my wife 'I got you something today'.  But that's for the little things.  I DO keep the big presents secret until the time is right. So there's your tip – let the surprise be a surprise.  It will be much better, I promise you.
We started our touring weekend in Chicago at Joe's on Weed St.  A successful is never guaranteed in this business, but we always seem to have a capacity crowd when we roll into town.  Friday night was no exception.  On a cold and very wintery Friday, the crowds came out in full-force, and we played a solid 2-hour show to try and keep everyone warm.  I kept warm during the day with a great workout at FFC around the corner, and played with my new iPhone apps at the Hard Rock Hotel in our down time.  I even took a walk to get some footage, and after about 20 minutes outside with my tender little face burning off, I decided to go back and get warm before the show.  The Billy Goat cheeseburger would have to wait until the next visit.
The beauty of Chicago is that I see something new every time I visit.  This time I watched a TV production circle the block a dozen times trying to shoot a scene.  I called my wife and said 'Honey, they are filming Chicago Hope', to which she replied 'That was at least 10 years ago, honey….'  Like I have seen any TV in the past decade besides Pittsburgh Sporting events.  Sheesh.  Any how, it was great to see them film St. Elsewhere in front of us.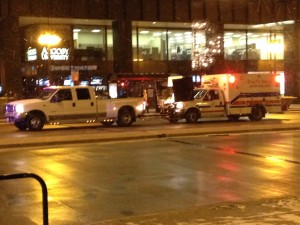 After a late leave and a short drive, we arrived in Springfield rather early, with a fresh blanket of snow under our tires and the Boondocks Pub on the schedule.  We really didn't do much during the day.  I ventured out to a farm supply store across the street, and found just about everything the local farmer/hunter/woodsplitter/outdoorsy-type would need.  Especially this gem – a camouflaged easy chair to keep the pesky deer from seeing where the furniture is located.  I need this for the dogs to assure that I actually get a seat on movie night.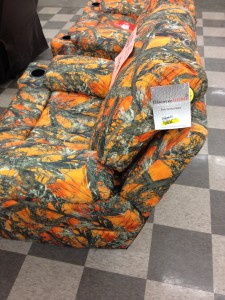 Boondocks is a great club with a friendly staff and once again we sold it out.  There was a promotion Saturday night where the local radio station gave away a hot tub.  I saw the (non-filled) hot tub at the end of the night after a few bottles and people were in, and I think it needs to come with a bottle of bleach as well.  Nasty.  We've thought about getting a hot tub, but I think the pain-in-the-ass factor is much higher than the enjoyment.  But I'm sure whoever won already has it filled up and is soaking the chilly Illinois nights away.  And thank you to a great crowd, and to a professional sound crew for rocking the night away.  You guys made it easy.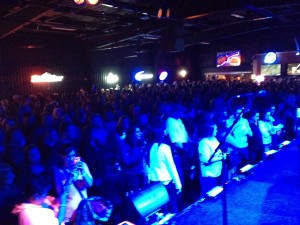 For all you bass gear junkies out there, I noticed that I was rockin the All-German lineup Saturday night.  The main bass was a Sandberg California, the backup was a Warwick Streamer $$, and the Hofner violin bass is my newest mistress.  She is amazing, and all the boys that see her are jealous.  As well they should be.  And just like boats, we call our guitars 'her'.  Not sure why, really.  I suppose the female bass players have male names for their instruments.  Maybe I'll ask someone about that…
All right.  Now is the moment you for which you have been waiting.  Ladies and gentlemen, making her internet debut as a member of the Cook family – I give you Nola.  Part American Bulldog, part Boxer, part sharp teeth and all love.  Please – don't stare too long.  She only gets more cute.  And Diesel has started coming around.  They are starting to snuggle.  I think he likes the little ones when they are quiet and still.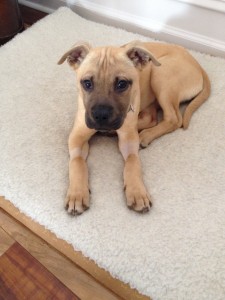 OK – there's your wrap – up!  We are off for a couple of weeks, however, I will be a busy boy during that time, so look for updates on Twitter (@shinybass) and on Instagram (@shinybass).  Thanks for checking in!
See you on the road!!!
---
---