Shinybass journal 12-19-12
Live.
That's live, not live.  As in live your life.  Without question we hugged a little deeper last week after the horrible events at Sandy Hook.  Just like with Sept. 11, it seems the day before the event just wasn't that bad.  No matter how bad it was, nothing compared to the events of the very next day.  So then why is today so bad?  Aftermath of such a horrific event aside, take that aspect out of the equation, and in the grand scheme of things, today, no matter how bad, just isn't that bad.  It's amazing how moods and life and hate and love and common sense can change in the blink of an eye.
Our bus left for Missouri on typical Tuesday night, and for me, the trip was especially important. The show was an acoustic show in Springfield, which is my wife's hometown.  This meant in addition to the 15 comp tickets for the show, I was about to see a bunch of folks I haven't seen since the wedding.  It was a great day for me, seeing a 9-month-old nephew, and spending some time with the in-laws.  I can't stress it enough – family time is important time.  We played with Randy Houser, Thomas Rhett, and Lauren Alaina, who greeted me with a big hug.  Turns out she jumped up with Aerosmith the next night in Nashville.  Our next day was a day off in Kansas City, where I had some gym time, James Bond Movie time, and got some work squeezed in as well.
We awoke Friday morning in Colorado, where we were playing in Greeley with Craig Morgan.  He is a great human being and a lot of fun.  These Christmas shows have been a complete blast. There are no set lists, and well, we pretty much just jump in and try to bang out any Christmas songs that come to mind, whether we know them or not.  It's all very loose and festive, and the fact that Craig drinks a bottle of wine during the show is pretty cool, too.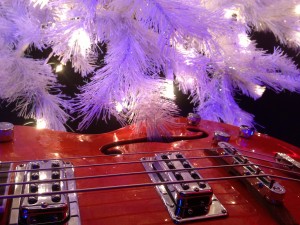 The next day found us in Colorado Springs, playing at the Pike's Peak Civic Center, which is a beautiful venue located in downtown Colorado Springs, withing walking distance of the (free) museum, the historic train depot, and the Antlers Hilton, which is not quite as cool as the Broadmoor hotel, but still very nice.  Local Legend has it that a General Palmer wanted to buy the Antlers Hotel in 1918, and after being refused, he built his own resort, and as a reminder, he made the 'A' in the logo smaller than the rest of the letters.  Those clever generals…After research, I find no record of such an event, but it's fun to speculate.  As the bus was parked against the splendor of Pike's Peak, I tried to capture a little bit of the beauty, which is never quite right when taken with a cell phone.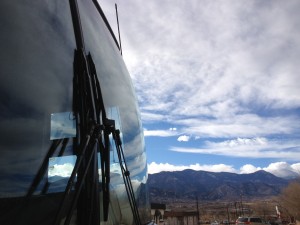 With a lot of time during show day, I did manage some exploration, which found me at a park with an old train – surrounded by people smoking crack – which is a GREAT image for the tourist brochure, and found a local museum, situated in the old courthouse.  I am glad this thing of beauty wasn't torn down.  The original marble staircases are a sight to behold, and the displays in the museum are informative as well.  I especially liked the manual on nutrition pictured below.  I feel much better after reading this title…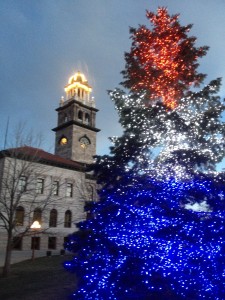 The show on Saturday night was so much fun.  Everyone cut up much more than usual, and the theater was packed.  It was a great way to end the week for me.  The boys had two more shows, including one in Grand Junction and another for the Titans.  I left the bus and took an early flight out of Denver to get home for some family matters.  I heard later that the boys got stuck trying to get home, but somehow made it to Nashville in time to play pregame.  If you were at the game, I hope you had a good time.
The family matter I had to attend was the funeral of my StepDad.  I don't care to elaborate on the topic much more than that, except to say that he was a kind, intelligent, helpful, and sincere person, and he will be missed.  He has been part of the family and a friend for over 20 years, and there is a void left by his passing.  His passing reinforces my thoughts that we need to love each other.  Not just today because of a death in the family, or a shooting in a school, but always.
One last parting shot from my airplane window of Washington DC, where the millions of rush-hour commuters were trying to get from point A to point B.  I was just happy to be going home.  I hope that you have a wonderful Christmas.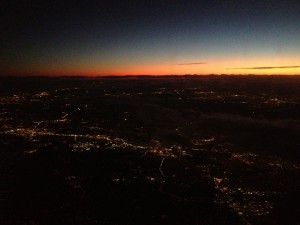 See you on the road!
---
---