Shinybass journal entry 01-13-14
And we're off!
Welcome to yet another road/life recap from the depths of mission control, otherwise known as my office somewhere in the greater Nashville area.  My bunker is stocked with coffee, gauze pads and ball bearings (it's ALL ball bearings these days…), ready for any and all emergencies that may arise.  Or so I thought.  With big hearts and few brain cells, we decided to adopt a new dog.  Not foster, mind you, as we have in the past, but make one our own and give her a place to grow old, like her Dad (me).  The decision was not made lightly, and yes, we are semi-crazy for taking on a new dog, but we have our reasons.  We wanted a playmate for Diesel, and we wanted to help get a puppy out of the shelter that was scheduled to be put down on the 15th of January.
So we went to Lewisburg, TN, and found our girl, a 3 month old boxer/American bulldog mix that we named 'Nola'.  (New Orleans, Louisiana for those scoring at home).  We brought her home and the next day took her to our vet, where we learned that she had Parvo.  This is a dangerous virus, and we were crushed.  We had the girl at home for less than 24 hours, and she had to be put in isolation for 4 days with an aggressive antibiotic and IV routine.  We are happy to say that she is home now, and Diesel hates her (for now), and I am periodically smiling as I type this because I can hear her squeak her toys from the other room.
And some are telling us we are crazy for adopting a puppy.  'You are gone a lot, Steve.'  'You have a dog, why add another?' 'Didn't you learn from the foster dogs?'  All good points, I assure you.  However, in 2014, and hopefully beyond, I want to share a little secret with you.  Life is not easy.  Some choose to attempt to make life easy by taking the path of least resistance.  Some make life really difficult on themselves.  Either way, it is how we (mostly) choose to live.  I know people with 6 dogs.  I know people with 6 kids.  You know what those situations bring?  Happiness.  Why do you get up and golf at 6 AM?  That doesn't sound easy to me when I type it, but it's pretty easy for me to actually do.  The same with just about anything any of us do.  Sometimes life is a tremendous pain in the ass, however, for me, life isn't about coasting along.  I'm not suggesting to get a puppy to make your life complete, but don't be afraid of the work – the reward will far out weigh the effort.
And, no, I don't need to justify getting a puppy with any of you.  We are pretty happy with the new girl, and although she's had a rough start, she's going to be a great dog.  And we've contacted the City of Lewisburg to look into the possibility of a parvo outbreak at the animal shelter.  Our little Nola probably would have died in the shelter if we didn't get her out.  So even one day on the planet in something other than a disgusting cage in a death camp is reward enough for us.  (Was that brutally honest enough?)
But I didn't get to see Nola's homecoming because we headed out on the first run of 2014.  And where else do you go when an Arctic Vortex grips the nation?  North!  Day 1 was actually a travel day, which found me seeing my brother in a truck stop in Virginia, then having dinner with another friend that night as our driver slept.  Even short visits are meaningful ones.  The following day I awoke and walked outside in a little town called Canaan, CT, next to the train station.  We were in front of the Collin's Diner, founded in 1941, and basically unchanged since opening.  The food was great, the owners very nice, and the stories unending.  Paul Newman used to sit in the corner booth and play cards with the former owner until dawn, and the counter of the diner is one of the only ones in the country sporting a marble top (complete with fossils) as opposed to formica.  Fun facts and a fine start to the trip.
The show that night was in Norfolk, CT, in a 120-year old venue that sounded amazing.  The show on Friday was all of 75 miles away, so we booked over to Ridgefield afterward to freeze our butts off in their hotel parking lot (since there is no hotel in Norfolk).  The venue in Ridgefield was bigger, with exceptional catering, a gym close by, and a staff that was top notch.  I was jealous of the wine rack from the restaurant the night before, and loved the backstage poster from Ridgefield.  Lots of good juju on this trip so far…
THAT'S HEDLEY!
My good friend Michael Breed from the Golf Channel came out to the Ridgefield show, and introduced us to a new friend, who happens to be a guitar player as well.  As I have stated before, traveling and seeing friends from all over the country is such a joy, as is making new ones.  And some other friends brought us PEZ dispensers from the factory.  Don't be jealous of my Stormtrooper Pez.  I'm not even showing it here because you would be that jealous.
So then it was off to Penn's Peak in Jim Thorpe, PA, which I (finally) learned in named as such because they have his body there.  This was my first time up to Penn's Peak, and the room, catering, dressing rooms – everything – were exceptional.  Preshow was riveting.  Pennsylvania Polka filled the air and gave our dressing room that rock and roll attitude we so need.  We had one hell of a show, and afterward hung out with Matt McGloin, a PA native who now plays quarterback for the Oakland Raiders.  We even negotiated letting Phil and the band take some snaps next year…
And just to keep up with our rock and roll attitude, here's Brock, 10 minutes before showtime, tidying up his Converse.  If only we can get him to keep his bunk half as clean….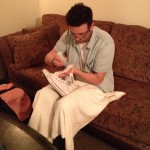 We hopped off the bus yesterday afternoon at about 3, then had to be downtown to play 2 short sets at the Country Music Hall of Fame.  That turned out to be a sweet little gig, and we were able to see the banquet hall of the facility, which overlooks downtown Nashville.  Beautiful night all the way around.  Then it was home for puppy breath and some much-needed time with the wheels not in motion.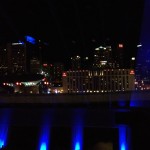 The first week back on the road after a break is always a little shaky, simply because we have had a few weeks off, there is some new material in the set, and new faces on the bus.  We have added a new Lighting Director, and Phil has pulled out a bunch of new/old songs for us to play in the weeks ahead.  I am excited about that.  We played a brand new one called 'American Soul', as well as 'Erase' and 'Save Tonight For Me' this past weekend.  Look for more deep cuts to pop up on the set.  We have to keep you on your toes!
Thanks to everyone who came out this past week, and for making our shows a lot of fun, night after night.  Get ready for Joe's again this Friday, where we will once again play for you crazy-ass Midwesterners.
See you on the road!!!
---
---