Shinybass journal entry 02-03-14
It's not rocket surgery…
Good day, folks.  Happy Monday morning!  I'd like to start off by saying congratulations to the Seattle Seahawks for their first Super Bowl win.  I was pulling for the Peyton Manning, as I am sure most folks outside of Starbucks land were, however, his reputation is not tarnished by this loss.  It's hard to dig out of a first-snap safety.  And mad kudos to the longshot Vegas gamblers who bet on a safety as the first score.  The odds were 8-1 that it would happen, and 50-1 for the first score.  $10 on the latter bet would have paid for a nice night out in Vegas.  Hindsight is 20/20, however.  My brother sent me a text during the game that stated Peyton makes 6 million more a year than the entire  Seahawks secondary.  There's your question for the day : Would you rather have Peyton's salary or the Super Bowl trophy?  I'll let the inner shoe shopper vs. champion in you duke that one out.
My answer – Trophy.  The money follows the trophy (if that was your focus).  Not always private jet, South of France, Cristal, Maybach, diamonds on your timepiece kinda cash, but with a little savvy, your kids CAN go to college.  I don't have it, but money, it seems on TV, is easy.  Training and executing and actually beating the odds and winning the Lombardi trophy – that's a special feat.
And may I remind the world that my beloved Steelers are still rocking 6 of those.  I'm just sayin…
But the day is almost a national holiday, of sorts, and it's a great excuse for eating pork products.  We attended a great party, and I must give kudos to the hosts for having an additional large screen TV in the kitchen for a 'no gap' interruption for the grazers.  Well played, indeed.  I am taking notes for our eventual SB party.  And yes, Virginia, the halftime show was tracked.  I wish everyone would stop worrying about this so much.  We don't want to be let down and we hope and pray every year that the musicians actually perform, alas, it is not the case.  Some past years, yes, however, not this one.  Regardless, I hope that your evening was a safe and happy one – no need for a DUI because of a game – any game – or any time for that matter.
So last I left you, we had returned from NAMM, that magical trade show out in Anaheim.  Upon my return, I typed up a journal entry, then got to cleaning the house in anticipation of my Dad's arrival.  Day one, all was right with the world, and he and I went to a movie.  When we got home, it seemed a little cold in the house.  Very cold, actually.  It seems that while we were out, the induction motor on our furnace decided it was time to leave our company.  It was 5 PM, and I was able to get 3 techs out within 24 hours to look at it, however, because of the cold snap gripping the country, the part was stuck in Atlanta (along with lots of other things…) So the house would be cold.  We do have a gas fireplace, so one room was heated, however, the bedrooms were hovering in the 45 degree range.  Yes, it was cold.  We did, however, have a roof and warm dogs to surround us, which is more than the people who were stranded overnight in their cars.  So we didn't have heat for 3 days.  At least we had coffee.  No biggie – everything is good (thanks for asking), and I am hoping that we have a relatively mild winter from here on out, although a small blanket of snow around here – just once – would be pretty.
Since Dad was a tourist, by default we became tourists as well.  We trucked down to Huntsville for a peek at the US Space and Rocket Center.  Wow.  All I can say is wow.  Not only do they have a wonderful museum dedicated to the space race and beyond, the temporary exhibit featuring the works of DaVinci were outstanding.  There were scale models of many of his inventions, as well as a replica of the Mona Lisa as it was painted – not the aged, faded portrait we see today.  Fascinating, to say the least.
Once in a while it's nice to actually settle into being normal, and so having my Dad in town made me step away from work (a work I love, but work nonetheless), and just have fun.  We had great meals, lots of laughs, and he bonded with the new puppy.  And Nola is doing very well, thanks again for your concern. Here's what we do while we wait for the vet…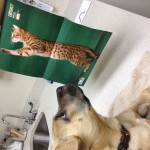 Saturday was my wife's birthday, so I attended my first Keith Urban concert.  Through a friend, we were 'upgraded' to a loftier seat and I had a blast.  Of course I picked apart everything from a musician's point of view, and found very little to complain about.  I was truly impressed, and hate that some people were there simply because he is on TV.  I guess this isn't a bad thing, since they were exposed to exceptional musicianship, and heard substance behind the TV talking head.  Truly a great night.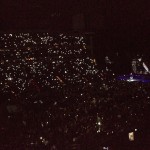 So today we hit the rehearsal hall with reckless abandon, honing and learning to tear up the shows to come.  We have a LOT going on the coming weeks, and we're pretty excited for it.  It will be good to see all the boys again after being off for 10 days.  And, yes, the writing for my record is going like crazy.  We have a few hundred hours in the bus this week, so I'll be on it.  Feel free to tweet me to remind me to stop watching Beatles videos and get to work.
And from the mailbag – BIG THANKS to Tom for sending these little customized beauties along.  They feel so nice on my tired running feet.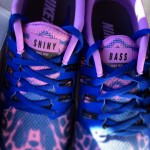 So thanks for stopping by.  Stay warm (we are now…), and stay positive in this, the hour of the 'winter blues'.
See you on the road!
---
---