Shinybass journal entry 02-04-15
The sun always shines on TV…or in Florida
Happy mid-week ladies and gentlemen! How are those resolutions holding up so far? Yep, mine too. Can we get a reset button? That's the one thing life doesn't offer up – a 'do over'. Have you ever wondered what you would do differently at some point in your life? Was there a watershed moment that could have moved you one way or another? Why didn't you do it (or not do it)? Does it haunt you? Am I asking too many questions?
I only ask because there are so many of those moments in our lives that it becomes dizzying. I firmly believe you are right where you are supposed to be, good or bad, at that moment. It all leads to other paths, other stepping stones. The hope is that you learn from your mistakes along the way, and jump into other moments with more clarity.
Back in our King Konga days, we did so many stupid things. We did a lot right, but looking back at the bigger picture, it's amazing how many things could have happened, and probably with massive results. That path would have taken us somewhere else, and although there would have been new experiences and 'holy crap this is happening' moments, I would not be where I am today. I probably wouldn't have met my wife, had this child, and probably would still be living in Hattiesburg, MS, next door to Brett (Favre) on a stately manor. OK, most likely in a seedy duplex off Pine St, but you get it. It all happens for a reason. And no matter what the past says – it's for the right reason.
So what would I change? I ask you guys questions all the time, but rarely offer glimpses. Well, if I could do it all over again, I would make everything as important as possible. I'll explain – there are things we want to do badly, then there are things we say 'Ahh, I just don't feel like it…' then we sit on the couch and do nothing. If I could go back, however far back, I would get off the couch, so to speak. Make seeing family and friends an unending quest, as well as getting the most out of each day we're here. There were gaps in my life that I just didn't do anything.
Of course, that changes after a child shows up, but that burn needs to happen equally in your 40's-80's as well as your 20's. If there is an opportunity that presents itself, don't stay on the dock. Get on that boat and get out to sea. There is a big wide world waiting for you.
Speaking of big wide world, we were back on tour this week… The stops were in southern-type locations, namely in the great state of Florida. Day one we were in Jacksonville, and I don't think you could get us off the bus fast enough to feel some warmth on our pasty-white hides. I sat at the Landing and watched the sailboats come and go with boyhood wonder, and missed my little sloop I used to have in Mobile. It was a good sail that day, peeps.
The show was at a bar called Mavericks, and the staff is really accommodating, and the crowd was great. I left my phone on the bus, and so I wasn't able to get up with the guys for a dinner spot (the plans changed), so I found a place with a balcony, and sat, disconnected, and watched the sun disappear as I dined. The air, the silence, resisting the urge to look at some kind of news feed was great. Sometimes we need those times. Well, all the time we need those times.
Day two we headed even further south to Immokalee to celebrate the grand opening of a Casino Hotel. The only problem was that the hotel was still a month from being finished, so it was turned into a concert hosted by the casino instead. The Miami Dolphin cheerleaders and Love and Theft opened the show. It was good catching up with the L&T boys, and they sounded great as always.
And so began the drive home. I was up relatively early, but not as early as our guest for the weekend. His name is Finnbar, and he hails from somewhere in Scotland. I'm not entirely sure what he does for a living, but I know that he is well-mannered, cool as can be, and a die-hard soccer fan. There was a match being played in Glasgow, and he was up early to watch. His brother was at the game sending him pictures, and it very much reminded me of my brothers when one gets to see  a Pittsburgh team in person. Great stuff indeed.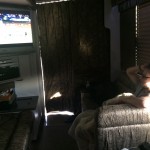 So while soccer was going on in the front, and the rest of the boys slept, I was in the back, working on some tunes for an upcoming show in Nashville. I'm playing Saturday in town with a singer/songwriter named Kip Traylor, and I'm gassed because the backing band is myself, Keith Howland, who plays with Chicago, and Ed Toth from the Doobie Brothers on drums. Should be a fine set indeed. This was my view as I occasionally looked up…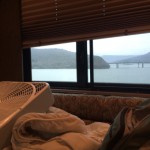 I'm also very excited that we're getting back in the studio this week to track some new songs with Phil. Not only are we working diligently on the new record (there's a bunch already done), but we are back in a great studio (Ronnie's place), owned by Ronnie Milsap. In addition to that, I am testing out a new bass preamp by Noble amps, and I am ecstatic. That may not mean much to you, but it's the bee's knees. I'll give the musical kids a full report.
So that's it. All I go for you. I think you should eat lunch somewhere you've never eaten today. Try something local and branch out. Why not? If it stinks you can try something else tomorrow, right? Enjoy this week ahead. It is the middle, so you have a chance to make it better than you started. It's not how you start, it's how you finish. Just ask the Seahawks…
See you on the road!
---
---