Shinybass journal entry 02-11-14
Hold your questions until the end of the tour.  No, really.
Happy Tuesday!  Everyone, please sit down and keep quiet.  We have a lot of material to cover today, and since I wasn't here yesterday, I am playing a little catch up.  Thank you for not stringing the substitute up the flagpole (again), and for letting him leave with his shoes on such a cold day.  Last week we were getting ready for our 'Journey of a Million Miles', which for the Phil Vassar bus could be any given three days.  If you look back in your notes, you'll see that we were supposed to all bring a small donation in to buy our booking agent a road atlas.  Well, since some of you are poor and get free lunch, we didn't get enough money.  The two of you that did donate, Mary Winthorp Rottingbread and Charles 'Chummy' Chummerston, your donations went to the 'Teacher's Relief and Coping Fund', otherwise known as the tip jar at the Rusty Nail.  Since the road atlas was not purchased, the following adventure ensued.
When booking country and western shows, one must take several factors into consideration.  First, we must ask ourselves : 'What's country and western?'  It's a genre of music that has fallen into the dusty-binned section of your local thrift store.  It was originally sung by crooners with fancy suits and wide-brimmed hats and a flask of some kind not too far from guitar hands' reach.  Today the suits are on music row, the hats are at the souvenir shops, and the flask has been replaced with a light beer with mountains on the label.  But I digress.  The second question when booking shows is 'Can we make it to the next town?'  Well, ask any booking agent, and his immediate answer is a resounding 'YES!'  Ask an experienced booking agent, and he'll tell you 'Let me look at the routing'.  Ahh, there's a new word – write it down – 'routing'.
This week we started our journey in Nashville, which is centrally located (within 500 miles of half the country's population), and a great place to live, work, and travel in and out.  Our first stop – San Antonio, TX.  A fine, fine town, Alamo and what not.  We were playing a private gig at the Convention Center, which was located on the river, making our tourist treks easier on the day.  I had some great Mexican food, toured the Alamo, then ducked into Saint Joseph Catholic Church for a little more historical perspective.  You can never have too much perspective.
Then the fun began.  We get a call that our next show (which is in Wichita remember that 'routing' word) has been moved to a warmer date.  (Unlike my senior prom date -bah bum ch), so that gave us a day off in, well, the frozen tundra known as Kansas. Now, instantly we started looking for things to do that were relatively close to the hotel.  KT found the Museum of World Treasures.  With a name like that, I was a bit skeptical, with a 'sideshow' feel to it more than a legitimate museum.  Well, our lighting director Amy and I set out to find this place. I was pleasantly surprised.
The museum started as a private collection that, by married standards, had to get out of the house.  Along the walls were (now facsimile, but the real ones are in house) letters and autographs from the most prominent leaders from the past 400 years, along with every US President and also inventors, actors, and musicians that we know by heart.  Then there were dinosaur fossils.  Then there were mummies.  Then there were artifacts and displays from all the US wars.  Then there was the third floor, which had some screen-used movie props and Custer's underpants. (insert Little Big Horn joke here).  It was explained to me that the museum is an encyclopedia museum, with a little something for everyone.  It was impressive.  I spent an hour on each floor.  And seriously – it was $10.  If you ever have time to kill in Wichita – and who doesn't – go.  Enjoy the photos – especially the one from the hotel fail.
These are Beatles autographs.  This is the actual pitchfork from Wizard of Oz, and these are famous underpants.  And this is a simple yet touching WWII display.  Now you see why the museum had me.
Remember that word we learned a few moments ago? That's right, little Ricky, 'routing'.  You don't have to clap erasers after class now.  The whimsical and fanciful concept of routing took us to Flandreau, South Dakota.  Who can tell me where South Dakota is located?  That's right.  Somewhere else.  And when it became a state?  That was a trick question.  It's still Indian Territory.  And next week boys and girls, we are going to pitch in and give our agent a calendar for his birthday.  That way he can book shows in South Dakota in the summertime.  -11. Sounds like a good morning arrival temperature, doesn't it?
We stayed on site all day.  All day long.  The hotel was connected to the casino venue, so I was inside. All day.  That's right, all day.  Who needs to be out in -11 temps?  Penguins, polar bears, and Kate Upton.  That's it.  That's IT.  Needless to say, no pictures from this bustling metropolis.  The show was an absolute blast.  The outdoor activities were not.  Did I mention I stayed inside all day?
Maybe I was saving it up for the next day.  Deadwood.  Wild west legendary gold-mining town.  Yes.  THAT Deadwood.  It was my first time there, so I was hoping to soak in some local culture.  I was treated to something much more.  Our tour guide (a local hotel employee) offered to drive us around, which I was all for since it was 5 degrees out.  Jeff Smith and I hopped in and started a long and winding tour of Deadwood, Lead, and the surrounding area.  We saw the final resting place of Wild Bill Hickok and Calamity Jane (and saw deer in the process), and heard stories of mountain lions that roam the streets at night. We were taken to the ski resorts, and shown the former gold mine in Lead (as in follow my lead), and then made a small pit stop.
Our guide told us of Lewie's, a roadside biker bar that was recently voted as having one of the top 25 hamburgers in the country.  Well, hell, we need to investigate this claim.  Lewie's was a remarkable dive.  Shabby, but not too shabby, and friendly as can be.  We could tell we were in a small town, and we loved the charm, the decor, and yes, the burger was one of the best I have ever had the pleasure to eat.
Before and after.  See?  I left some fries! Everything in gluttonous moderation.
After 2000 calories' worth of burger, we stopped at another legendary local spot – the Chubby Chipmunk.  This place is NOT for the faint of heart (or high of sugars).  They recently shipped their delectable treats to the White House at the President's request.  Yes, Virginia, they are incredible.  There is even a vending machine outside for late-night cravings.  Go ahead – order some. I dare you.  You won't look at chocolate the same way.
Downtown Deadwood was only a few short blocks away from our casino venue, so after an easy sound check, it was off for more sightseeing.
We had a remarkable turnout and a great show (with 'Lady Madonna' as our Beatles homage for the evening), we sent our little Brock off in semi-rustic style. He is moving to a new bus to play with Joe Nichols, and he will be missed.  We all gathered for one last family portrait at the No. 10 Saloon as whiskey flowed and single-deck blackjack was dealt.  I captured Brock as he lost money at slots and wearing his Sasquatch hat.  Fun times.  But then the fun was just about to begin.
We headed back for our midnight leave time – we did have a little ways to go – and, as fate would have it, our trailer lights were not working properly.  So someone had to go back to the No. 10 bar and find Tim, who could help us.  Brock and I went back and happily located Tim.  'Hey Tim, we need to walk back and fix the lights on the trailer'.  'The hell with that – I'll call the car service, and we can have a beer while we wait.' Welcome to Deadwood.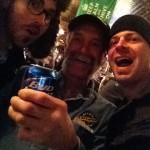 We love Tim, but he was no help – not at that stage of the evening – and we ambled off into the snowy night.  It was only as we reached somewhere in Nebraska that we did ourselves in.  We tried to have the lights fixed at a shop at a truck stop.  That didn't help at all, we found out, since 5 miles down the road we were shut down by the state line Weigh Station.  So we essentially sat by the side of the highway for the better part of 7 hours waiting for this to be fixed.  The good news was that the Beatles tribute was on.  The bad news was our ETA back home shifted from 1-2AM to 10AM the next day.
All that glamorous stuff you see is not all that glamorous, I assure you, but we make the best of it.  We were on a bus (I've been stranded plenty of times in a van), and we were warm.  Getting home late isn't the most fun, but at least we made it home.
So what did we learn today?  Well, we learned to have your trailer lights up to highway safety codes.  We also learned that Deadwood is still a great place to drink whiskey, but here's a tip – order something from the bottle – they use the 'gun' for Jack Daniels.  Awful.  We also learned that no matter where you play, or how far you must travel, having shows to play is a good thing.  So yes, we'll subject ourselves to the powers that be and ride all over this great land to spread cheer to the frozen masses.  We love our booking agent, our fans, and our drivers.  And of course, our Brock.  he will be missed.
Now, everybody outside for recess.  It's actually sunny today.
See you on the road! (Maybe literally!)
---
---