Shinybass journal entry 02-13-13
Oh, now we're in trouble.
Good day, my peeps!  Welcome to the 'oh crap Valentine's Day is tomorrow and I have nothing planned' episode of our journal.  Did I just remind you that a $6 greeting card and reservations at a fancy restaurant are now on your 'to-do' list?  If you want some real entertainment, hang out in the greeting card section of the local grocery store today or tomorrow, where there will be a bunch of guys, jacket collars up, hats pulled low reading through hundreds of greeting cards, trying to find a glimmer of anything that will help them out of the same jam they had around this time last year.  First of all, just like Christmas and taxes, the Hallmark Holiday falls on the 14th of every February, so it's no surprise.  A little planning would go a long way.  This year we have to celebrate our first one as a married couple on the 15th, since work has stepped in. But I have preached this before – it's just a day.  Unless you were a member of the North Side gang in 1929, then it hit a little closer to home.  But I digress – it is the day we are supposed to show that someone we love them by buying the expensive necklace and chocolates.  'Hi honey, I know we are on this New Year's health kick, so here's 7000 extra calories.  Knock it out.'  And not that I am insensitive and NOT a hopeful romantic – I think it's silly, just silly, to make a huge, commercial deal over the holiday.  Make a card, cook her dinner, and give her a foot rub – oh wait – all things you are SUPPOSED to be doing anyways…
But Valentine's Day is open to interpretation, just like all the other holidays.  Do with it what you will.  I suppose it's a little tougher for the Catholic-type folks that have given up chocolate or champagne for Lent.  Way to lose that battle on Day 1.  I was raised Catholic, and always gave up something for Lent.  And a lot of people do give up something for Lent, Catholic or not, but yet we make fun of other religions.  Do you know why? Because we can, and it's funny.  That's the long and short of it – everyone has funny customs or rituals, so be prepared to be laughed at as you are laughing at someone else. So happy Ash Wednesday, all.  And remember as you walk around tonight with an ashen cross on your forehead, remember that Jewish joke you made last week.  They are getting you back. But Keep Calm and Carry On.  We all have our beliefs, and it is nothing to be ashamed of.
Our touring week was short – just one show in Orlando on Sunday night.  The corporate event was pretty impressive, for they rented out Universal Studios after 7PM.  I would like to rent out a theme park for a few hours.  Oh, and they booked Phil Vassar, Kansas, and Eddie Money to perform.  It reminds me of Fast Times at Ridgemont High When Spicoli hires Van Halen to play at his birthday.  But I am not complaining one bit.  They can hire us 7 nights a week, as far as I am concerned.  And to be able to hang at Universal, well, that ain't so bad, either.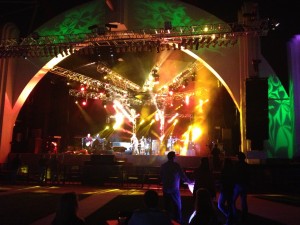 But before we hit the stage, the afternoon was ours, with a couple of hours to roam the park.  Gladly we had zero wait for any ride, so we tackled the Mummy ride, which we liked.  The MIB ride was a laser shooting gallery within a ride, then came the Simpsons ride, which I liken to astronaut training.  I looked over at JDawg at one point and his eyes were closed.  I was getting queasy myself.  And then, to add to the experience, they pipe in the smell of baby powder during one sequence to make you feel especially close to Maggie.  I think the experience was amazing – one of the best indoor 'roller coasters' I have ever experienced, even if was gut-wrenching.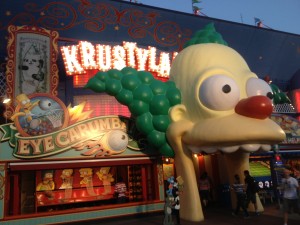 The park itself is well presented, with the different city streets and the 'movie lot' feel to it all.  I am a fan.
And as an added bonus, our 'dressing room' (which was an abandoned office with half the carpet ripped out and nowhere to sit) was in the former Nickelodeon studios, so we can only imagine the fun that went on there at one point.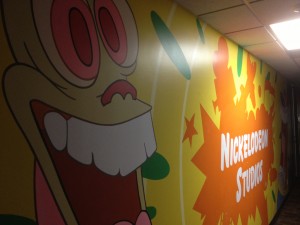 When visiting Florida, it is now a custom to have an activity or meal related to alligators.  The damn things are everywhere.  I wish they didn't keep so many in petting zoos and put the biggest ones on display, but I suppose it's better than some rogue hunter coming along and making a belt from him.  Across the street from the hotel was a miniature golf course, featuring a pool of gators.  They were cute, so I snapped picture 1.  Upon closer investigation, I think they were putting their gator/Jedi powers to work to coax lunch off its ledge, hence picture 2.
So with a 5 stroke loss to Jeff in golf (at a different course), and a great afternoon in the theme park, a fine dinner in my belly, we played a great little rock/country show.  And at the end, we managed to talk with Eddie Money.  He was thrilled.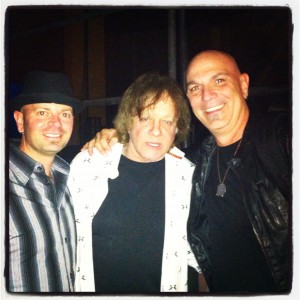 So there's your wrap up for the weekend.  We hit the stage tomorrow in Bristol at the Paramount Center.  Should be a fun one.  If you need a last minute date night, then come to the show.  We can bail you out of hot water!
We hope you have a wonderful Valentine's Day, and that your dinners and escape weekends and your love letters all go according to plan.  And if they don't, there is always next year.  Or better yet, try again next week.
See you on the road !!
---
---