Shinybass journal entry 02-15-15
Happy Valentine's Day! (a day or two late, but….)
If I've told you people once, I've told you 100 times: Please don't take February 14 with any seriousness at all. It's the other 364 days a year you need to worry about. Much like New Year's Eve, it's amateur night. Yes, it's nice to have flowers. Yes, it's nice to get out to dinner, but why, oh why do we insist on pushing it on the 14th? I'm sure the hotel package you purchased will be just as romantic on June 1st, and probably be half as much. I know, I know – there is a certain mystic to the whole thing. I also get that maybe the rest of they year is magical, and the 14th is over the top magical. Good for you. The rest of the saps that sit at Walgreen's on Feb 13th looking at stuffed bears holding hearts should be ashamed. I can applaud you for the (almost) effort, but you should have planned ahead. Or just admitted defeat and taken her to Applebee's.
Am I a stick in the mud? I don't think so. The things I try to do throughout the year would equal a hell of a Valentine's Day gift, but I guess I have issue with people who ONLY do something nice on the 14th. Try to make your other feel special all year, that's all I'm saying. Commercial holidays really grind my gears, but that fun little Groundhog is OK with me.
Whatever you got into, I hope it's great, and you carry that feeling until this time next year. Currently I am at 39,000 feet somewhere over Wichita. Yes, I am somewhere over America on this Valentine's Day. I should be in the arms of the woman I love in a few short hours. This flight is full of folks who have either a big night ahead or a lonely hotel lounge ahead of them. Nothing makes a single person feel worse about being single than today. Another reason I loathe the holiday: many years of being single. Don't cry for me, however. I done good.
The reason for this flight? Well, we had a little show (OK, it was a big show) at the Seven Feathers Resort in Canyonville, OR. There is no easy road to Canyonville. We flew from Nashville to LAX to Eugene, OR, then were picked up and driven some 90 miles to Canyonville. Early flights and 6.5 hours of flying time will wear on a man, but with a stop at the Vintage Inn (I forget the town) for hamburgers and pancakes (don't judge), we were recharged and at the Casino by 4PM. Canyonville is a very small town, as I soon found out when I walked the street. Yes, street. Singular. 'A' street.
It did have some antique stores, and a coffee shop, and a liquor store. The beauty of the town is that the creek behind the town park had Steelhead at least 2 feet long swimming upstream. That's pretty sweet. I'd like to thank the travel bureau of Oregon for arranging that.
But Canyonville, as small as it is, is surrounded on three sides by beautiful mountains, and I could get used to the pace. Plus Oregon is just beautiful. The trees grow straight and true, and the grass is the greenest I've ever seen. If we can just stay away from the cholera and Timmy doesn't break an arm, we should make it to Portland. (anyone, anyone?)
And to prove my point – Here are some 'Valentine's Day strawberries'. I can hear it now : "Hey honey, I got you one of them strawberry things at the market. I'm not sure what to do with it, but, well, there you go. I love you."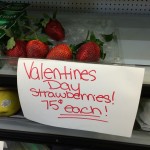 The casino itself is nice, and eating two dinners at the Steakhouse (I recommend the salmon – it's fresh) wasn't bad either. Phil, Jeff, and I went into 'town' the morning of the show, and I think we visited every store that was open. I am happy to report that we spotted no Bigfoot. I did find the location for a restaurant that would be pretty amazing if I could get people to stop. That seems to be the rest of the town's problem as well.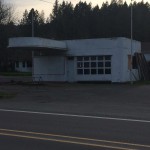 Our show was a loud, wonderfully rocking affair, with a packed house and a lot of happy people. My head hit the pillow at 11:30PM, and my wake-up call was set for 3:30. Yep. Show business. And now, I am collecting my frequent flier miles, one slow (OK, currently at 500 knots) mile at a time. We shuttled back to the Eugene airport and literally were the first ones through TSA. Man, these early flights… but the scenery up here this early ain't so bad.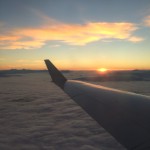 I heard something at LAX today that I have never, ever heard before. The gate agent let us on the plane EARLY so our guitars would fit in the overhead bin. Ladies and gentlemen, that is the worst part of flying (OK, bird flu and SARS are up there, too), but having to 'throw' our guitars underneath with the bags pretty much begs for trouble. Not today, Josephine. Not today. PS – I am in an exit row, and on this plane, it's as roomy as first class. Just a heads up: 15A is the place to be. I am hoping to have this seat when we fly to Costa Rica.
Oh, did I mention we're going to Costa Rica? I know, it's terrible, but someone has to play these corporate shows. And someone has to stay on the Pacific Ocean for 3 days. Terrible. Terrible. I'll keep you posted.
And speaking of work, I am tackling lots of things in the coming weeks. I'm shooting some videos this week, one of which is for Ludwig Drums, which should be a lot of fun. I've got demos cooking for my recordings, and I am hooking up with some very talented folks to make it all come together.
Speaking of talent, last Friday was a hell of a day. First, we tracked several new tunes for Phil's new record. I made it home in time to feed the dogs, then head out to The Sutler, where I had the pleasure of backing up Kip Traylor. She is a very talented singer who writes fun songs, and has a devout following. The band wasn't too shabby : the guitar player was Keith Howland, who has played for Chicago for 20 years, and the drummer was Ed Toth, formerly of Vertical Horizon, and now with Doobie Brothers. To say we had fun was an understatement. And by the time 2:30 rolled around and my head hit the pillow, I felt like my musical day on this Earth was a good one.
So now you are caught up, literally to the minute (we're over Sikeston, MO), and again, I appreciate you reading my rant. I just want people to act like everyday is a holiday. Christmas cheer should last all year, and big feasts with friends and family should not be reserved for Thanksgiving. Speaking of, we're having a pot-luck dinner soon. Everyone bring a dish. I shall keep twittering, Instagramming, and the like, and I hope to see you all out at a show very soon!

See you on the road!
---
---