Shinybass journal entry 02-16-17
Happy February 16, which means you have a half eaten chocolate heart on your kitchen table, and the flowers probably need a little water. I am currently awake an enjoying a Santa Monica sunrise (no, that's not a drink…), and realized that it's been a short while since I said hello. With coffee in hand, patio door open, ocean waves lapping, here I am. But more on this location later. I have lots more to attend to.
Last time I checked in, I was on a baby history and aviation run through a mildly chilly Northeast. Well, the very next week we were hired to play a private show for a fishing tournament in Bimini. I think I would have let you all down if I sat in my room and typed while in country, so I opted out of my journal entry. I can fill you in now, however.
When you touch down after a long day of flights (and a 5 hour layover in Ft. Lauderdale), you just want to relax. And maybe get your luggage, which somehow didn't make it from shuttle to hotel. But toothbrush be damned, it was time to eat and chill. Or was it? Our bellies were full of seared grouper and shrimp, and the travel put some of our people to bed. Gordon and I opted to get a 'ride' into town with one of the locals. Sean was a local hustler, and the thrill of maybe making it to town alive on his golf cart was a story in itself (for another time).
Gordon and I found ourselves in a Junkanoo, which is a traditional drum and dance parade, and had a blast getting crusty with the locals. We got home fairly late, but it was totally worth the experience. The next day was beach, conch salad, and shipwrecks, with a show later than night. I spent the day with GoPro in hand, getting footage wet and dry, and soaking as much of the island as I could.
My luggage found me eventually in Bimini, only to be lost again once I hit the US. My little bag just didn't want to hang out. Such is life. Henry had to wait an extra day to get the shark he requested.
Looking ahead on the calendar, for the next run we were headed to the midwest. First stop was Warsaw, Indiana, a stark contrast to the sun-kissed beaches of Bimini. We played 2 shows 'in the round', and had a fine time. It wasn't too cold, which plays into the next segment of my story.
The bus broke down the next morning somewhere around Ft. Wayne. When that happens (and the bus can't be repaired), we either a) fly, b)rent cars and trucks, or c)cancel. I think Phil has only canceled one show in his career, so that wasn't an option. We rented an SUV and a box truck, and made it to Rootstown, OH for the show –  4 hours from Ft. Wayne. We pulled off a fast load in, were able to eat and then play, then packed up fast and made it to the hotel for 3 hours of sleep before hopping on a flight to the west coast for 2 acoustic shows. No rest for the weary.
It was during this blurry time I started thinking about something: Most of you don't care. Well, you care, but maybe not the way you think you do. We are away from home a lot. You don't care. We don't eat the best food. You don't care. We don't get a lot of sleep, have much privacy, or get to spend any real time with our friends while on the road. You don't care. Something on a guitar broke right before the show and we're scrambling to fix it. You don't care. My throat hurts, I've been sick on the bus for 3 days, and it's all I can do to stand up for 90 minutes. You don't care. You care that you spent your hard earned money, and hired a baby sitter, and paid money to see us, and at that point we have to be on point. You can give us a 'oh, that's terrible' when we tell you stories of getting places, but you don't care.
I'm not saying you are cold or unfeeling, but my point is that we (that's all musicians) go through an awful lot to get music to you on a daily basis, which includes lots of personal sacrifice on many levels, and the average fan just doesn't care. You just want hear the music, and we are happy to deliver. We shrug off the obstacles, move past the BS, and try to give you what you want: a great show.
Now that that is all out, I have been on the beach in Santa Monica for the past 24 hours, and I promise you, it's a just reward for the previous few days. But, you don't care. 🙂
We flew out to Palm Desert, where we had the day to get relaxed. I ended up watching the Grammy's and hitting a local supermarket, which was about as rock star as it gets. The next morning, predawn, Jeff and I drove out to Joshua Tree to watch the sun come up. I'll let the pictures tell you what kind morning we had…
So we get back and get to the venue, then head out for dinner. Come to find out, a great friend of mine, Sarah Bettens of k's choice (and her brother Gert) were in town, so they came to the show, and we were able to catch up in person. They are busy working on a new record, and I can't wait to hear what they have cooking. The picture on the right is a Chuck Jones original on the wall backstage at the McCallum Theater. The walls have also been signed by the likes of Bob Hope, Tony Bennett, and Liza. One of the benefactors of the theater is Jackie Autry, Gene's widow. It was a sincere pleasure meeting and speaking with her.
We were then off to Santa Monica, a short drive down the road. We left after our show to get down to the hotel, so all I remember is a zombie-like walk to my room at 1:30 in the morning. Remember I was up pre-dawn for the scenery. Ahh, the sacrifice. When I awoke, I was pleasantly surprised at my trappings.
In a woeful tale of sacrifice, we were housed at the Shutters resort in Santa Monica. This 5-star gem of a beachfront property caters to the elite, the famous, and most bank accounts I can't even fathom. I am not a fan of a $6 cup of coffee (I am, however, a fan of Lemon Ricotta Pancakes), but, as I was reassured by my California friends, it's sort of normal for Santa Monica. Private events are always interesting, and in the Forrest Gump style – we never know what we're going to get. Well, this one was a good one. We played with Kenny G, who actually kills on sax, with his 'smooth and sweater comfort' style making him the brunt of jokes, but it is KG who gets the last laugh. He's worth about $50 million. $6 coffee ain't nothing to him.
In all my times to LA, I've never been to Santa Monica. Shameful now that I look at that, since it's a vibey, weird, very California place. You'll have Bentleys driving past homeless dwellings. I was able to get out and bike down to Venice, rode the ferris wheel on the pier (a lá the movie 1941), and I assure you, I ate as much California cuisine as I possibly could. Smoothies, right? And name this movie set for 10 points…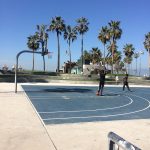 Jeff, KT and myself also took a little ride into Echo Park to have lunch with my friend James Trussart, an artist and master guitar builder. His shop and showroom are amazing. A toy store for us musician kids.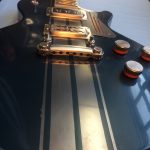 So that night we play for a little while, take in a few extra breaths of warm salt air, then head to the airport. The redeye was my flight of choice so I could get Henry to school. I was tired as can be, but well worth it, I assure you.
So, yes, Virginia, I started off in paradise, slightly ranted about our conditions, ended up in paradise again. So maybe I shouldn't have been too hasty in my assessment that you don't care. It's not that you don't care. It's that you don't have to, because somehow, someway, it all balances out. Now, if you'll forgive me, I must get some Woolite on my shirt: this 2010 Silver Oak could stain…
See you on the road!
---
---