Shinybass journal entry 02-20-12
There's no basement in the Alamo.
It's true.  I looked.  I asked.  When I visited the sacred site of the Alamo, I was with a terrible cover band whose lead singer was a piece of work.  I toured the Alamo, and came out and asked if he had been in.  He told me 'No, ______ saw it. (Space left blank to protect the name of the female keyboard player in the band he was living with at the time).  As if her going in was good enough.  Then I looked at him like he was nuts, and he backed up and said 'Well, they make you take your hat off inside, and do you think I should go in with (points to his hair) THIS mess?  Well, let's break this down -first of all – you cowered, you caved, and you admitted why you are lame.  I can appreciate that.  But at the same time, saying you let someone else see the world for you is beyond me.  (In his small defense, he may have seen it before or since, but doubtful) And using your hair as an excuse MAY fly for Dolly Parton.  Not for you.  My point is – don't see the world through anyone's eyes but your own.  There is too much to see and do out there.
In keeping with the spirit of the theme, I am sticking with my resolution to get out more, if that is possible, when on the road to see and do what I can, even if for a minute.  Life is too short not to.  It seems I am being bombarded with stories of people I know or have met that are being hit with cancer or dying way too young.  I can't let days pass me by.
When I saw our calendar had a show in Hershey, PA, I was excited.  I wanted to see if, in fact, the streets were paved with chocolate (almost – they have kisses for streetlights), and if there was sweet stuff everywhere.  Actually, I was impressed with the entire town.  It was our first trip out in a little while, so as a band we had a lot of things to talk about, but I found myself with about 90 minutes to get away from the show site and see some 'stuff'.  So I jumped in a hotel van (OK, there was a driver), and he dropped me at the Hershey Museum.  A fine, fine, way to learn all about the chocolate process, and how Milton Hershey built the town.  His story of failure and success is pretty amazing, and his contributions to the area cannot be counted in dollars.  He opened a school for orphaned children that runs to this day, developing many kids that have gone on to great success.
I was happy to see a clock in the museum, because I have been slacking in my old-timey photos.  This particular clock is the Apostolic Clock, built in 1878, and one of the more famous clocks I have photographed.  It not only gives the hours and minutes of the day, but also seconds, months, phases of the moon, and signs of the zodiac.  It is only run periodically now, and may not be impressive by today's standards, but it is impressive by mine.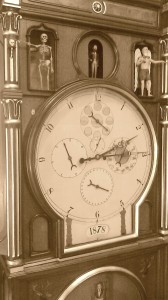 As I climbed back in the hotel van, I asked the driver if we could take the long way back to the hotel, so I may see some of the town before I left.  I wasn't quite prepared for the tour I received – there is much more to the town than chocolate.  I mean, I did see the Zoo, the amusement park and heard about the Band Shell that Hershey built for his workers.  I also saw the meeting house from 1732, the cemetery that holds the remains of Revolutionary War soldiers.  I saw Hershey's mansion, High Point, as well as the one-room schoolhouse in Derry Township where he attended, although it is said he didn't get much formal education.  I also saw the Homestead, which was Milton's birthplace, the Milton Hershey School, and the Penn State medical campus at Hershey that brings mad dollars to the area.  All set up within a gentle Pennsylvania low mountain landscape.  Not too shabby.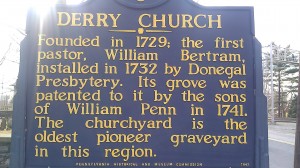 There's  your Hershey city history rundown.  It's worth a look-see if you are in the area.  I would have liked to see the car museum, but I will have to hit it next time.  I was due to be back at the hotel by 3, because they were closing off the shooting range at the hotel for us, and we were about to get rowdy.  You see, we were in town to play a corporate gig for a big bow hunting convention, and whereas I don't hunt, I don't mind shooting at all.  So after getting yelled at (more than once) about the 'range being hot' (damn safety concerns), the band and crew fired a few arrows at some unsuspecting bales of hay.  I honestly have never shot before, and I can see the allure, but again, I don't like to shoot things, and I have even stopped shooting the bird in heavy traffic.
Corporate shows can be hit-or-miss, but this one was a really good one – and the place was packed.  I am looking forward to this week's shows – we are at the Historic Sherman Theater in Stroudsburg, PA then we hit the Mohegan Sun's Wolf Den for what will be a fine party.  This was the site of our first gig with Phil last year.  Wow, what a difference a year makes.  There are rumors of a bachelor party in the works for Stroudsburg, and well, it's no Monte Carlo, but I will take a hang with my bandmates anywhere I can.
I will leave you on a semi-serious note.  The other evening, we were awakened by a strange smell.  I have no idea how or why a smell can wake someone up, but it did.  We looked around the house and realized the plastic burning smell was the thermostat.  I shut off power and had an electrician out the very next day.  It turns out whoever worked on the HVAC before had placed a wire where it shouldn't have been, and the wrong current hit the thermostat.  Let's just say I spent the entire next day (and right now, and tomorrow) counting my blessings.  If it had happened two days later, I probably would not have come home to a house.  Be safe out there, and check the batteries in your smoke detectors.  Now.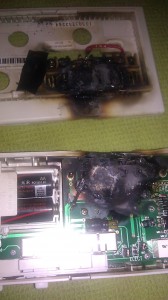 OK, I can't leave you with that.  How about some chocolate bread pudding, courtesy of the Hershey Lodge?  There we go…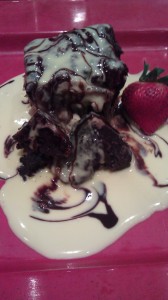 See you on the road!
---
---