Shinybass journal entry 03-10-16
I still believe
Good morning! Another day has been afforded us, and I hope this finds you sipping an exceptional cup of something warm and possibly caffeinated. Which brings me to a question – a serious one – Who makes the best cup of coffee? Now, the Chicago answer is Starbucks, just because there is one on every other corner and in all the supermarkets, but I am a little over Starbucks. I have dear friends that run a place called Joe Beans in Virginia, and I hear they make a great cup of coffee, but I have never been to a store firsthand, just brewed their beans at home, so I can't make a call on that one. I had a cup of coffee in Portland last year that was amazing, but I can't remember the name of the joint. It seems there are a LOT of coffee shops popping up, but somehow they leave me wanting more. If you could only have one cup of coffee before you die, where would it be? Leave your answers in the comment section below.
I am generally over-caffeinated. I think the music industry as a whole is over-caffeinated, but it's better than being over-methinated. I've heard arguments both ways on the good vs. evil in coffee. Our bus has a pretty hefty stock of coffee, and that I do appreciate. It makes the mornings so much nicer when we can just wake up and find something exotic and pop it in the Keurig. Plus, I am the barista for the bus driver. You want inner secret stuff? There it is – I make our driver coffee when I get up.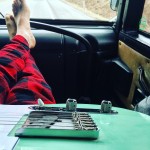 I woke up early on the last run in anticipation of our scenery en route to our destination, which was Warrendale, a northern part of Pittsburgh, PA. I know a few things, and one of them is that the view upon exiting the Fort Pitt Tunnel headed into Pittsburgh is one of the best anywhere. Just my luck, we were skating around Pittsburgh, so I saw farms that eventually gave way to strip malls, with no gold painted bridges anywhere.
Warrendale is not an especially huge suburb of Pittsburgh from what I saw, but it did have some solid restarant choices, one of which is Primanti Bros., a Pittsburgh staple, and leading cause of high cholesterol in most 'Yinzers'. When I plotted my Apple maps and found said Pittsburgh staple, then I sort of decided for everyone where lunch would take place. Honestly, getting a bus to decide can be a bit like combing a Wookie.
Primanti Bros is NOT for everyone. It's not really healthy, the 'everything' (fries and slaw) on the sandwich freaks some people out (I think it's because they don't know what to do with their hands between sandwich bites), and if you are a Bengals or Browns (or Raiders, Patriots, Ravens, Broncos, et al ) fan, you won't have a good time sitting among the Black and Gold reminders of greatness everywhere. But alas, I'll take it any day.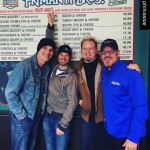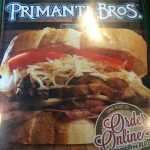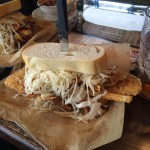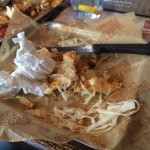 Our show was a lot of fun at Jergel's, and the light sprinkle of snow was just about perfect. I know some of you are done with snow, but I can take it any day, and it powdered enough to make things pretty. It was another bonus – the best was that my Uncle came out to the show. I love when we are close to family.
We woke up a few short hours later in Covington, KY, just across the river from Cincinnati. I like to sit in the jump seat and sing the theme to WKRP when we cross the bridge. Ahh, the 70's. There you go – another dirty inside road story.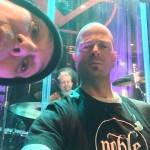 I have no hard evidence to back up this claim, but I would imagine Covington is what Cincinnati used to look like. The 'downtown' buildings are from the turn of the century (not like Nashville's 2000 turn of the century) and earlier, and Jeff Brown and I took a little time to walk the blocks – mainly to check out pawn shop for anything fun – but also took in some great old buildings that are still beautiful so many years later. We visited a beautiful church built in 1870, and it rivaled any house of worship I've experienced. Simply beautiful, and sadly, they don't make them like that anymore.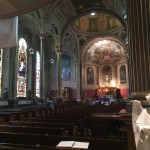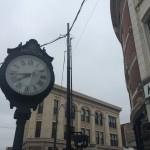 I love playing older theaters, and the Madison Theater is a little different than others we've recently hit. It wasn't completely renovated and elegant, but simply a fun room, and I would imagine for the rock shows it could get downright crusty. My kinda place. The staff and promoter were all wonderful hosts (thanks for my run to Macy's for hair care products), and I look forward to seeing the town again.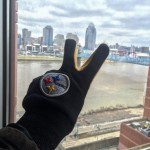 Since Nashville was only a few hours' drive, we arrived home pretty early in the morning, and I was walking through my front door in time for breakfast. I love that – plus it was a rare Saturday off, so it was playtime.
Fast forward to Monday night. Once again I was a small cog in the Loud Jamz that happens monthly in Nashville, bringing together dozens of the best and brightest to jam on tunes we don't get to play in our 9-5 jobs. This one was a little different for me, however.
First, I sang lead and played bass. Not crazy, but something I don't get to do as often as I like. The song I sang was 'I Still Believe' by The Call, long a favorite of mine, yet I had never really dissected the lyrics until I had to sing the tune. And I discovered something. It's a pretty awesome song.
Michael Been was the lead singer of The Call, and he passed away suddenly of a heart attack (at one of his son's shows, sadly) a few years ago, leaving this world too early. Joey Feek just left us way too soon, and it seems we have had a rash of legends pass on in recent months. For us musicians, that's a tough pill to swallow. It should be a wake up to everyone that life is short and precious.
In the lyrics, Michael writes that basically no matter what, he still holds faith in this crazy dream of his. A great song is interpreted 50 ways by 50 people, but in this case, I think he speaks of his struggle to make it as a musician, something that resonates with all of us who live on the lighted stage. The beauty of this song is that through all of it, he still maintains, and will march through. It hit me in that we spend a lot of time on the wrong things, and before we know it, we're older, or dead, and what really happened? Our friend Tom Hurst brings musicians together to experience life and music, both of which are so important to who we are. Experiences – not reading about other's feeds and foods – fuel who we are. I realize you are reading this online, but you won't let me print this and mail it, so here we are. Anyhow – all I am saying is Believe and Live.
Long winded, I know, however we are now at the end, and it's time for pancakes. Oh, I make them from scratch. Another shocking secret! Oh, the huge manatee!
Enjoy this warmer weather, and make every day count!
See you on the road!
---
---