Shinybass journal entry 03-11-13
There sure a lot of 1's and 3's today.
We are so close, aren't we?  I mean, it's Winter, then it's Spring, then back.  I'm showing restraint this year.  Just because it's warm one day doesn't mean it's time to plant the garden just yet, although I think we are all ready for a little sunshine in our lives.  Sunshine means outdoor music festivals, which are some of my favorite.  Sweaty, barely-clothed people jamming together for an afternoon of loud music and lots of drinking – yeah, I think Summer tops the list of seasons.  Sorry, Autumn.
But back to the here and now, which, for some, is a little cold, a little rainy, and for me, sick.  I don't want to blame Brock, who was also sick, or Gordo, who was ALSO sick on our bus, but it's really hard to stay healthy in a rolling metal tube with no fresh air.  Close quarters and my incessant sneezing didn't put anyone's mind at ease, and being a certified germaphobe, I could empathize with my fellow gypsies.  Nobody wants to be sick, and with our lifestyle, it's hard.  But somehow, someway, we all pull through (relatively) unscathed.
This week's one-off was to Milwaukee for a charity fundraiser.  The bus took a detour through Chicago, and I awoke to see this, only to have my hopes of stopping dashed, and having to settle for a breakfast of bus stock.  BUT, I was thankful to have that.  I've been on buses that don't offer any food of any kind.  That, in itself, is NOT kind.  So maybe pizza for breakfast next time, oh dear Chicago, you big Midwestern tease, you.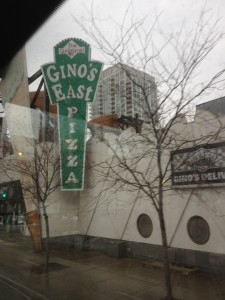 But a few miles down the road was our destination – Milwaukee.  I think Phil could run for mayor of this town, if he ever had a political calling.  He has played Summerfest 11 years in a row, and we're putting our stamp on it again this year, along with headlining Festa Itlaliana later this summer.  I am excited for both festivals, because we are joined by 15,000 screaming Milwaukeeans.  (Or is it Milwaukites?) Either way, it's a huge night for Phil, and I am happy to be a part of it.
But before summer, there is winter.  And so with piles of dirty snow lining the city streets, our bus, dubbed 'Cloud 9' found its way to the venue, where we were greeted by a waiting, um, mode of transportation to get us to lunch.  I had been waiting for this lunch for the better part of 3 months.  We were headed to the Corleone Club, home of THE BEST Italian cuisine in the country, prepared by Geno, one of the kindest souls in the world.
Usually I am not a drinking man on day of show, but there are exceptions.  One, any tropical beach location further south than Key West where I am poolside, and have a reasonable amount of time to get my head right before the gig, and 2, at the Corleone Club.  If Geno is pouring, I'm in.  I think this pasta course was number 4 or 5.  I was in a food coma by the end of it, so I can't really remember much about the afternoon.  But I know that the cold I was coming down with needed help, and the old farmer's remedy of boiling an onion was out of the question, so I opted for the next best thing : feeding the hell out of it.  Plus, my Italian side really didn't let me get out of there without cleaning my plates, either.
The next extremely exciting part of the day was the wait.  Yep, they say load in at noon, sound check at 2:30.  They SAY that, but, we all know that doesn't always happen.  I think it was 5 or so by the time we made any noise.  It's OK, at least we had a nice dressing room.  For ALL the acts to share.  To say it was a little tight in there, well, that's an understatement.  We did find a production office we could hole up in until needed, and so lots of our time was spent in there.  Not like the opener left us any couch room…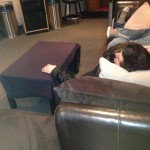 But in the grand scheme of things, it was fine.  We met Barry Williams, AKA Greg Brady, and he was nice as can be.  We had lunch with Naima Adedapo from American Idol, and she was great as well.  The charity raised $117,000 that night, so I would say it was a success.  I plowed through the set, unbeknownst to the world that I was using my stage towel to wipe my nose that would not stop running.  Disgusting, I know, but Brock was in the same boat.  Rough night.  Instead of whiskey shots, we were taking Halls.  Oh, how things have changed….
Sick or not, demented or not, this touring bunch is a terrific family.  It's hard to get a group together that all gets along, and we all do.  We also all act like children.  All the time.  Even when we're sick.  And that's what makes it fun.  And also why we can't have nice things.  Like a limo, since Tommy and our friend Charlie decided to have a WWF match on the way to the venue.  What goes on behind those tinted windows, you ask…?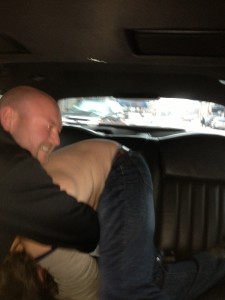 I think Tommy won.  He's little, but scrappy.  And has a hell of a jumper.  The only jumper I have has sewn in footies attached to it.  Some were blessed with basketball skills, some with hair.  I have neither/nor.
This weekend I will be celebrating my one year wedding anniversary, so don't look for any journal entry on Monday. Or Tuesday.  For our next show, we have a high-falootin' private event in Washington DC on the 20th, so when the madness begins again, I will keep you all up to date.  For now, keep checking your 7 day forecast for sun, may your tulips bloom soon, and if you are in Milwaukee, get to the Calderone Club, and tell Geno we said hello.
See you on the road!
---
---