Shinybass journal entry 03-20-16
Today. Right. Now.
Before the interwebs came along, it seems the only motivations we had were the dreamy posters of a flying bald eagle or a waterfall with big words like 'Courage', or 'Motivation', or 'Salami'. Maybe that last one was from a pizza joint in Morgantown, so scratch that. You get the idea. I think bumper stickers and T-shirts would have been the other 'portable' motivators in the analog age. It seems that now with all the 'instant' technology there is an avalanche of reminders that are meant to enrich our lives, remind us that life is precious, and that today could be our last day. Yet, as we read these, the minutes and hours are wasted by mindlessly scrolling feeds looking for happy stories and inspirational quotes. So I am wasting time looking for ways to make my life better?
I always bash technology, yet get sucked into it daily. I am sitting next to my phone, while using my laptop, across from people scrolling feeds on their phones. On the bus, there are actually only a few quiet options to keep us busy, and so now phones have been moved ahead of movies and charades. The trick, I think, is to get into the phones only a few times a day, rather than stay camped. But that's just me. Hang on, I have to check my likes. OK, I'm back. The word of the day is 'Today'.
For me, the road is a great excuse to see the world. I can't think of many other jobs that let us wander aimlessly for hours before and after work. As you know, I take full advantage, and end up in the craziest places by chance. Other times, it's a planned chaos. Either way, I am grateful to get out and get miles under my shoes.
Our first stop was in Stroudsburg, PA, which is a sleepy little college town nestled in the Poconos. We were there about 4 years ago, and a few things have changed, but it is the same, and familiar storefronts are always a welcome sight. The morning was going to be a fun one for us. We were contacted by a friend who could get us a special tour of the Martin Guitar factory in Nazareth, PA, so four of us hopped on over and were given the royal treatment. We didn't have a ton of time (is there really ever enough time?), however, we were given great looks the custom shop, some of the amazing artisan practices these workers employ, and a full tour of the museum.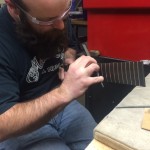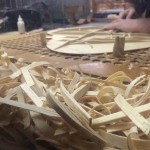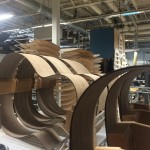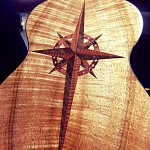 If you are a guitar fan, or just a history fan, the museum is insane. Not only are there guitars valued in the half-million dollar range, but historically important instruments. Some highlights include guitars from Gene Autry, Leo Fender's first electric guitar (let THAT sink in for a moment), Tiny Tim's ukulele, and the Konter Ukulele, an artifact I fell in love with upon first sight.
The quick story is that Richard Konter was a ship's mate on the Byrd Expedition to the North Pole. Upon reaching their destination, Konter had the crew sign his trusty uke, including the ship's cook on the headstock. Once the parades and highfalutin parties began, Richard had other dignitaries sign the instrument, from Edison to Calvin Coolidge (extra credit if you can name his VP that signed it also), Teddy Roosevelt, Charles A. Lindbergh, and General 'Black Jack' Pershing. To me, this instrument is a National Treasure. Priceless. Just about perfect. I was having a great time soaking in this museum. And then it got good. Quick.
Our host introduced us to Dick Boak, who is the head of A&R, the founder of the museum, and a legend in the guitar community. He asked if there was anything I'd like to see. He then jingled the keys and said 'I have the keys…' OK, so there are priceless guitars in there. One of a kind instruments, and a D-28 valued at half a million dollars. Which would you pick? I had to confess – 'Dick, I am a bumbling guitar player, a bass player by trade, and anything you show me I would appreciate'. He then cracked the case on the Sting acoustic bass, and pulled a different guitar for Jeff. After we played those museum pieces, I asked for a special favor. That's when he pulled out the Konter Uke. What you can't see is that the back is covered top to bottom in signatures. So. Darn. Cool.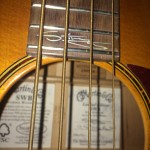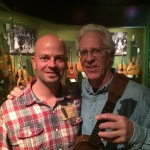 Oh yeah, there was a show that night too. And the packed theater and meeting new friends made that a cap to a wonderful day. Thanks Stroudsburg. Until next time.
The next day found us in Morgantown, WV. Upon searching the interwebs (I'll stop saying that now), it turns out that I had family a short drive away, so I had the bus drop me at my trusty Enterprise (shameless plug), where the staff were wonderful as always, and I drove through the SNOW to see my Great Aunt and Uncle in Meyersdale, PA. I am not sure of the exact timeline (shame on me), but I think we've had family in the general area for 175 years. I used to spend some time in Garrett, which is 5 miles away, where my Grandparents lived for a long, long time. It was pretty awesome to drive around and see the old towns, although it made me miss the 'old days' when our only cares were about, well, nothing. It made the day exceptional. Pictured below is the Levi Gould Mansion, which is a great B&B, so if you are riding the Allegheny Trails, then make sure you stop and stay here.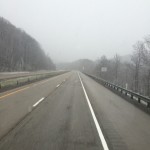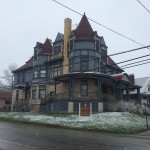 When walk around with blinders on, you miss a lot. Some would pass this little place, which is in the middle of downtown Morgantown, and not give it a second glance. Upon further review, it dates to 1795, which is fantastic. At some point, I want to live in a little stone house from the 18th century. I give you – wait for it – Old Stone House.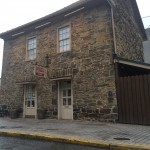 So that's about our weekend. Lots of history, lots of sights, and lots of important events. I can't thank our friend Tom enough for getting the Martin tour together, and for our cast and crew for allowing me to jaunt off on crazy quests whilst on the road. Luckily our guys get it, and know that I am a quirky bird that flies in odd directions sometimes. I can't stress enough, however the importance of getting out. You don't get a second chance. Well, sometimes you do, but if you do, then you are one of the lucky ones. Do what you can. Today. Right. Now.
See you on the road!
---
---