Shinybass journal entry 03-25-15
Some days aren't better than others – they are just..different.
If you sat and honestly attempted to write your life story, how would it read? Would you be the eccentric private-island dweller, having your every whim and desire catered to?, Would you be a superstar singer or actress? Would you cater to your childhood fantasies and be a firefighter, astronaut, or a princess? Most of us don't set our sights on 'homeowner, married, 2.2 kids, office/cubicle/punch the clock at a factory" kind of life, but that is where most of us end up. 'That damned TV' makes us wish for something more (I gotta have the latest _______), and the double edged sword of the internet shows us that we can make anything we want possible, and somehow make us feel worse if we don't reach those goals.
I make no bones about it, my life is charmed. I went to college, meandered around  for a while, and had no idea that my life would end up the way it has. If I had my way 25 years ago, I would have been a marine biologist. Then 20 years ago I had jobs lined up with the front offices of minor league baseball teams to use my marketing degree. Then, somehow, here we landed. Homeowner, married, 1.0 children (with 3 furry ones on the side), daycare, a sensible automobile, and I think I own a suit. My job is different than most (but the exact same as a lot of my friends – call us the 'no 401k club'), and we get to run around the world playing music. That in itself is amazing. And I am pretty OK with that. But sadly, even though most think otherwise, I am no different than most folks.
The things I try to do as a regular guy is soak in the ride that I have been given, and geek out when appropriate, which seems to be a lot. Sue me. I like life, I like odd breakfast places, and a great cup of coffee with a friend can open your soul to places you never knew existed. I see the shows pop up on the calendar, and as you know, I get excited. A couple weeks ago, we had a great run of shows that took us north of the Windy City, and to the home of cheese. Lots of cheese. But first, a local show.
We had a corporate show in Nashville on March 17. St. Patrick's Day to most of you, but my anniversary to me. So, instead of a fancy dinner wearing my said one suit with my beautiful wife, we enjoyed shoddy catering in a backstage side room with our baby and a couple guys from the bus. So romantic, indeed. But as I have preached, the day doesn't necessarily matter, so we will have a chance to celebrate properly soon.
The bus rolled at midnight, and I woke up in Waukegan, IL. I honestly didn't see a whole lot in Waukegan. I did find a nice Chinese restaurant, and that was about all the excitement I could muster. The theater was amazing, a former Vaudeville theater, and the staff was exceptional. And the Waukeganites made us feel very welcome. Home of Jack Benny, Waukegan is going through a revitalization, and this theater is the cornerstone of what will be a great downtown.
The next day we were in Green Bay, WI, at the Meyer Theater, another jewel of a venue in a town that loves Phil. I really hate to be cliche, but the fans brought us blocks of cheese as presents. I'll take it. Just make sure someone brings gumbo to our show in New Orleans later this year. Huge show, huge night, and wow – just a blast to feel the energy from the Wisconsin crowds, and then we give it right back. Funny how that works. I spotted the Wisconsin state flower while in town as well. Thank you, try the veal.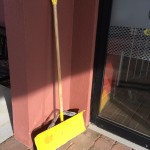 Then we were off to Eau Claire, WI for another theater show, this time at the historic State Theater. It is nestled in a sweet revitalized district full of restaurants and clothing stores, and just a few blocks away from the Acoustic Cafe, a fantastic lunch location, with great food and great people. Once again, a packed house made for a wonderful night, and the staff was top notch. I'm looking forward to heading back there again sooner than later.
So when I started this entry, I said some days are 'different'. Well, here we go: We were booked to play Donald Driver's charity event, and it was held at the Pfister, an historic hotel in Milwaukee. If you have never been, you must go. I had three great meals there, starting with the breakfast in the cafe, a liquid lunch in the lobby bar (with a Miss America sighting), then a dinner at their steakhouse. In between we went to The Calderone club, where we celebrated the baptism of our dear friend's child. And, like any good Italian celebration, we left there full, happy, and with leftovers.
The Cleveland Cavaliers were also in town and staying at the hotel, so by random chance I walked by LeBron James in the lobby. He didn't smell as sweet as Jordan. I mean his game, not his cologne. Discuss amongst yourselves.
The evening was a star-studded event, with Sherri Shepard from The View, Anthony Anderson (who is funny as can be), Gavin DeGraw, and of course, Packer legend Donald Driver. We started our set with some Phil songs, then went into 'Easy' by Lionel Ritchie, then Gavin joined us for a long jam of 'Let's Get It On'. There will be video at some point, and I hope it translates as to how much fun the night really was.
So the day was pretty darn fun, but again, so are all the days we're on the right side of the daisies. The winter blues have finally tapered off, and the sun is finally showing its face to the good people of our frozen country. Get out, folks. You don't get this day back, and life has no do over. We all have mortgages or rent, babies or grown kids, pets, laundry and cooking to get to. The life we chose (or that chose us) is the one we have, so make the absolute most of it, especially the 'in-between' times when we don't have anything going on at all. That may be the coffee break you need.
This past week I was cast in a supporting role on the ABC TV show 'Nashville'. I'll get you the details on that one soon enough. Thanks for stopping by!
I'll see you on the road!
---
---