Shinybass journal entry 04-03-12
Mahalo for your patience.
Well happy Tuesday evening!  I am running in circles (mostly in my head) about the past events of the past two weeks.  I am sure you have heard by now that I was married on March 17th.  What?  TMZ didn't pick up the story?  Eh, that's OK.  I preferred the wedding we had sans helicopters and throngs of fans trying to catch a glimpse.  Actually, if I had taken out a full-page ad in the Tennessean, I am sure the same amount of people would have attended, and I STILL would not have tried the banana split cake.  (Some of you had the chocolate chip, lemon AND banana split cake. Shame on you…)  Either way, it was an amazing time, and we had the time of our lives.
With weddings comes gift registries, and so whereas the dining area of the house was initially taken over by table centerpieces, now it is full of boxes and gift receipts.  I am thinking that Target and Bed Bath and Beyond could save a ton of cash and just ship you everything at once instead of one at a time.  This would cut down on boxes (saving trees), and if it's delivered in a POD, then it can sit in the yard until we move to a bigger house, which is what we are going to need for all these toasters anyways.  Win win.
After the storm of the wedding and the relatives, etc, we sent our dog off to Grandma's house for a few weeks of being spoiled and I was back out on the road.  I know it sounds crazy to not just jump into the honeymoon, but I really don't like missing work, and b) the condo where we were staying wasn't available until the following week anyways, so no sweat.  The first night found us in Annapolis, MD, for an acoustic show.  I love this little town, just because of the historic atmosphere by the water.  I found Galway Bay after seeing it on Diners, Drive-ins and Dives, and I was thoroughly impressed.  We hit the stage for two shows that night, and watched a great local band until the bus had to roll at 1. A great start to the week.
The next day we found ourselves in Boston for a rare day off on the road.  I called my friendly rental car company, rounded up J-Dawg and Gordo, and hit the streets for an afternoon of adventure.  First stop was the JFK library, which was breathtaking.  The location, of course, was prime real estate, but the museum was a wonderful display of his short time in office.  Below is a picture of the tattered flag from PT-109, John's command during the war.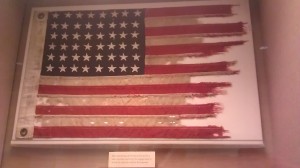 In keeping with the history quest, we found our way to the monument of Bunker Hill, which is actually on Breed's Hill.  Bunker Hill is a half mile away, and was mislabeled on a map 200 years ago.  Ooops.  Either way, it was the site of the Revolutionary War, and although we lost, the impact was enormous.  It showed that a 'bunch of farmers armed with pitchforks' could fight.  This forced the British to not take us so lightly.  So they wouldn't forget, we built a really, really tall monument on Breed's Hill.  We made Gordo walk all 294 steps, even though his heart wanted to give out after about 20.  He slept well that night.
After the tower, we headed off into North Boston for even more history and culture.  I am STILL kicking myself (3 weeks later) for not eating in Little Italy, and although the fish and chips we had were good, it pales in comparison to the culinary exposition that occurs nightly in North Boston. We did manage to get a lot of walking in, saw the Old North Church, and also managed to get a glimpse of ol' GW as he unwound after a hard day of revolutionin'.  The treat came during our walk through the market.  I can still taste that meat we took back to the bus…we only did a half.  We were full.
As the bus rolled the deliriously long 2 whole hours to Lowell, Mass for the next night's show, I was snug in my bunk with a belly full of goat and a head full of history.  Of course, in just a few short days, I would be leaving on my honeymoon, but I needed to focus.  The show in Lowell is always a bog one, and this time was no exception. The theater was packed, and I had friends in from Lowell as well who are musicians.  About 30 minutes before showtime, I got a call saying my step Dad was in the ER after having a heart attack.  1000 miles away and helpless, all I could do was rock the show then get to a phone afterwards.  Thankfully he did NOT have a heart attack, and he doing just fine.
The last show of the run was in Lebanon, NH, which was a return visit for us.  I was hoping to see just a little snow on the ground, but no such luck. We did find the 4 Aces diner, which is a must visit if you are in the area.  The donuts are as big as your head.  After a couple hours of basketball to work off breakfast, we had a playful sound check, and kicked off the show.  As our lights and fog machines hit for the second show, we tripped the fire alarms, and the theater had to empty for 10 minutes.  That was a first.  All was green and we hit the stage again, basically starting over, but playing a great set for a local charity.
I was in bed early, for in a few short hours, we would be flying out of BWI for Nashville.  I needed the extra time to get packed for my week-long honeymoon in paradise.  And well, it was.  But you won't get those stories.  Except maybe how I ended up on the table with a Mexican doctor and his assistant pulling at my left eye.  Again – a story for another time.
Today I jumped right back into life – today I had a video edit, this journal entry, landscaping, errands, and packing for yet another run of shows.  I also failed to mention that during the last run, we had a video crew out with us, filming the video for 'Don't Miss Your Life'.  It's actually one of two that will be put out.  The first should be out in the coming weeks.  I know because I know the guy editing it…
If you find yourself in Lynchburg, Va this week, make sure you come by The benefit for The Miller Home.  It's a huge event, and an honor to appear.  After that, we are in Myrtle Beach.  This sand and surf stuff sure is making me miss home…I'm still shaking Mexico out of my shoes, so a little more won't hurt.  I hope that you all have a great week, and thanks again for your patience.
See you on the road!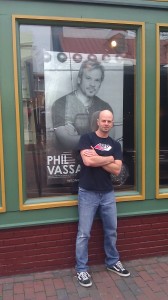 ---
---