Shinybass journal entry 04-12-12
Carry me back to Ol' Virginny
(That's where the cotton and corn and tatoes grow) In case you were wondering – THAT's where the tatoes are.  Not to be confused with the 'tattoos' (See tramp stamp) or Tatoeba, which will help you hail a tassi in 50 different languages.  No, no – this the Motherland.  Well, at least my Motherland, which I feel is one of the greatest states in the Union.  Of course I am ridiculously biased, but show me your state stats (say that a few times after a high-gravity micro brew), and I am sure Virginia has you beat.  Steeped in history, the cradle of our country, and home to 8 US Presidents, Virginia has it all from the beaches to the mountains, and even an island where the ponies run free.  Yes, you can carry me back to Ol' Virginny anytime.
Playing with Phil has taken me back to Virginia more times in the past 18 months than I can remember.  It seems we are always headed up I-81, and with no complaints from me.  Phil is from Lynchburg, with other guys on the bus from Virginia as well, and our black submarine is forever pointed home.  I'm just a sentimental old fool.  Seeing the inspection stickers and personalized license plates means that we're in a good spot.  (Virginia doesn't charge much for personalized plates, so just about every clever driver has one – EDUC8D)
This time back in town was for the annual charity show to benefit Miller Home of Lynchburg, a cause that has become very important to Phil, and through his hard work and dedication has raised a lot of money for the home, going on four years now.  The event pulls Phil in about 100 directions, but he does it all with a smile, and without complaint.  The first event is a high-dollar ticket sit down affair, where the band plays in a downtown event space, then the next night's concert is a rockin' affair, usually with a special guest.
The show began with Jason Michael Carroll, and although his label deal went away, Jason is still pushing to move forward and keep the dream alive.  He is always a nice guy.  We were on afterwards, but then the real treat began, with Phil joining forces with his old band 'Thyss' to perform songs from their heyday.  No, not the roaring 20's.  They did a medley of 80's hits.  I know the 'time machine' feeling of playing with your old band mates, and it's a great feeling. We also had Robbin Thompson on the bill, which was a treat for me.  I'm hoping the video sounds as good as it did in my head that night.
Aside from all the musical and charity events going on, I had a bunch of personal surprises as well.  First, my oldest brother joined us for a round of golf at London Downs, which was terrible for my score card, but great for him.  Second, my cousins came down for the show at Phase 2, and they had a good time.  Third, I was reunited with a friend from junior high school, seeing him for the first time is over 25 years.  He was the one that convinced me to buy my first bass.  He's partly to blame for all this mess.  We had a band called VEX for about a minute in junior high – we actually played a paying gig where I made $10 – and my dreams of super stardom were launched.  Here's Alan and I – I honestly looked for a 1984 picture of the two of us, but the flood of 2010 has displaced a few of my things.  I will post it later.  For now, you get the recent snapshot.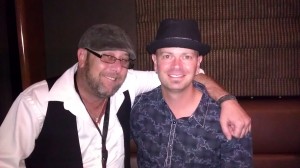 A short bus ride found us in Myrtle Beach, SC for a stripped-down club show.  By 'stripped-down', I don't mean J-Dawg wasn't in his usual purple thong, we had a small stage set up, so no smoke and jumping around for this one.  We arrived on a chilly, wet morning, and all hopes of golf were dashed when I walked off the bus and it was 45 degrees and ducks were swimming on the sidewalks.  The club was on Broadway, a big corporate hell of a shopping area, with an IMAX, Margaritaville, etc.  I grabbed the 'smart' phone to search for something to do, and the first thing close by was the KISS coffee shop.  Yes, Gene and Paul have opened a merchandise stand that sells the occasional cup of 'rockaccino'.  We walked through and laughed, not at the ridiculousness of the outfits ("How can you play in that thing?"), but actually just thinking – well, this is why the rest of the world hates us…
And no, we didn't buy any coffee. It's free and much better on the bus.
The show turned out to be a lot of fun, with the Spring Break crowd bringing the fire.  The crappy part about playing at a Spring Break club is that our crew couldn't load out until after the bar closed, so we didn't get out of there until 3 AM.  Our crew works very hard (as most do), and they are really the backbone of making a show great.  My proverbial and literal hats are off to them.
I have been feverishly editing a video for Phil's new single 'Don't Miss Your Life'.  There will be 2, I am told, so look for mine soon, then another to follow.  It really is a great release to work on video and to have moved the hobby into work.  The problem is that now I need a new hobby to replace the old.  Which is why I am heading to Franklin this morning to play golf.  For some reason, I have become really bad at golf lately – so today is the day I turn things around.  And as far as other hobbies go, I hope to have the kayaks out next week, too, so don't worry about me.  I'll find SOMETHING to keep me busy.
I've actually been burning the midnight oil writing for Premier Guitar as well, which keeps my fingers flying and my brain from turning into a mushy mass.  Oh wait, I guess my brain IS a mushy mass.  Either way, in a reflective pause just now (to take a bite of oatmeal), I just realized that my hobbies have all become steady streams of income.  Without knowing it, I guess I really am doing the things I love.  Hmm. Maybe the Senior PGA is not such a stretch.  I do have a few years to practice, right?
See you on the road!
---
---