Shinybass journal entry 04-14-11
Well here I am, as (sort of) promised, back for yet another compelling journal entry to keep you all fully informed to the inner workings of my mind.  And even better – I have photos to go along with the whole thing.  Crazy, I know.  Next thing you know, I will be posting on Twitter.  Oh wait…(@shinybass if you need to follow me – shameless plug), which could be comical if you think about it.  You read it here, then sign up for Twitter, then I 'tweet' saying read my journal entry.  This could provide hours of internet entertainment going around in virtual circles.  Or not.  How about I get to some sort of point?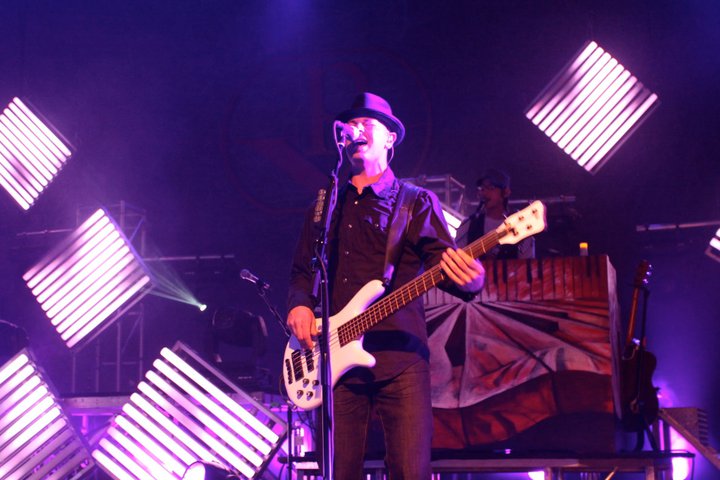 Ah ha!  I told you I had a new gig.  And a new look, too.  And a fancy new lighting rig (yes it travels with us), and fancy new platforms (they travel, too) for which to jump on.  This is a great picture that I just found (my apologies to whomever took it, because you deserve credit), taken at the Miller Home Benefit show in Lynchburg.  What an amazing night.  Phil packed the house that night, with the wonderful Little Big Town opening the show.  Afterward, we had a bit of a social mixer at a cigar bar, where I enjoyed a wonderful Paradigm from 262 Cigars (www.smoketherevolution.com).  That paired with a wonderful French Bordeaux, and my night was complete.  Am I a wine snob? Cigar snob?  Neither, but I don't want to waste a vice on something awful.  All in all, a great way to start a 5-day run.
After two nights in Lynchburg, we trucked up to Collingswood, NJ to play at the Scottish Rite theater.  Wow.  Built in 1932 (by hand) by the Masons, this place was amazing.  The seats and decor was all original, and personally, I LOVE theater shows.  Festivals are great, but theaters are the perfect venues, in my opinion for both musicians and audience.  The show was slated as an acoustic show, but I told Phil since I was already on the bus, I would play for free.  So we geared up and had a show that was amazing.  And what was even better is that I reconnected with my band director from High School, a reunion some 23 years in the making.  This wonderful man shaped me, and although I was an uncontrollable asshole, he somehow found a spark in me, and never gave up. It was really good to see him again.
So the next day we found ourselves in our Nation's capital.  (That was typed in my best Forrest Gump voice) We had a private function at a swanky hotel, and these are good for several reasons: open bar, separate rooms, and plenty of time for sightseeing.  I took full advantage of the time and hotel location after my $25 (!) breakfast buffet (gotta love DC), and marched all of 4 blocks to the National Zoo.  I saw elephants (my favorite), the ass of a panda (walking away), a gorilla (who was remarkably close to the wall), and 5, count 'em 5 lion cubs.  It was a great way to walk off breakfast, and to spend quality time with meerkats. After lunch, we hopped a quick Metro ride to the Mall, where I had all of 15 minutes to sight see before we had to get back for sound check.  I saw a piece of the Hindenburg, a bunch of artifacts from around the world, and Franco Harris' football helmet.  I'd say that was a good 15 minutes.
After a late leave time in DC, we headed back up north to the Poconos.  I have heard rumors of the 'lovers retreats' in the mountains, but never have I played at one.  Um, this was interesting…our cleanup rooms had circular beds, fireplaces, and jacuzzi tubs.  Just the sort of trappings I need to make for a perfect show.  Yikes.  Phil had a suite, which was a two-story number that was home to the famous 'champagne glass' hot tub, made of clear acrylic.  Of my funny side kicks in – imagine being outside of the tub for a sec, seeing your other all butt-pressed against the glass.  Half of you are laughing, half are cringing, the other half are thinking 'How are we in a 'third half'?  Anyways, I am quite sure it is a fun place, but not for me.  A highlight was our 'nature walk', which included random signs placed throughout the woods of things you may see.  Of course, the first sign I see is the one below, so I am thinking 'Is it behind me?  Under the sign?' I was a little lost. Then again, that's not hard.
The last picture is that of snow.  I guess it didn't get the memo that I declared winter over.  I hope it's all gone by now.  Those garter snakes are cold!
So there is the photo essay of the past weeks' run.  I hope it was as much fun for you as it was for me.  Please remember to help control the pet population, and have your pet spayed or tutored.  Thanks again for checking in!
See you on the road! (or in the nasty 70's faded pink jacuzzi tub).  Or not.
---
---