Shinybass journal entry 04-15-13
Patience…patience…
Good morning! Just when you start bitching about the weather – then bang – Spring gets leapfrogged and we have Summer.  At least for a couple days.  And it happened to hit on a weekend, and a weekend I had off.  Holy crap.  What are the odds?  I'll take it.  I think all of us will.  We've been cooped up for a long time, and now we can stretch our legs, get our 2-liter coke bottle Pinterist tomato plants on the back deck (not only NO but HELL NO), and finally be able to walk the dog without dressing for the Iditarod.  My revised New Year's resolution – more outside, less inside.  Of course, I wish for this then we book 50 State Fair Dates in Cottonalia, MS.  Go figure.
But in waiting for the warmer weather (and planting the garden), we must be patient.  It doesn't help us to worry too much about things we can't control.  We can adapt and change, but there ain't no changing the weather.  Or forcing the issue.  Patience is truly a virtue.  And as the adage says, good things come to those who wait.
Like this journal entry, for example.  I didn't scribble last week, because I took some personal time (for a change) and was able to actually relax and enjoy the weekend.  Of course, I knew the bus would be rolling out Monday night, so I cherish the home time.  So no need to panic, my 5 readers, I am still here, and still as cynical as ever.
We ambled to Lynchburg for the annual Phil Vassar Miller Home Benefit, which is a 2-day event featuring an intimate acoustic show on Wednesday, then a full-bore show on Thursday. I used the day off on Tuesday to get in a round of golf with the boys and my brother Jimmy, then I headed to Charlottesville for an over night at my Jimmy's house.  Uncle Steve time is good time.  I hit Lynchburg on Wednesday afternoon, walking the town a little to clear my head, then getting my fingers under a few tunes for the events ahead.  We had some big songs to learn.
Past guests for the Miller Home shows have included Little Big Town and Jason Michael Carroll, but they have not needed the services of a band.  This year we had Virginia songwriters Steve Basset, and the legendary Charlie Daniels.  We were assigned the task of backing all three artists.  Personally, it's a fun challenge to get the cobwebs off and learn new music, and the fact that it was Charlie was even more fun.
A couple years ago, we played for Charlie's Christmas for the Kids at the Ryman, and I hoped to be able to say hello.  I don't get starstruck too often, but it was Charlie Daniels!  I saw him from side stage, but was never able to catch him backstage to shake his hand.  I mean, I was little – like 5 or 6 years old – when Devil Went Down to Georgia was in ridiculous radio rotation.  I left a little deflated that night, but, as I have learned, if you stay in this business long enough, things tend to come back around.
Well, sure enough, here we were.  Patience.  It will happen.  Patience. And luckily there was a camera around to catch the moment, some 35 years in the making.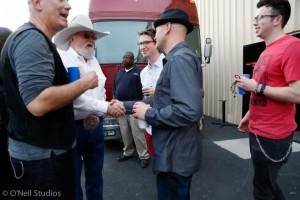 We had a hell of a time at the show.  The fans were out in full force, and we helped raise a ton of money for the Miller Home.  I was happy to be back on the bus, however, since 3 days in any one spot (besides home or Fiji) is enough.  Plus I had a little video work to do the next day south of Nashville.
Our friend Billy Ray Cyrus is launching a marketing campaign for his new record and book, and they hired little ol' me to shoot and edit for the push.  So with my trusty assistant Andy, we spent the day on Billy's farm getting the the lighting just right…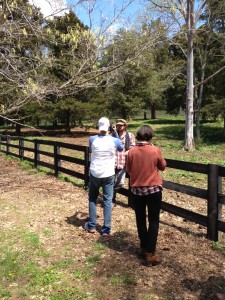 And that's not Andy in the picture – he was still trying to eat all the deep-fried after show food from the night before…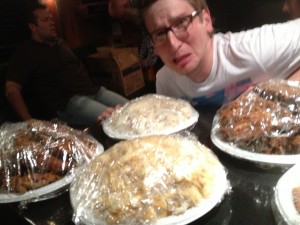 So with the extended week away from home, then an all-day video shoot (with NO lunch break, mind you!), I was ready to just sink into the couch.  And that I did.  Until the next morning when I realized just how much yard work had to be done.  Thankfully I was in shorts and not a parka.
Yesterday I was making good on the promise to myself to get out more, so I headed to Lake Radnor for a little hike.  I took the South Cove trail, which was virtually empty – it seems the masses like the lake loop – but it was just fine with me.  I saw turkey, chipmunks, and two white dogs that looked like polar bears.  The trail is a little challenging, with about a 1200 foot elevation, but the views were fantastic and the weather was perfect.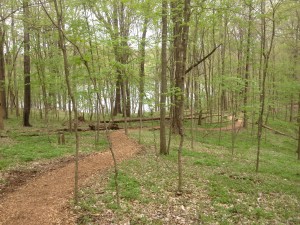 I ended my adventure by walking the lake loop, and as I walked and stared at the water, I was thinking how much I would like to see a fish jump, or a turtle sunning, or maybe even a snake.  Just as I thought this, I caught a quick glance of something scaly at my feet.  Not even watching the road, I jumped to avoid what looked like a baby 1-foot snake.  As I planted my feet, I realized I was just looking at the snake's tail – the rest of him was 3 inches behind my heel and extended a good 3 feet past my heel.  The old expression 'snake it woulda bitcha' popped into my head, but I was really surprised and thankful that a) I didn't step on him b) that I didn't get the fangs. I snapped a picture, and saw that his belly was full of something, and the fact that he was digesting and lethargic probably saved me.  I am no expert, but I showed this picture around, and someone said water moccasin.  Lesson here – only encounter snakes with full bellies and watch the road!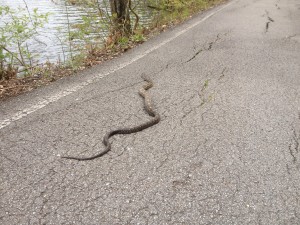 And it could be a big fat garden snake, but if it's poisonous, it makes for a better story.
This past week was such a blur that I am thankful for a Monday full of video editing.  OK, I'll probably sneak in a dog park visit as well.  It IS nice out, isn't it?
Big shows on the horizon – we have a private show for the Arizona Cardinals, then we hit the Stagecoach Festival in Indio on April 27 with Lady A and Dierks Bentley.  I smell a hootenanny coming on.  Get your tickets now, and come party with us and 70,000 of your closest friends!
Try and have a great week, and I hope that your New Year's resolutions are happening.  Mine – well, my first 5k has yet to be run, but I am ready.  Who's with me?
See you on the road!
---
---