Shinybass journal entry 04-27-15
Here's where I get in a lot of trouble..
Good Monday Morning! I hope your weekend was all you hoped and that the world is spinning your way. I was off the road this weekend, and on full-bore Husband/Daddy/Head of the Rodeo duties this weekend, and as crazy as it gets, I cherish every minute. Even when the boy launches the 'trifecta' on Daddy. Parents out there know what I am talking about :#1, #2, and vomit, all within 3 minutes of each other. All you can do is smile. Like I've said before, I've been training for this child my whole life by being crapped on by the music business for years.
But home time is good time, and in addition to playing music on the road, I record here in town, as well as write – music, verse, prose, you name it – and also work on video stuff. Lots of that too. BUT one of my recent 'side gigs' was to be on the ABC-TV show 'Nashville', and my episode airs this Wednesday, April 29. I thought since you can only handle so many stories of baby cuteness and not-so-cuteness (even though it still is…), I should give you a little insight as to what the gig of 'sideman musician' entails on the show.
First and foremost – the show is a top production. The cast and crew are nice as can be, and lots of them are in town from California to work on this show. There are hundreds of people that make this show happen every week, and it's pretty cool to see the process. Our job as musicians is easy – stand in your spot and play the songs. Easy enough, right? Well…
So let me back up a minute. First we get the call (or email) asking about availability. Then we say yes and then are sent the songs that we'll be playing. The GREAT thing about this show (not talking about your love or hate for the story lines or cast or drama) is that the producers go to great lengths to assure authenticity on the show. So we must learn the songs. For the record, the amps ARE live during taping, so if we want to play along (which I did), then we do. In rehearsal, we sat down with the musical director to make sure all the parts are correct – the worst thing ever would be an edit where you hear guitar and the players' hands are in the air…
So set call was 5PM, and the forecast was cold. Wardrobe comes to the staging area trailer and checks everyone out (yes, we generally bring our own clothes), and tell us to layer for warmth. The shoot that night was an outside performance and the temps were in the 20's. Yes, 20's. Is this an outdoor ski lodge scene that I am not aware of? My bald head was not excited. With wardrobe set, we wait until called that we're needed. That call came some 3 hours later. It's OK – that's sort of how it goes. It's a pretty big production, and 'hurry up and wait' is standard operating procedure.
They carted us to a secret location in downtown Nashville, and yes, it was cold. We had hand warmers, and were able to put on hats and coats between takes, but it was pretty damn brisk up there. I quietly noodled (waaaaay too much) between takes to keep my mind off the cold (mostly Beatles songs since I had my Hofner), and I was on supersonic mode with all the coffee I was drinking to keep warm, as seen in this picture doing some sort of shimmy dance. But you don't want that – you want 'dirt'.
Here's the dirt – my scene (yes it's MY scene – not the professional actors or 9 other musicians up there…) was with Hayden Panettiere. She's the biggest trooper of them all. When you see the scene, remember that it is 20-something effing degrees out there, and she was a total pro. The wind would whip up and we'd hear a shriek, look up and it would be her, but smiling the whole time. Take after take. There was no 'diva' stuff going on, and she nailed it. We chatted about babies (naturally) and she cut up with the band between takes. Totally cool – no pun intended.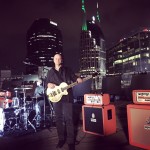 After our super-chilly scene wrapped, we went to another location downtown for another scene. It was about 3:30 AM at this point. As the cameras were setting up and the directors discussing blocking (fancy term for playing Tetris during breaks, I think), I look over and Hayden is asleep on a couch. But 30 minutes later when they yell 'action', she is up and running like a pro. And again, she nailed it. It was pretty cool to see. I can imagine that I would need a few minutes in the studio to 'get right' before laying down a track at 4:30 in the morning after a nap.
We wrapped at 4:30, and I was in bed by 5AM. A short day, indeed.
There are a lot of 'real' musicians that play on the show, and for that I am thankful. The show gets scoffed at by some as an unreal look at our town, but I'm pretty sure the Korean War was nothing like what we saw on M*A*S*H. I think it's been great for tourism, for local economy, and for the local songwriting community. It seems now that everywhere I go, people ask about the show. I'm sure Dallas had the same problem in the 80's.
So there it is. I didn't give away much about this week's episode, and hopefully they will have me back for another run. I am always grateful for the work, and happy to make new friends out there that play with other touring bands. This little town has a rich and wonderful musical community, and I am happy to call Nashville home.
So tune in this Wednesday to ABC, and you will see approximately 2.4 seconds of my face, or my shiny head, or my sexy Goldtop Hofner, or my Yamaha BB in action. Then tweet me that night with the hastag #calmdownSteve to keep my ego in check.
Thanks for checking in this week, and this week the Phil Vassar bus rolls out to the East Coast. Hope to see my Pennsylvania and Virginia peeps out in full force!
See you on the road!
---
---