Shinybass journal entry 04-30-12
Just press (re)play
And a happy Monday evening to everyone!  My ass was up early this morning, so I opened up the browser to start typing this, then BAM life showed up and said 'Hey Steve! Remember me?  I am that thing that you need to take care of when you get home', which, when loosely translated, means that I don't have a yard service, a valet, a maid, a personal assistant, or a dog walker.  See, on the road, I have all of these things.  It's very sad, really.  We run our households, manage our money, and even occasionally manage to find a location on our own.  When we get on that bus, all bets are off.  We are children that need to be told 100 times where the food, hotel, and even the toilets are located. It really is an amazing transformation.
But then tires touch down on familiar gravel, and our responsible, adult lives become more and more focused as each mile ticks closer to our respective zip codes.  It's not that we don't manage our crazy off-the-road lives (which is TOTALLY different than off-road lives) from the road, it's just that little things like food, shelter, and transportation are generally at the hands of someone else.  Quite a switch when you cook for yourself 3 meals a day.  Am I complaining?  Not one iota! We are pretty spoiled out there.
But as spoiled as we are, the life isn't for everyone.  It can get tough finding sleep, staying productive, and managing not to go crazy while being pelted with little pebbles of problems that pop up.  The good thing is that the problems are generally small ones, and can be handled in an easy fashion.  It's the big ones (like Phil's piano breaking mid-set) that can cause a little stress, but again, there are bigger problems out there.
Spoiler alert : Phil's piano really did die mid-set while in Chicago this past weekend.  And oh yeah, we were in Chicago this past weekend for 2 nights at Joe's on Weed St. The first show was sold out, and the second was close to it.  It is such an electric atmosphere in there every time we play.  I love the town, and the owners and staff are like no other.  The crowds are rowdy, and the parties tend to run late.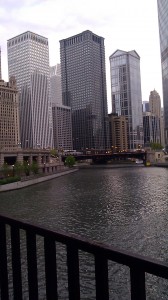 Day one was relatively uneventful.  We arrived, sound checked, and had a few hours to kill at the Hard Rock Hotel before we had to play.  The food at Joe's is great, but I was so close to a National Landmark that I had to go check it out.  I ambled down Michigan Avenue, constantly checking my (smart) phone's GPS-fed map to be my plastic guide dog.  I walked for a few blocks, not seeing the restaurant, so I checked the map again.  It was showing that I walked too far past it, but I never saw it.  It was only heading south did I spy a sign above the stairs.  That led Sotterraneo.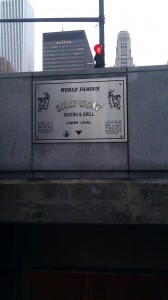 So I ventured into the depths below the busy street above.  I turned the corner, and my smile was a mile wide.  Here, all this time, was the Billy Goat Tavern.  I can only imagine what kind of nut keeps a bar open downstairs on a busy throughway.  Especially since 1934.  This place was spectacular.  Not only was it a dusty hole in the floor, but it was the inspiration for the SNL 'Cheeseburger' skit.
This place is great – part tourist spot, part neighborhood hang – and all American.  With the exception of the TV's, this place was like stepping into a time portal.  I ordered my double cheeseburger (they won't let you order a single, even though it's on the menu), and a Billy Goat Dark draft and had a snack.  As much as I hate photographing food, I found myself taking a picture, then realized it was, well, a cheeseburger.  Somehow here, in this place, it was not just a cheeseburger.  It was another notch in my 'been there' belt.  I left as I arrived : smiling.
Fast forward to Day 2 in Chicago (because the only other details I left out from the shows was that I didn't get to sleep until 5 AM.  That's what I get for trying to sleep on a tour bus).  After slowly getting up, J-Dawg and I attempted to navigate the Chicago Transit Authority system and bus to the Museum of Science and Industry.  If you haven't been to this place – you MUST go.  It has a U-boat.  A friggin' U-BOAT. That you can tour.  If you don't understand how unique that is, then pfft! Who needs you?  OK, even if you don't get into it, it's pretty damn cool.
After a 2nd highly energetic show, we packed up our little caravan and headed to Indianapolis for a late afternoon 'pumped-up' acoustic show.  Before hitting the stage, someone warned us 'Not to be offended if the crowd doesn't stand up and respond to you guys.  They are a polite crowd, and they just want to listen'.  Yea, that lasted.  We were ready to play another 60 minutes if we needed.  They were rocking in there.  Alas, they did not stay seated.
And that brings us here.  To life.  The real world where babies need changed, and cars need washed, and the laundry needs to be laundered.  (That was for my brother who has a new bundle of potatoes in his care) So 2 out of three ain't bad.  My work is finally finished for the day, which means now I get to light a fire out at Smokey Hole (my massive patio with sunken fire pit), pour a glass of something red and catch up on feet-raising time.  And then jump back into life tomorrow, since it never really seems to come to a complete halt.  And I am OK with that.
See you on the road!
See you on the road!
---
---