Shinybass journal entry 05-03-15
Speed bumps are just that…
Sometimes we get a little delayed in our plans. Sometimes the delays are out of our hands – like with airlines, buses being late, or rain ruining the picnic plans you made for  your one day off. Once again, our merry little band of minstrels had the misfortune of hitting said speed bumps. Our faithful steed, 'Possum Tracks' (side note – that's the name of our bus. All buses have names. Our bus is name thus because it belonged to George Jones – The Possum) had some engine issues this run, which left it in a garage in Hagerstown, MD for a couple of days as we continued our quest to bring music to the masses at reasonable prices.
We felt the shimmy in the engine as we limped into Shippensburg, PA, and after we unloaded at the Luhr PAC on the campus of Shippensburg University, our bus left us. The bus is not just a mode of transportation. It's our mobile snack machine, our place to stretch out, get some quiet naps, or just have familiar surroundings in which to get work done. When the bus leaves, a part of us leaves. Since we had a very nice backstage area in which to repose, life wasn't so bad. Don't get me wrong – I remember the days of the broken down van and sitting in the garage waiting room since there was no dressing room at the venue.
I wasn't about to start to complaining, because there are things we can fix (like the engine), and things we can't. What I DO like to do, however, is take walks. And since God ordered up a nice day for us, I took full advantage, walking a mile and a half into the town of Shippensburg. I found a lot of older buildings with great architecture, and some homes from the late 1700's, which was in my wheelhouse. I ambled into a pawn shop, and found an atlas from 1895, so score for me. I walked the streets of historic homes, and found a cemetery where soldiers from the Revolutionary War are buried.
Earlier that morning, we read that Ben E. King passed away, whose iconic song 'Stand By Me' will be played for generations to come. We played his signature song that night in a small tribute to him. I hope that song played all over the world Friday night. And now with B.B. King in hospice, we send up prayers to another great. Make sure you say what you need to say before it's too late. Don't take for granted that people will be around forever.
So with our bus stuck in Maryland, and us in PA, we stayed the night in town, which is a rare occourance indeed. I found a breakfast 'spot' that was inexpensive and clean, which is nice, however, their food costs must be a bit high, judging by the half-pound of brown sugar that comes with the oatmeal. I'll take the 'Sugar Rush Sampler' please…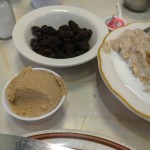 After Breakfast Day 2, we loaded a box truck and rented a fancy soccer Mom mini van and drove the 250 miles to Hopewell, VA to load into the Beacon Theater. Hopewell is a little spot south of Richmond, and it was a little painful to be so close to home and not be able to visit the golden shores of my home. Soon, my dear Virginia Beach. Soon.
The Beacon is a newly renovated historic theater that started as a silent movie and Vaudeville theater, and now it is hosting all kinds of acts. The intimate venue sounded great and the staff were all fantastic, as was catering. Bonus, bonus, bonus. I know you, the casual reader, don't really care what we eat, but I promise you this: the show is much better when we are fed well. And fed things that at one point were in the ground.
The sweetest sound I've heard in a long time is when the bus backed into the loading dock. It was nice to see the old girl, and I slept much better in my bus bunk than I did in the hotel in Shippensburg. Sleep is nice, especially since I'll be heading back into baby land where sleep is as precious as a hot dinner.
The friendly border of Davidson county hit us around noon, and I was able to get in a few good hours with the family before the next stop: John Fogerty. I am really trying to blast out of my hermit ways and see more shows in my precious down time, and I was able to nab some passes for the show at Fontanel in Nashville. I'm so glad I went. First, it was the legendary John Fogerty, who kicked my teeth in with his energy and playing. Second, the weather was perfect. Third, as John is hitting me high, his rhythm section, made up of Kenny Arnoff on drums and James Lomenzo on bass were hitting me low. Hearing all those hits, sung by that guy, played by those guys…well, you get it. And it was under the stars, which makes it even better. Afterward I spent some time backstage with the band, and saw some great Nashville musicians back there as well. I love this town.
So there's the recap of the weekend. It's a little late, and there's more (late entries) on the way, but by not writing something I feel you and me are a little ripped off on the deal. I am here to share, and you are here to read, so I need to give you that. Anyhow – next stop – Montana.
See you on the road!
---
---