Shinybass journal entry 05-06-14
Dang, that was lucky!
Happy good morning to you all. Settle down, people, we have a lot of ground to cover today. I gave you all a break yesterday, so you need to give me a little of your time on this sunny Tuesday morning. And why did I not post anything yesterday? It was our day off. That's right, I tuned in, turned on, and dropped out. Or something. Actually we took Diesel to the lake so he could stretch his Labrador side. He didn't disappoint, chasing ducks (and honestly believing he could swim fast enough to catch them), and we also learned he is NOT a dock dog. I mean, he sat on the dock and watched Daddy jump in to try and coax him, alas, the brakes were applied at the last moment, and I was the one who ended up in the drink. But it was a picture-perfect day, and social media be damned, some of my best days aren't shared. So there.
I'm on a bit of a kick lately, which could be good or bad, and I want your take on the whole thing. Are we spending too much time buried in our phones? I struggle with this because I catch myself doing it, especially if I know I have a few moments to wait. Is it boredom, or just out of an odd developed habit? Is there nothing better I could be doing right then and there? I read a lot of articles on my phone, but also play way too many games. And the articles I read? Well, mostly world events, guitar stuff, and the occasional video to keep me up on the times. But while the world is buried nose deep in Candy Crush, how much of the world is falling down around our ears?
Global climate change, acid rain, GMO's, water problems, bad meat everywhere, Justin Bieber, etc, etc, etc. are all piling up and have pushed the Earth past the tipping point. I hate to say it -Yes, we are past that tipping point. And it has been a problem for the past 50 years, so I am not blaming global warming on Fruit Ninja. This is purely a debate topic, so I ask this: Without the distraction of phones for the past 8 years, would we have devoted more time to fixing things (since we would have more time to read up and act), or would we have basically acted the same way: distractions are going to happen by those who want to be distracted? Did facebook make us more interested in what was going on with everyone else in our circle rather than the 'big picture'? Or is that a different topic? I am merely curious, especially since you had to find out about this journal on social media.
As a new parent-to-be, I seem to be noticing so many parents buried in their phones, and not interacting with their children. I understand Mommies need a break, however, mindlessly pushing a child around the store while you scroll fb feeds is not really a 'break'. And don't get me going on texting and driving with kids in the car…So as the children get older, there is more disconnect because they have been taught disconnect. I applaud parents who approach the phone in a good way : utilizing useful learning apps and the like, and keeping children happy with games. Again, I get it. I know they are going to grow up and leave. (Most of us did). I just want them to be kids, with scraped knees rather than sore thumbs.
And speaking of sore thumbs, well, I have no segue into how to morph this from soapbox to the bandstand. I mean, you are here for the party, right? Well, Day 1 – Blood. Yep, we walk into the Cotillion in Wichita, and I am guessing this is blood on the floor. I gather this because it is red, and the Roller Derby skates in the same venue. IS it blood? Who knows, but it makes for a really fun story. The ballroom was built in 1960 so it has hosted damn near everyone from Louis Armstrong and Duke Ellington to Foo Fighters and Metallica. The staff is exceptional, and I even bought a T-shirt. The little inspirational quote was posted in the backstage hallway. A great outlook for anyone.
The next night found us in Denver. No, not John or Bob, but the city. The Grizzly Rose has long been a stop for country bands headed west (or back east, I suppose), and the staff rewards every show with a bowl of chilled shrimp and chicken wings in the dressing room. Don't ask me why. But our shows there are always amazing. It's pretty humbling to see people lined up to get in and wait for 4 hours before the show starts, just to assure a front row spot. And to throw off the timeline of events, here's a picture of the drive in, which was beautiful.
And for those of you that read the fine print, check out the menu item called 'funnel cake fries'. Deadly, I am sure. For those of you in the know, this won't be such a big deal, but for everyone wanting to be backstage at the Grizzly Rose, here is what you are missing: an old fridge full of beer with a bunch of crack-n-peels on it. You're welcome.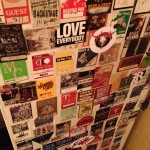 The next day we had to be some 550 miles away in Oklahoma. After tear down and loading out, we didn't get out of Denver until 2AM. This meant we were under the gun for our run to the next show, and some construction slowed us down even further. Making matters worse, we blew a tire on the way, so our bus didn't arrive until sometime around 4PM. Oh, and our hotel was 45 minutes away from the venue, so we had just enough time to shower and get back. I know what some of you are thinking – it's much more rock and roll to NOT shower and just play. I agree, except that when I can get a shower, I take a shower. Someone famous said that. So I showered, and that way I don't arrive at my doorstep back home reeking of 3 states – only 1.
We had a fantastic week – videos to come – and we look forward to some amazing shows in the weeks to come. And yes, Virginia, I am still working on my record. I had to do a little shift in approach, but we're still rockin'. Can't wait to get it to you.
And I leave you with this shot from a truck stop. Everybody needs a friend. Let one adopt you today. 🙂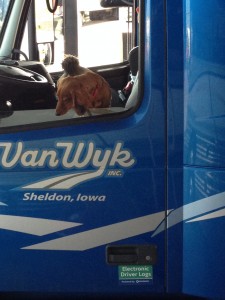 See you on the road!
---
---