Shinybass journal entry 05-10-15
Oh give me a home…
I'm having a slight struggle right now. My beautiful (and unlike me, sensible) wife and I searched high and low to find our 'dream home'. We have it all: a fine neighborhood with sidewalks, a quiet street, and lots of kids out here in Suburbia for our boy to get in trouble with. The bus stop for all three levels of school is literally across the street. It's every bit of the 'white picket fence' American dream. I can't beat it with a stick. Or can we?
The greener side of the proverbial fence plays out like this: a few acres, a modest home with a basement recording studio space, and the closest neighbor is a 3-wood shot away. (For some reason that's one of my best clubs, and I use it off the tee box for those of you scoring at home). Our short list  would include a small stable, maybe a few chickens, and room for a garden. My brother has a 'mini-farm' in Virginia with all those things and more, and all I hear is about the upkeep. With this schedule, I have a hard enough time doing laundry. The beauty of Nashville is that just a few miles outside of town there are some of these places to be had, and much cheaper than expected.
But is space what we need? Isn't that why we have massive National Parks and lakes? Aren't we meant to hang out with other people? It's sort of a primary human need that we have contact with others. Maybe as we get older and more crotchety we want to get away from people. But I'd love to have a place where people can gather, which is why having fire pit is important to me. Fire and water are two amazing places to gather, or just sit by yourself, since the motion of the water or dancing of the flames is like a friendly companion. But I digress. Enough dreaming of being a farmer. We had us some Opry to play.
I have said it once, and I will say it 100 times – it is always a tremendous honor to play that hallowed radio show. If ever there is a show where I'm slightly 'nervous' it's that one. I don't know why – maybe it's just the history. My Dad flew into town on Monday, and we added this Opry show post – reservation, so to able to call him and say 'And by the way, we're going to the Opry on Tuesday', well, let's just say it was special. I would have given anything to have my wife and baby out as well, but with a start time of 8:45, it's about an hour past bedtime for the young Prince, so it was Father Son night. And it was one of those nights I won't forget. I love it when a plan comes together.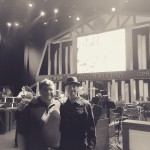 Just a few short hours of sleep after I put Dad on his airplane, we had our own flight to catch. And speaking of the whole wide-open theme, where we're going, there's enough wide open-ness to start one or two hippie communes. We were off on to Big Sky country.
Montana. Not, Joe, mind you. Missoula. We hopped an early flight out of Nashville and headed west to our own private Idaho. As the plane banked in on final approach, the vast expanse lay ahead of us with unequaled beauty, and, quite frankly, a sight for any 'city-type' dweller. There's something still wonderfully rustic, earthy, and pioneering about Montana. I say pioneering, others say remote and behind the times.
We were at a hotel just off downtown, across the river from the University of Montana, where our show was the next night. Phil, Jeff, and myself drove around Missoula for a bit, getting a lay of the land, before we parked, had lunch and walked around downtown. Getting back to the hotel, which was just about in the shadow of Mt. Sentinel, I asked about the trial up to the 'M'. I was going to climb that fair mountain that afternoon, and I took off with a spring in my step. The main trail is well-worn, with a secondary, more 'adventurous' trail to the left of the main trailhead. I was amazed at a couple of things – first, how many people were in shorts (as I wore jeans and a hoodie), how fast my pace was, and how beautiful the landscape of Missoula and the surrounding mountains became the higher I climbed.
I'm sure the locals thought I was a nut job for taking pictures, but it was soooo nice up there. Not only to you have the vast expanse of the valley and mountains in front of you, but there's the subtle beauty of the grass, rocks, and flowers on the side of the mountain that make it perfect. It's a little hard to make out, but there were 3 elk grazing in one of the pictures. Perfect indeed.
I made it back to the hotel with a sense of accomplishment and a feeling that my lungs were slightly smaller. The hotel is situated on the Missoula River, and they have set up a couple of great patio areas  by the river. Get the cold adult drinks and chill…
All this outdoor business makes a man hungry. KT and I found a spectacular Italian place across from campus called Ciao Mambo. We enjoyed fantastic food, red wine, and great conversation. We shut the place down, and rolled back to the hotel somewhere around the 10:30 hour. My plans for riverside chill were taken over by the 'pasta-itis', but with a full belly and the window open in my hotel room, it was almost heaven.
The next morning I was full of pancakes and ready to conquer the world again. This time Phil and Jeff joined me in the climb, and when we got to the big 'M', I continued on, taking my sweet time exploring and climbing as high as my feet would take me. It doesn't sound like much when I type, but the cool morning air mixed with the scenery made me start to rethink that whole mini-farm business.
The bridge across the river has the tokens of many couples' love locked on the fence a lá Paris. Pretty cool stuff, Montanians.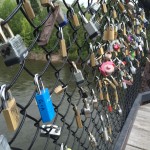 Our show that evening was at the University of Montana. We had a tremendous time. The staff was great, and the house was packed. That's always a treat. After the show we were invited to a reception at a local artist's studio, and the space and the art were both amazing. Look at us being all cultured and junk.
The next day the four of us piled in the blacked out Tahoe, looking like we were a rogue Secret Service detail, and headed toward Great Falls. There are two ways to Great Falls from Missoula. One is faster – all highway and the other is a byway that takes you through some of the most beautiful scenery this great country has to offer. During our trip we saw moose, antelope, and lots of abandoned barns aged at least 100 years in the crisp mountain air. My recommendation to you: even if it takes a little longer, always take the scenic route. It's not always the destination that make the journey fun.
Our show that evening was a benefit for the Emergency Flight Services in Great Falls. We met a slew of great locals, and they made us feel extremely welcome. No crazy art galleries this evening – our lobby call was for 4:30AM to catch our flight home.
The forecast was 90 degrees in Nashville, and here I sit, eating an airport egg sandwich, watching the crews de-ice the airplanes. Then we saw Denver, our connection city, had half a foot of snow on the ground. Well, let's try and do this, people.
They were right – a half a foot of snow was on the ground, but luckily the rugged and cannabis-loving folk got us moving without delay. And my gate happened to be by my favorite Denver decoration.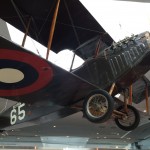 So now that I am home, I am actively searching for about 50 acres of land with a stream, some antelope…OK, I'm not. I mean, our HOA dues are so reasonable!  (What the HELL happened to me???) Seriously, a cabin in the mountains may be in the cards later down the road. Anyone have one they want to get rid of?
Enjoy the holiday weekend. I'll get you up to speed on Tuesday, and then we'll be back on track. Until then…
See you on the road!
---
---