Shinybass journal entry 05-13-13
Maps for sale…
Happy Monday!  Today's journal entry is being typed from our secure location somewhere in the buckle region of the bible belt.  If Nashville is the buckle, then I suppose Little Rock can call itself the 2nd belt loop from the left in the Jeans of America.  I mean, if any of you are looking for marketing ideas for the travel brochures, then you can call LR the 2nd loop.  I'm sure it will help tourism.  It's not about how great the product really is, just catchy marketing campaigns.  Just ask New Coke.
I told myself before I left for the road this week that I was going to study our schedule, plan out my days, and get as much done as I could.  That plan lasted about 5 minutes.  Although we think we have a handle on things, there are so many factors that go into the touring beast that it's really hard to figure it all out.  One thing I was hoping to do was to get some history investigating done in Richmond, Va., which was our first stop of the run.  Our host for the day was the historical theater The National, which is a beautifully renovated theater from the 20's.  With a 10-person hot tub in the dressing room.  Because we need that.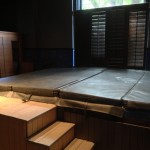 Before I go any further, I must back up and say that rolling down I-81 again is always an early-morning treat, and I welcome the sights through the bus windows every time.  We've been up that stretch so much, I can almost tell the farmers when to harvest.
The theater is close enough to the points of interest I was hoping to hit, but with my current house buying/selling situation, it seems I was on the phone all morning, negating any sort of of sightseeing, workout, or even a suitable lunch.  So I did manage to get out for some fresh air.  After walking in circles, Andy and I did find what seemed to be the right place to eat, so a late fish and chips lunch and a few minutes to just relax made the day much better.
After a little family time and a great show with special guests Steve Bassett and Robbin Thompson, we loaded up the family truckster and made our way to somewhere in Indiana.  With the rain, the scheduling, the security hassles, and the messed up scheduling, I didn't leave the show site all day.  And it seemed that once again I was on my phone the whole day dealing with house issues.  We played at a casino that had more stringent security than the airport.  They had to watch us pack and unpack and inspect each piece of gear that came in.  Imagine that for a minute.  We go to Canada with less hassles!  I understand, I really do, and like a stone in my shoe, I was happy to shake that one off.
Then we headed BACK to the Eastern seaboard for a show at Pier 6 in the Inner Harbor of Baltimore.  Now I could finally get out and stretch my legs.  As you may know, Baltimore is a hotbed for history, and the Inner Harbor has really taken off in the past 20 years.  I was happy to roll off the bus and see the current/upcoming show banner, as well as see the Shot tower, visit the aquarium,  and see a genuine Pearl Harbor survivor.  I do like to wander…
Some of you may have seen my Instagram post with the auction hunters find.  The suit was courtesy of my brother, along with other matching suits and coats – which make for a fun soundcheck.  I was sweating bullets out there in that get up, but it was funny.  And apparently some of you dig the look as well…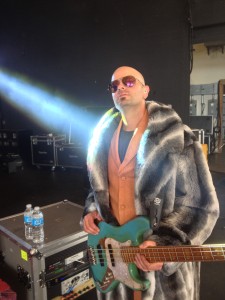 We had a bevy of friends and family at the show Saturday, and we had a good time pranking the Old Dominion guys with our outfits during their set.  Anything to break up the monotony, right?  And just to make the day that much less ordinary (or actually to keep with the theme of things getting messed up), our trailer tire blew somewhere in Knoxville.  Another delay in getting home.  BUT if it didn't happen, I wouldn't be able to share this masterpiece of 'Merica.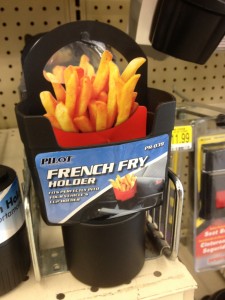 And this is what is wrong with the country…
So once again, I was proven to be correct – the best laid plans often go punished (or something…), and this journey is just that, full of the unexpected.  Enjoy the ride, the walk, the jump in the puddles, and find beauty everywhere you go.  And if you find it while wearing a thrift store suit, even better.
See you on the road!
---
---