Shinybass journal entry 05-18-12
You gotta love the rollercoaster…
It's Friday. Friday.  Gotta get down on Friday.  Yep – that just happened.  I am wicked late on my Monday entry.  My little brother thinks that I should wait until Monday to knock this out, but as I have learned this past week, there is no time like the present.  So here we are.  I am racking my brain trying to figure out exactly what we did last week.  I know it involved flying a bunch, playing a bunch, and gambling a bunch.  If somehow, someway the new  Boeing 787 had a stage and blackjack table, we would be SET.  Coleman! Make it happen! (Very good, sir)
Southwest carried us to Sacramento for the first stop of the weekend.  I should have prefaced that statement with 'Eventually Southwest…' because our flights were cancelled, then they rebooked us.  4 hours in the Nashville airport is mind-numbingly boring.  I bought a new book, and knocked out a good chunk before we walked down the jet way.  The sky was beautiful, and although we were completely exhausted, the band was in great spirits.  We met up with Phil after his performance on Fox and Friends in NYC.  He was a LOT more tired than we were.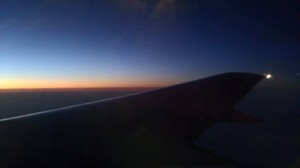 Once in Dixon, California (the ACTUAL location of our show), we walked around.  A lot.  There were hours to kill before we headed out to the fair, and if Dixon is a one horse town, I didn't find it.  I did, however, find a tri-tip sandwich (if you have to ask, then you are missing out), and a time-portal of a western store that had fashion galore from the Urban Cowboy days.  I did seriously check out this fancy number and thought better of adding to my already-suffering wardrobe.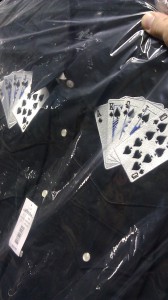 We played our show in the searing California sunshine, and then in classic fashion, jumped off stage and caught the last flight out for Las Vegas.  I would much rather wake up and be in the town rather than spend the day getting to the town.  And Vegas is not a bad place to be with a night off.  We went out and saw a terrible cover band in the lounge, and I played a few table games, but it was a little late, so I decided to call it a night with some of the casino's money in my pocket.
The show in Vegas was for the locals – it was at a place called South Point, which was a lush, green park backed up to a desert hill, but surrounded by neighborhoods.  They treated us very well (super stretch limos for 2 days), and the crowd had the treat of the sun warming their backs while it seared off our faces.  It could have been worse, I suppose.  I was hoping to stay and see the rumored mountain lions and coyote that live on the hill.  Andy and I searched, just to be sure, but to no avail.
I was also sent this great picture from the show.  It's a tall order to try and be hip with a flowering tree behind you.  I'm just sayin…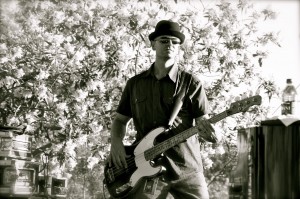 So after yet another limo ride back home (there would be one more in the early, early morning for our airport run), we headed to the Silverton, which is a great little non-pretentious fun, laid back casino.  We had a really good time there, hanging out at the bar and just being silly.  It's kind of what we do.
In the airport on Sunday morning, I heard the news that Donald 'Duck' Dunn had passed away.  Duck was an astounding bass player, playing on some of the biggest songs in history.  I was deeply hurt to hear of his passing, and it's still a shock.  I was lucky enough to meet this hero of mine once, and realized (yet again) that life is very short and precious.  Get busy livin'.
I was given the daunting task of writing the obituary for Duck for Premier Guitar Magazine, and I also followed it up with a lengthy column about him and what he meant to all bass players.  Hands down the hardest writing assignment I have been given, even with all those papers back in college. (Yes I DO have a degree for all those wondering. I majored in Rock and Roll.  Minored in Rehab) If you would like to read more about Duck and his amazing legacy, please click here.
This past week we hit the studio and tracked 4 new songs with Phil and the band, which is always a treat.  The guys are so fun to play with, and they make it really, really easy to get good sounds.  I am hoping one or more of the songs end up on a record.  I'll keep you all posted.
So there's your Friday recap of what seems like a million years ago. The rest of my day will be spent landscaping and grilling.  I do love this weather.  Now get me away from this cursed computer!
See you on the road!
---
---