Shinybass journal entry 05-29-14
Crap. Thursday.
I know it's a little disheartening to start a journal entry with a downer statement. I had an extremely low-key Memorial Day, then played catch up, as most people do, for the past two days. Then I awaken to this beautiful Nashville Thursday, and it's friggin' Thursday already. I suppose if I gave 2 shakes about the actual days on the calendar then it would truly send me into a tailspin, however, it's just another day of opportunity. Choices, successes, fails, probably a lot of coffee, and a bunch of music. Theses are a few of my favorite things…
Thanks to the History Channel, I was stuck on the couch for 2 hours a night brushing up on my World War I and World War II history. I appreciate the approach of the series: following key players in World War 2, and demonstrating how WWI played a part in who they became. With such an ambitious project, one can imagine the logistics of filming so many battles and interactions. I would have liked to see more airplanes, but that's just me. Leave it to me to ruin a great series – I saw a 'Registry of Historical Places' plaque during a scene with Roosevelt, and on one of the vehicles I saw the museum label board that actually read 'World War 2'. And to compress 35 years into 3 nights is again ambitious. I do appreciate getting people to watch and learn history, however, remember most of the campaigns or decisions took weeks or months, not minutes and days. If you are interested, then dig a little deeper and read the Stephen Ambrose book on World War 2. Or just go back in time and stay awake in history class. And on a side note, how crazily ironic that the History Channel filmed the series in West Virginia, yet Hatfield/McCoys was filmed in Romania. Hmmm……
The night of bus call (which is a midnight encounter) the missus and I saw my old friends in Sister Hazel at the Wildhorse Saloon. I've known them for 15 or so years, and I have met a bunch of other Hazel friends along the way, so the shows turn into a reunion. If you have the chance to see the boys, then please do, and tell them I said hello.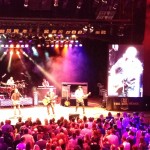 Well, enough jibberish. On to the show. Or shows. Day 1 – Bloomington, Indiana. Home of IU, this quaint little 'burg was our home away from home 100 years ago, as the King Konga van would roll through town every couple months or so. We had a decent following up there. Our venue was the Bluebird this time around, and if you know the room, well, it's just a beer-slingin' college sort of bar. The difference is that just about everybody has played there from all genres of music. My favorite find – a Dizzy Gillespie flyer on the wall.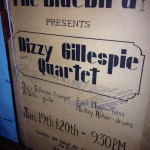 As fate would have it, it was a beautiful day in Indiana, so I decided to take a little stroll. Then after a healthy helping of shrimp and grits, I took and even longer walk. I found the Chocolate Moose – and don't know how I missed it all those years I visited town. Homemade ice cream can't be beat. With a chocolate moose stick. And in case you are wondering, there was nothing worth bringing home from the local pawn shop, either. Our show was interesting, to say the least. Not that any of you knew, but we were having serious monitor issues that evening. Again, we would never say anything – it's like you telling someone outside of your office that your stapler doesn't work. Nobody really cares. Use a paper clip and move on.
There is a little pizza joint just next door to the Bluebird called 'Rockit Pizza', which is the place to hit after a show. It's a true hole-in-the-wall, and if I ever ran a pizza joint, it would look like this one. 5 tables and a standing counter – very New York. Jake and I went in for a slice, and as we are standing on the rail, I look up and see myself staring back at me. I started making fun of the picture, then Jake started chiming in, except he didn't know that was me in the picture. I guess I look different in shoes. It was great for a laugh, and it touched me in a bittersweet way. I would liken it to seeing an old picture of your little league team that came in second. You were good, but not quite good enough to capture the trophy. But the goal isn't the trophy – it's to stay playing as long as possible, and guess what? I'm still here. And now I can afford shoes.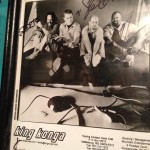 Tour Journal, Part 2.0
So I was interrupted last week in the middle of this journal, and didn't get back to it until, well, just now, which is Monday. So you still get an entry, it's just two halves. A tale of two cities, if you would. Actually three. I left off after the Bluebird, then we traveled to Love's Park, IL, which is a bit west of Chicago. When playing the fairs and festivals, some days it is hard to stay occupied. We generally load in early, then have the day to hang out, which usually involves eating bad food and sleeping. Determined to do something, Phil and I hit the YMCA in the early afternoon and had a solid workout. I can't tell you how much better I feel after I run a couple miles before a show.
Fast forward one week, and we are in Warsaw, Indiana. (Ain't time travel fun?) We left town at 10PM on Friday night, but the wife and I were able to sneak over to The Building in East Nashville before we left town for our friend Shawn Lacy's CD release party. His song 'Gone Like the Night' was the inspiration for a short movie, which just premiered at the Nashville Film Festival. And I happen to know that director as well – he and I have worked on a few projects together. You know him as Director Steve that created the 'Love Is Alive' video. 
Another hotel, another run in the hamster hole (my affectionate name for a hotel gym), and then another wonderful summertime evening show. The lovely Kristy Lee Cook was our opener, and she's got great spirit. She looks like she's embracing the whole experience with being on the road. I saw her having a lot of fun with radio and meeting a lot of fans, and generally being upbeat and outgoing. Very refreshing. So young acts, take note : Don't be too cool for school.
Which brings us up to the present. Welcome to CMA week. This is the week all of country music converges on Nashville, as well as 150,000 people, lining the streets and the pockets of our cabbies and restaurant servers. And we like that. Since Phil is in Europe this week, I took a gig with the Pat McGee Band in Atlanta on Sunday at Summerfest Atlanta. It's a free show, and if you are in the area, and want to hear me play some acoustic rock, then come on down. Click here for more details.
So there you go – a week late and a dollar short! I hope you are enjoying this beginning of summer, and that you are getting outside! Make it a great week, fine people, and I hope to see all of you soon!
See you on the road!
---
---