Shinybass journal entry 06-01-15
Maybe there's a reason I didn't write until now…
Happy Monday, June 1! You know, the past few weeks have been a busy blur, but at the same time, I've been able to enjoy a lot of life's little moments, which is sort of why we're here, right? My morning routine with my boy is pretty amazing. My job allows me to play a lot of music, and write and such, but my #1 job now is to find new ways to make him laugh. And it's that blissful time that makes the day – every day – special.
This next part I can't even believe that I am going to waste 1's and 0's on, but here we go. A certain Olympic Decathlete has been in the news lately. His 'family' has had a ridiculous show on for years, which basically follows them around as they spend money and solve the world's problems. They have somehow figured out how to get rich by just hanging out, sort of like Flavor Flav. Anyhow, I really don't care what people do – it seems the whole world is going crazy over this – and like any pop culture event, it seems that real issues are being forgotten. Remember those thousands of soldiers in the desert right now? Remember that last male Northern White Rhino? Polar Bears will be extinct in 50 years in the wild. But you know what? We should get as many camera crews over to Melrose to see if we can spot this new woman coming out of Victoria Secret. Give me a break. OK, I'm off the soapbox.
On to business: real business. Music business! We had a show in Atlantic City at the Trump Taj Mahal, which is a massive venue at Donald's place on the boardwalk. I very much like anytime I can be near the ocean, so the sand in my toes fix was had that day. So just like any typical day, we load in, eat, sound check, eat, play a show, then leave. It was 5 o' clock when I realized I hadn't been outside all day. How sad is that? I walked what seemed like forever on the boardwalk and soaked in as much people watching as I could stand. Thank you, New Jersey, for keeping it real.
The bus rolled back into town around 3, and I went straight to rehearsal for a show the next night. I was part of the Stewart Copeland 'tribute' show, hosted by the Nashville Drummers Jam, and held at Exit/In. Imagine 20 of Nashville's best drummers each playing one song by The Police, and the other players switching in and out. A slight logistical nightmare, but somehow bandleader Chris Nix to put it all together. I performed three songs 'Can't Stand Losing You', 'Walking on the Moon', and 'Roxanne' with the legendary John Cowan talking the lead vocal role to a whole new level. The talent pool was deep, and I was humbled to be part of the evening. A real treat for me was reconnecting with drummer extraordinaire Dave Harrison, who was a mentor to us a hundred years ago as he was making his way across the land with Edwin McCain. I love this town.
The next day was a monumental and wonderful day for the Cook household. As a proud father, we took our boy to his first baseball game. I know he won't think much of it later, but I sure was excited. For those scoring at home, we made it to the 4th inning.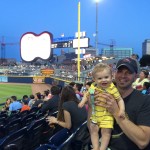 The next show of the week was in Chesapeake Beach, MD. Until the show popped up on the calendar, I had never heard of this fantastic little gem. Of course, that's the case with most of the small towns I've encountered. This was a hotspot back in the day. The hipsters from Washington DC would ride the the 30-mile rail in for the day to enjoy the beach, an amusement park, and the best in entertainment with the band shell on the water. Today there is a family-owned hotel and resort with everything except the rollercoaster. The restaurants are great, and the staff is wonderful. And it is on the water. Can't beat that with a stick.
There is a little train museum on the property, which I don't think sees much traffic, but has some really cool artifacts from the golden era of boardwalks, beachfront carousels, and lead paint. The old pictures are worth the visit, if you happen to stop in.
I was able to catch up with two friends from High School in Chesapeake Beach as well, and to laugh about dumb things from our past is always a lot of fun. I'm just happy that there is some record and witnesses to attest to the fact that I actually attended high school. Well, enrolled, yes. Attended…different story.
After we arrived back home we didn't have much down time – it was back in the studio with Phil to work on some new tunes for the record. I can honestly say, that after years of searching, I have found the tone I wish to live with forever. I don't even know how I stumbled upon this company, but I met up with Noble amps in Anaheim last year, and the bass DI that this company produces is, in a nutshell "the business". (Thank you, Amos for that). To use such great gear with great musicians is a treat, day in and day out.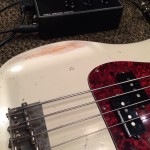 There's the speed, to which you are caught up. I hope you are staying dry, and if not, then staying afloat. I also hope you have plans to make this summer the best yet. You still have a little time to plan, so get on it!
See you on the road!
---
---