Shinybass journal entry 06-06-16
Happy Monday!
Today is June 6. 72 years ago today, thousands upon thousands of brave men landed on the shores of Normandy in an effort to liberate France and ultimately take Berlin to end the European chapter of WWII. Saving Private Ryan is a decent portrayal, however Hollywood rarely makes any money off the truth, so please don't think the opening scenes are how it all happened. Granted, it's serious and gruesome, however, the scale of the battle cannot ever be fully re-enacted. In Saving Private Ryan, there are about a half dozen ships in the background, just about a thousand and a half short. My point is to read about the accounts of the events, don't try and watch a documentary, unless you are at the National World War II Museum in New Orleans. There you can hear the firsthand accounts from men who were there. It's worth the trip down, and plan on staying for more than 4 hours.
It is my hope and prayer that time doesn't let us forget the brave men and women who have fought courageously throughout our country's history to keep us free. Don't let the memory slip, or the rust cover the plaque. Take the moment to drive to that monument, or to just walk for a moment in their steps. What are you going to miss, the latest youtube video? Put the phone down and soak.
But our country's history is often taught, well, incorrectly. I suppose as we are sitting in our first grade class, our teachers don't want to scare us and say 'In 1492 an evil some bitch happened to con a world leader into financing a trip so he could plunder an unplundered land. Oh, and by the way, there are a whole bunch of people already staking claims to territories in North America, but that's OK – they aren't 'cultured', and we have guns, so that's how we came to be the US…' It's a delicate and crappy way, no doubt about it. And sadly, it silently crushes me every time we play a Native American casino.
That may be a bit dramatic, but these wonderfully proud people are trying – really trying, and in some form of poetic justice are making an awful lot of money, but no matter what, they won't get their land back. Such is the case worldwide, I suppose, with only so much land in the world, an ever-growing population, and changing political landscapes. Fun fact: The last time the Cubs won the World Series, there was still an Ottoman Empire. Unrelated, yet somehow related. And I had to lighten the mood somehow.
The road trip this week was a short/long one, with the bus headed straight into tornado alley for a couple of shows in our heartland. The first was in Durant, Oklahoma, at an afterparty for the Vince Gill concert. The Casino was a sprawling resort, with a fancy Oasis pool area, complete with waterfalls and fire pits, and for a casino in the middle of nowhere, the restaurant selection was pretty impressive. So if you ever have the notion to drive to Durant, you won't leave hungry. We saw Vince and his amazing band during the day, and he's a sweetheart of a human being every time I get to say hello.
I see things that I think are funny, and sometimes the humor is lost on some folks. Like these pictures, for example. The first is a water closet. Overseas that's the bathroom, but here, in the gym, it's a closet that holds water. A bit silly, if you ask me. The second picture I snapped was because poor Dan was about to get fired and not really know why until it was too late. The other is just Vince Gill being badass.
We then left the land of the perpetual slot machine rings for Marion, Kansas a little historic town not far from Wichita. Marion was named after a Revolutionary War General, and although the downtown area has power lines and A/C, the wide streets still look like horses and carriages should be dusting through town. We stayed on site all day, which allowed me to get some walking in (5.5 miles according to my tracker), and I found some fun things. First, I spoke with Nadine, who owns an antique store for about 9 more days, then she is closing her store to tend to her garden, prune her flowers, and learn how to fish. In 2 months, she and her husband will have been married 60 years. Sweet as pie, she was.
Bear with me on this one. When I was a lad, we would visit my Grandparents, and in the cupboard were these glasses from a Dairy Queen promotion some 55 years ago. Random, I know. It was a little 'thing' that we'd use those glasses because of the cool cars, and just like the aluminum chairs on the patio and the apple dumplings cooling on the counter, we knew we were in a happy place. So when I poke around with time to kill, I occasionally look for said glasses. In years of searching, I've never found one. Until now. My lemonade is going to taste a little sweeter this summer.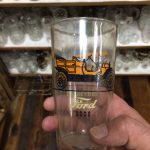 In the (seemingly endless) hours of my wondering, I also went into the Marion Historical Museum. The museum was one of the more detailed local museums I've visited. I wish I could have taken the switchboard home, and repurposed it somehow. Beyond cool. And the vintage dentist setup was cringe-worthy.
The show was a lot of fun, and the people of Marion went above and beyond to take good care of us. It always makes the day a bit nicer when the hospitality is extended to 'family status.' And now – home for what we call 'The crazy times'.
CMA Fest is this week in Nashville, which means I will be as far from downtown as possible. Except, of course, when we play the River Stage on Sunday. I think we always play when it's 110 degrees outside, but I don't mind. The family will be in tow, so wave to the 'most popular' Cook: Henry. He's grown a bit since last year's show. He's going to be waiting to take my place in case I pass out from heat exhaustion.
OK, folks. That's the weekend that was. Enjoy your week, and if you are coming to Nashville for CMA Fest, remember to drink your water, obey parking signs, and walk a block or two AWAY from Broadway – your UBER driver will find you a lot easier. See you all Sunday in the heat!
See you on the road!
---
---