Shinybass journal entry 06-18-12
Time Well Spent
I typed the first three words that you see above, then went back to the kitchen for another cup of coffee.  I realized I was attempting to write sans my usual mug handle facing me, caffeine at the ready, and with this OCD, I was sort of in trouble.  I am not sure if I have OCD, or, since I am, in fact, human, that I am a creature of habit.  And my habits are to write a little, sip a little, write a little.   You get the idea.
Actually, the first cup of coffee was spent in the backyard, sitting next to the tomato plants soaking in the quiet morning.  It started out quiet enough.  I have a lot of species of birds that frequent my yard, and watching them go about their morning foraging routine is somehow soothing. And since my dog is more content smelling the flowers than keeping birds away from the garden, then the benefit of me sitting out there is twofold.  The morning was quiet for about 5 minutes before I heard sirens a few miles away, then the 7:05 train blew its' horn, and the morning commute started, so cars were streaking down the main streets, adding to the urban symphony.
But somewhere in all of that, I managed a few thoughts, most of which were recalling the past 72 hours, which brought a smile to my face.  I wonder if I should do this in reverse order?  Sure – there are no rules…
Yesterday was Father's Day, which I spoke to my Dad probably 5 times during the course of the day.  When you get off the bus at 7 AM, and you have family on the East Coast, then it's easier to make phone calls while you drive home.  So we caught up in the usual way, laughing and sharing stories from the week.  After some time at home settling in, the wifey and I headed to Smyrna, which is outside of Nashville to see a B-17.  Yes, a heavy WWII bomber.  This girl is run by the Liberty Foundation, and I was told it made the Kessel run in less than 12 parsecs.  If you want to get to my heart in a hurry, bring me coffee and show me a flying warbird.  And if you bring the coffee in the plane, then you have a new loyal servant.  So we spent some time with the plane, and parked on the edge of the runway to watch it take off.  Like I 'tweeted' yesterday: Goosebumps.
Not all that glitters is gold – the bulk of the B-17's you see today were brought into the war very late, which is why they survive, and this one, being built in 1945 is a good example of that.  They bill it as the 'Memphis Belle', but as you read the fine print in the picture it says 'The movie' above the name.  This plane portrayed the Memphis Belle in the movie, and the actual Memphis Belle, the war hero plane, is currently in Dayton, OH. In no way does the Liberty Foundation try and pull one over on the public- it's in big print except on the plane, and I am happy they can use that bit of marketing to keep 'em flying.
I posted the last picture was to settle a discussion.  'Honey, your thumb is on the lens…' 'No it's not…'  You know how that one went.
So we back up to the day before in Saginaw, Michigan, where we had a show with Sara 'am I supposed to stare or just glance at your goodies' Evans, and Andy Gibson.  There were reports of some 90,000 people on the island that day.  From the stage, there were people as far as the eye could see.  We were on very early, and to be offstage by 2:30 is a rarity.  Since our driver had to sleep the required 8 hours, we couldn't leave until after 9PM to head home.  This meant a lot of sitting around, or, we can live a little (more), and find something to do.  Like golf, maybe?
Andy and I spent the next 4 hours at the Saginaw Country Club, where were enjoyed the end of a well-spent day in the cooler afternoon temperatures of this quaint Northern town.  The staff was amazing, and the course was very well-groomed and forgiving.  The greens were hard as a slab of concrete and super fast (for those of you that don't know, that means that it doesn't take much to get the ball rolling, causing you to overshoot the hole – a lot), but all in all a great round.  I mean, we rock a few thousand people then go play golf, shower, then climb on the bus and go home. Life ain't bad.
When we arrived at the course, I was happy to spy my long-overdue obsession, which was a bog old-timey clock at the first tee.  Above the face are the words 'Time Well Spent', and they were right.  It truly was.  I like that expression – because  your time should be well-spent.  Since I was technically working and still on the road, I didn't really have a care in the world, which makes a round of golf so much nicer.  But the one thing I took away from the day was that expression, and even though we have heard it before, we really need to live it.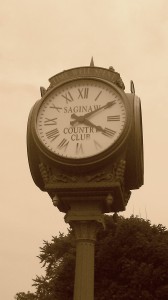 So there's the recap – the road continues on, and so do I.  If you weren't at CMA Fest, then here's a little backstage shot – I can't remember if this was before or after the show, but either way, we had a really good time.  I hope you are all planning on seeing some live music this summer, and whereas I prefer it be us, it's OK if it's not – as long as you are out.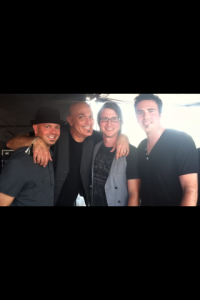 See you on the road!
---
---