Shinybass journal entry 06-21-15
Hooray! It's summer!
Today marks the official first day of summer. If you live in Nashville, it feels as if summer has been here for a little while – just ask my sad lawn and wilting tomatoes. I have to chuckle to myself when people start to complain about the heat (or the cold for that matter). You know, it is summer. It happens around the same time every year, and guess what? It gon' be hot. And a little tip: in the winter, it gon' be cold, too. There you have it. No need to call Miss Cleo for your bumba-clock psychic readin'.
I realize I am a couple weeks behind in the ol' updates, but bear with me as we play catch up. Maybe I am just letting you digest each one to the fullest before I dive back in. Maybe I am lazy. Maybe I really have no excuse. Either way – today we are talking about a serious event in country music: CMA Fest.
For the unbeknowing, CMA Fest is a gathering for the country music faithful, offering hundreds of concerts (mostly free), fan club parties, and autograph sessions for country music's biggest stars and upstarts. The event used to be held at the Nashville Fairgrounds, and called 'Fan Fair' (you'll catch the 'old timers' calling it this from time to time in a deep-freudian-chicken slip). I attended in '94, and I thought it was the craziest thing ever. I watched fans herded in front of the stage of each performer so they could get pictures, and at some point the artist had a booth, and would sign autographs for the fans. Coming from a rock and roll background, this was completely foreign to me. In the rock world, you aren't supposed to meet the stars. You could wait by the bus or hotel for hours to maybe catch a glimpse, or happen to be at the same restaurant, but there's no way you can just sign up somewhere and get to say hi. Country music embraces its fans this way, and whereas it's a long and sometimes taxing process, in the end it's worth it.
CMA Fest has moved from its humble beginnings to basically all of downtown Nashville. It seems that every live music venue has been earmarked for a fan club party or showcase, with over 500 artists performing. 500! LP Field is the big ticket, which rocks until the wee hours. The River Stage is fun, free, and has a lot of great acts as well. 87,000 people visited CMA Fest each day. That's pretty amazing. It's great for our city, and I know the people who visit plan for months in advance to check out the whole kit and caboodle.
With all the fanfare (see what I did there), there are some not-so-fun parts of the event. First – the traffic. If you people would just leave your cars and shuttle in, we'd be much better off. Of course, the city has to OFFER such a service. Second, parking. (See complaint #1). Third, the heat! Oh wait (See paragraph #1). In all honesty, I stay away from the event as much as I have to, enjoying my quiet little suburbia until I am called upon to bring my thunderous bass to the masses.
Whereas Phil had to be a star, we only had 2 shows during the fracas, however, they were big ones. The first was a show on the Grand Ol Opry on Saturday night. I love playing the Opry, and the sellout crowd is always warm and receptive. The night brought out all kinds of biggies. My old friend Darius Rucker was side stage, and he and I shared a few laughs. Vince Gill came over and said hello to me, which was great, and the legendary Mel Tillis was hanging out as well. That's the stuff on the darkened side stage that nobody gets to see, and what makes the Opry great for me. Charlie Pride was on before us, and I was able to say hello to him as he exited the stage and we moved into place. Then Charlie came back out and introduced Phil. We played two songs, then I was back home for a late dinner. Tomorrow was going to be something special.
We were slated to play the River Stage at 3;45, and on this especially warm day, my wife and baby boy would be in attendance. This was the boy's first concert, and it was one of those life moments I'd been waiting to see happen for, oh, ever. With the sun beating down like nobody's business, we headed to the River Stage. I had a bass over one shoulder and a diaper bag over the other. Rock and roll indeed.
We settled into the artist's lounge, where Henry gained a very attentive audience in no time. At one point he had 9 women surrounding him. I couldn't help but think that at no other time in his life would he be this safe. He was sporting his noise-canceling headphones, and really embraced the whole experience with fervor. Try and spot the baby in this picture. That's Phil's Mom on duty in the orange shirt.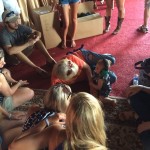 It was then our time to hit the stage, and as we got set up, I spied my little family getting their spot settled as well. I went over to say hi right before we went on, and got a pinch for luck from my boy.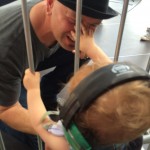 He had the time of his life, and I was able to sneak looks their way (I DID have to perform for 10,000 of our closest friends), and he was as cute as can be, and Momma said he was bouncing and rocking the whole time. When the heat was a bit much, Mom took him to the green room to cool off, and he handled it all like a trooper. No fuss, no mess. Such a good boy. And pretty darn cute, I must say.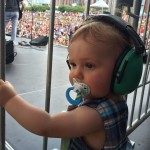 The family went home, and KT and I went to the local quickie mart to get Gatorade. To say that I lost a few pounds of water weight would be accurate. But, like I said earlier, the reward is that we get to see a lot of great fans rocking to what we do, and you keep us coming back, year after year.
So with another CMA Fest in the books, we are busy sweeping the streets, recycling our water bottles, and readying the town for the next invasion. I think the town of Nashville will be ready, however, since if I see this guy walking around, I feel pretty safe.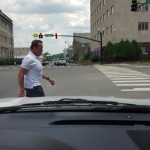 Enjoy the summer weather, and I'll be back. Oh wait –
See you on the road!
---
---