Shinybass journal entry 06-24-12
Sometimes the best laid plans…
…are the ones that never get laid at all.  If you are up at the crack of dawn like I am this morning, and struggling for your opening line, then you feel my pain.  What is your opening line in the morning?  What's the first thing you say to another person (talking to the pets doesn't fully count, but I suppose that can effect your day as well)?  A simple 'Good Morning'?  'Good Morning _______'? (Mad Libs fans enter a person's name or noun here), or do you take another approach – 'How did you sleep'? 'Are you hungry?' 'Get out before my husband gets home'.  You may be an early riser with your wheels in motion long before the sun pops up, or you can be jockeying for a coffee against the lunch crowd, but either way your 'opening line' for the day needs to be positive, positive, positive.  No matter how poorly I slept, or how tired I am, I really (struggle some days) really try to be 'up'.  Not Susie-high school reunion up. Just up.  If you are up grumpy, then you will continue the day grumpy.  The fact that I am awake is all the motivation I need.  You don't get the day back.
That's all the pep talk you get for the day.  My once a week 'I'm so happy' speeches only go so far, and I can imagine the get boring and prosaic – oh look, it's the 'Get out of bed and do something' entry.  Again.  Well, if I gave you all the thoughts in my head, then I may not work in the music business any more.  My thoughts are not uncommon for us musician types, but somewhere along the way we moved from musicians to entertainers, and when you need 100 trucks to load in your music (ahem, U2?), then sometimes there is a problem.  Not all the time, just some of the time.  But that's a discussion for another day.
Why are Wisconsinites obsessed with cheese curds?  The name alone just doesn't sound appealing to anyone south of Lake Michigan, and for some reason, if you mention it, the folks up there MAKE SURE that you have some.  I took some time and researched the whole thing, and yes, people, I know the squeaky ones are best, however, I just can't get excited over it.  I appreciate the locals getting fired up about it and wanting to share.  (I did, however, bring home some smoked cheddar from Wisconsin, so don't think I am a hater – I just don't dig the curd.)
Wisconsin hosted us in Osh Kosh for some country jam/thunder/mountain/bash/something 2012.  Arriving super early for load-in, and with a 9PM showtime, we had some time to kill.  Lucky for this boy that Osh Kosh is home to an amazing air museum (and the annual Osh Kosh fly-in of which we will be a part), and even though we will be back in a month, we decided to take in the museum before the maddening crowds.  I feel like I say this a lot, but if you are close to Osh Kosh, check out this museum.  You will not be disappointed.
Not only does the museum house some of the most iconic aircraft in history, it also has some great artifacts from Charles Lindbergh, Amelia Earhart, and the Wright Brothers.  After a short tram ride, you find yourself back in time at a series of hangars that line a grass runway housing pre-WWII aircraft.  The displays are really well done and the planes are stunning.  Again, it's worth the ride over.  Plus you can pay a little more and ride in a biplane.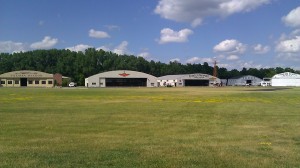 One place I have never experienced is the Mall of America.  I am curious to see it, but it's not a pressing bucket list item.  I can't get excited over a mall.  I just can't.  In our itinerary had us all set to be in Minneapolis for the night, at which time I am sure my curiosity would have been quenched.  It was not to be, however, as the bus decided not run that night, leaving us stranded at the show site until a new part could arrive in the morning.  The Mall of America was replaced with the Mall of Eau Claire.  Not nearly as sexy.  What was sexy however, was that Andy found us a golf course close by, so in the waning afternoon hours on Friday, we got all dressed up to hit the links.  Except this was a par 3 course.  We didn't know that checking in and getting the cart (we should have known by the $8 greens fees) , so we drove to the first tee box, then made the executive decision that we should be drinking.  A 12 pack and 18 holes later, we were picked up by Tommy and laughed the whole way home.  This little place was a pretty fun little local hang, and they did offer bacon infused cheese curds.  I passed.  Our hotel was the Metropolis Hotel, which is like the poor man's Disney.  It had putt-putt, an indoor go cart track, and batting cages.  We were right at home – especially at 11 PM racing go carts…
The next morning we had an excruciating drive to Cadott, which lasted all of 30 minutes.  The festival in Cadott is pretty big as well, and I think I have been there 3 times, maybe 4.  I can't remember.  The headliner was Brad Paisley, and whereas I usually don't get excited about a tour bus' paint job, I thought his was pretty bad ass.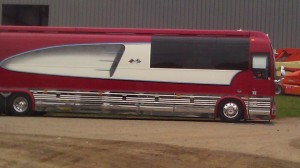 Since we had a few hours to kill, we were taken to downtown Cadott (of which I had never seen), and allowed to workout in the new gym downtown.  Big shout out to Snap Fitness for letting us come sweat for a while.  And a big shout out to the great people who made our show so much fun.  They do know how to party in Wisconsin, curds and all.  And I found out a little secret about Brad Paisley, as well.  He doesn't actually ride in his cool bus.  This is where they keep him: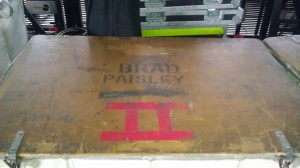 When riding the bus for hours on end, one needs some sort of stimulation.  We have movies and satellite, and books and guitars, but we started something (borrowed from Dierks Bentley) called Bug Bingo.  Start with a clean windshield.  Pick a square, put in a dollar, and when you wake up, count the bugs.  The bugs might as well die for something, right?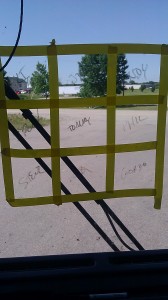 For those of you scoring at home, JDawg won both rounds, so he is buying dinner.  At Taco Bell.
The road can be a chaotic place, but somehow we made it through yet another week of thousands of highway miles, throw and go's, and sub par malls.  Next week things get even better with shows in Ohio, Pittsburgh, and ending our run in Milwaukee at Summerfest, the event of the summer.  Get your Leinenkugel's iced down and your good time fired up.  It's summer people.  There is some fun to be had. And bugs to count. And planes to fly.  And lakes to swim.
See you on the road!
---
---