Shinybass journal entry 06-29-15
Oh happy day!
How the heck was your weekend? Anything controversial or history-changing happen? I didn't think so. So some folks can now get married. Cool. Some historical flags upset some folks. Whatever. I was told years ago that we shouldn't look in the rear view mirror, and that the best thing to do is look ahead. And looking ahead, I predict one new moneymaker. Gay divorce lawyers!
Things have become very strange very quickly 'round these parts. When anything controversial comes out, I love to sit back and watch the arguments fly on social media. All of a sudden everyone is an expert on history, love, marriage, and racism, and usually in the same post. Remember that everyone is entitled to an opinion. It may be different than yours, but that's what makes this country great. Don't get mad when the meme they post is more clever than yours. And remember that when you stomp on your social media box, unless you tag someone, include the responsible parties in your post, or actually write a paper letter and send it, it falls on deaf ears.
But sometimes it's hard to do the right thing, the good thing. Like keep up with this blog. Here I am, weeks behind, playing catch up on a simple 1200 words. But you know, I, too, try to find time for important things. Truth is, we've been busy beavers on the road, and the home life has taken a front seat to everything.
That being said, I am treasuring my time on the road as well, trying to get out and see and do what I can, whilst I can. We have played some great shows lately, and although few weeks late, here is your recap.
Lexington, KY, the left turn horse-riding capital of the world was the site of the Red, White, and Boom! Festival. Among the acts were Eric Paslay and Casey James. My dear friend Jeff Brown, star of stage and screen and who plays drums for Casey James, was in the building. Always good to see dear friends in different states, since we don't see each other enough at home. The show was in the Lexington Legends' baseball stadium, with 15,000 people rockin' with us the whole way. HELL of a way to start the run. Since we were in a baseball stadium, I am holding a base. Get it? The donuts were from our friends the Ferros. I'm glad we had the donuts, because there was a confectionary casualty when the catering company lost one of their own. Tragic.
After a short bus ride, we woke up in Tuscumbia, AL, a former hotbed of activity during the golden age of logging and expansion, but now just a quiet town, able to boast as the home of Helen Keller, which is a pretty cool thing. Another big deal in the area are a couple little recording studios that shaped musical history. The 'Muscle Shoals Sound' was heard 'round the world, and the biggest of the big acts ventured to this sleepy river area, from The Rolling Stones to Aretha Franklin to Paul Simon to Rod Stewart. The history has been well-documented, and I had dinner with the great Barry Beckett before he passed away, and I have met David Hood. We took a tour of both famous Studios, and soaked in history. The Wurlitzer keyboard below was played on 'Patches, 'Mustang Sally', and a thousand other songs. The archives are a musical history lesson as well, with Otis Redding nestled up against Jerry Reed. So damn cool.
We also slipped 'Mainstreet' by Bob Seger in the set, since the Night Moves record was tracked in Sheffield, AL at Muscle Shoals.
We ambled back down the Florida corridor, and headed to Orlando proper for a show at Sea World. I was told years ago if you can't say anything nice, don't say anything at all. Well, for this particular day, I shall say the weather was nice. And I found a new friend.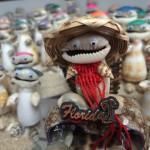 After a scant two days at home, we were back in the saddle again, this time headed up to the 'Gathering Place' (Potawatomi), Milwaukee.
Last year Phil opted to play the Wisconsin State Fair instead of Summerfest. His streak was at 12 consecutive years of headlining, so to change things up was a shock for some. It was a shock for me, for it was the show where I broke my finger. So I squarely blame Phil for my finger being broken. Had we played Summerfest, we would NOT have been throwing the football, since the backstage area at Summerfest has no room for such shenanigans. Of course, as my wife told me, I should have caught the damn ball.
As the bus rolled back into our familiar haunt among the backstage fences, we felt a bit of excitement in the air. It seemed that there were a lot of 'welcome back's', some news coverage, and an overall sense that this was going to be a great day. It was.
We visited the Calderone Club for lunch, which is such a wonderful place, and the owner is our true big brother. I skipped out without cannoli this time, which is a bit sacrilege. I think 4000 calories was enough for one meal. The hardest part of Summerfest (or any show for that matter) is waiting for the downbeat, and being the headliner, our downbeat is a bit later than the rest. But once it hits…lookout.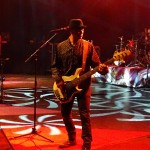 It is such a great trip to Summerfest, and we have so many friends that come out to see us, which makes the trip that much better. That and the 15000 people crammed in front of the stage to party with us. It's my fourth with Phil, and they keep getting better and better.
So there is a recap for a few weeks' past. Being out on the road a lot has lent itself to more stories, more pictures, and right now, a lot of sweat. I will get the word out soon enough, but until then, remember a few things : First – respond, don't react. Remember that bigotry and hate begin at home – a child comes into this world with a clean chalkboard. YOU teach them the right and wrong. And for one, brief, wonderful day – let's not eat meat and all say nothing but nice things to each other. What kind of ripple effect do you think that would have?
Enjoy the day, my friends!
See you on the road!

---
---