Shinybass journal entry 07-08-13
Oh, Canada.  Your lines are long…
Good morning! How long has it been since you were forced to stand in line for hours, be constantly told what to do, where to go, and forced to sit in a confined area for long stretches?  Well, on our recent one-off to Canada, that's how the 12+ hours of travel on each end went for us.  I really don't mean to kick off this journal in 'bitch and moan' mode, however, to get to a little island in the New Brunswick area, it is quite the ordeal.  I am only sharing this trip so you do not make the same mistakes we made.
First of all, just drive.  The scenery is better, you can get out of the car anytime you damn well please, and yes, Virginia, there is a bridge to get you on the Island.  If you fail to heed my advice, then get ready for a full day of travel on each end of your trip.  And pack a meal.  Or two.  The stops for us flying to PEI were Nashville to Chicago to Montreal to Charlottetown.  On the way back, it was Charlottetown to Toronto to Detroit to Nashville.  Let's just call this the hockey tour, eh? Each day of travel consisted of the following : early lobby calls, which meant early wake up calls, no help or signage as to where international luggage check-in/border crossing/make sure you're not smuggling Snowden in your carry-on checkpoints were located, long and desperate security lines, bad coffee on every single flight (all 6!), small airplanes, no legroom, no sleep, poor and expensive food options, and of course, I am carrying the bass on my back, which provides a fun game of 'will it fit in the overhead compartment or will I get yelled at again'.  The glamorous life indeed.
All that magic aside, I was hopping on a plane, or two or three, to visit a land I had never seen before, play my bass and help make some Canadian folk happy.  That right there is the payoff, and it outweighs all of the negative.  From humble beginnings to pompous blogs, somehow I have managed to take day 1 with a pawn shop bass and morph it into getting paid to fly around the world to play music.  Funny how life moves.  I love the journey, however, and this one was another fun one – as tiring as it all sounds.   And all the airport food wasn't that bad – I did manage a real Chicago dog at 9:30 AM in Chicago.
And our prop wasn't malfunctioning – I was practicing my light refraction photography.
We touch down in Charlottetown and realize that our luggage was still in Montreal.  We were told in Nashville it was checked to our final destination, yet learned we were supposed to pull bags and recheck them for customs. (Travel tip, kids).  So with the stark reality that we would be wearing the same clothes on stage and in 'real life' for the next 3 days, we set out first eat dinner, then shop for unders.  TMI?  Oh no, it gets better.
We found the Water Prince Corner Shop, an amazing hole-in-the-wall restaurant with seafood fresh from across the street and incredible dessert.  I tried the local lobster, mussels, haddock, and oysters.  Good gosh it was amazing.  The meal took a long time, but it was nice to not have cell phones on and sit and BS for a while.  Some of the band and crew from Kenny Chesney were sitting behind us, so it was a little catch up/meet new cats hang as well.  They were all very nice and offered gear and clothes in case our luggage didn't arrive.  I had to take a walk after dinner (not only to find socks) but to help work off an amazing meal.  The tourist/seaside town of Charlottetown had lots to see and offer, and was beautiful as the sun said goodnight.
Our hotel was crazy bust when we arrived, with the lobby full of stocky guys with funny accents and trophy wives and girlfriends.  As it turns out, the captain for the Montreal Canadiens was getting married, and it seemed that half of the NHL was staying at our hotel. There was probably a shortage of beer on the island after that party…
I had a much-needed great night's sleep, and ventured out for a fantastic breakfast and more walkabout scenery.  Our lobby call was 1:45 PM, and miraculously our luggage arrived after breakfast, so I was happy to have my own, comfy drawers back.  The ones I purchased the day before left a blue-dye 'tramp stamp' on my lower back as I sweat that day.  I just added angels wings on the mark and went with it.  OK, that's nasty.
We drove the hour to the show site over in Cavendish, and were treated to beautiful scenery along the way, seeing well-maintained homes and farms.  The music festival itself was enormous, however there was no artist-specific entry, so we were in traffic. (More travel fun!) We were playing with Little Big Town and Kenny Chesney that evening, and have friends in both camps.  LBT was amazing and getting hugs and fist bumps from them side stage is refreshing, since they have been the same since I first met them. KC's guys were all great as well.  It turns out Kenny just purchased a new airplane, so I don't think he has to monkey with customs and long lines.  Maybe if I chose a different path…JDawg made sure to tell Kenny just what he thought.  Our show was huge and loud and wonderful, and we were treated to local beer and a ride back to the hotel after a long day with the Del McCoury band.
Once again, the pre-dawn wake-up call came in, and we were off to the next batch of travel.  After VERY long lines in several airports, the only saving grace was the smile the airport code gave a music nerd like me.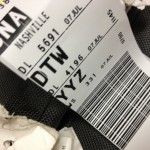 So that was the adventure that was the weekend.  All that for 75 minutes of music.  Strangely, again, it's all worth it.  And guess what?  We get to do it all over again this week as we head to Saskatchewan for the Craven Country Jamboree.  The things we do for poutine…
After a short trip to the Canadian Outback it's back home for a few days of Summer NAMM madness.  I am looking forward to seeing some old friends and making new ones.
Thanks to all who travel to see us throughout the year.  Believe me, with our crazy schedule, I feel your pain as you put the miles on.  Stay safe out there!
See you on the road!
---
---