Shinybass journal entry 07-08-14
Well, that was a fun ride…
July 6, 1957. A shy guitar-playing boy of 16 met a more refined 14-year old at a church function. They shared an interest in music, and from that moment on became the best of friends, worst of enemies, and sent human history on a whole new path. John and Paul were not only singing about a Revolution, they were the revolution.
The chance meetings that become so monumental are very rare indeed, but imagine (to quote John) if you treated everyone you met like they were the John to your Paul. It sounds silly to say that out loud, but what if you gave everyone you came in contact with that same respect? I can't change the world, but maybe, just maybe, if we treat people – all people – like rock stars, then the world would be a bit nicer.
And that goes for everyone. Things have fallen off lately, respect-wise, and I am firm believer that it all starts at home. Teaching respect at an early level carries through – respect for each other, life, animals, the planet, and money – is all very basic, and yet lost these days on young and old.
The latest rant is fueled by a small event from yesterday. We were in Florida to play a show as part of a town's celebration. The weather didn't cooperate. The show was cancelled, and we eventually packed up and headed back to Nashville water-logged. Our 'backstage' area wasn't your typical set-up. Our catering was being hosted by a large church. The volunteers were inside avoiding the elements, and as we came in for dinner, they looked startled. Yes, I have 2 earrings. Yes, I was wearing a Social Distortion T-shirt. However, some of the older 'church members' didn't even want to make eye contact with me as I came through the door and smiled at everyone. Praise the Lord, indeed. I'm not bashing religion, or anyone's beliefs, however, if I were some wealthy council member, I'm sure they would have perked right up. I don't get it sometimes. But that's my point – it's not for me to understand – just for me to try and make it better for someone else.
And then there's Kenny. Kenny was on the local crew for the production company. He was older, and crusty as can be. And we hit it off like old drinking buddies. It's all in the attitude and approach, I suppose. Kenny worked 5 tours with Robert Palmer, and his claim to fame is that he worked for Skynyrd until 2 weeks before the plane went down. Granted, we are in the same industry, and yes, musician-types scare most people, so I give people a pass. Until it's time to write my column. Then the college graduate comes out to play and break your stereotypes against your custom golf cart.
But don't despair, my gentle readers, I had a fine day in the Sunshine State even though we weren't able to set up and perform. We drove the bus down A1A and found a great bus parking spot for some morning beach time. I just about did it all : I was tackled by Gordon, scraped my shin on underwater rocks, swam until my body pruned up, and even spotted a sea turtle about 20 feet from us. A fine beach morning indeed.
So basically we drove 1500 miles to see the ocean, which isn't bad, but borderline certifiable. We were really looking forward to playing, especially with the temps as nice as they have been the past few days, but it was not to be. I suppose we'll have to suffer the wrath of California weather next week. Terrible, I know. Somehow, we'll make it through.
I must take a moment and congratulate our dear friend (and former Phil Vassar keyboard player) Andy Sheridan and his wife Melissa for the delivery of their beautiful baby boy Jett, who arrived after 25 hours of labor. Momma probably needs a medal. And a nap. Love you guys.
So there you go. Your weekly dose of tour recap. I believe we are scheduling a make-up FL show for November, so check back with Phil's tour dates if you were planning on coming out for this one.
And to prove that it is not all clouds and gloom, here is Chattanooga in the morning. I love this sight every time we go home on I-24. I hope you get to see it in person.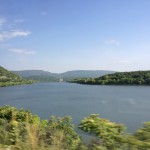 Go listen to a Beatles song on this milestone day, and remember to be respectful. That person you snub just may have been the kick in the ass you needed to be successful. Or just another person. Either way, it's the right thing to do.
See you on the road!!!
---
---