Shinybass journal entry 07-16-13
If you knew poutine like I know poutine…
Today is Fat Tuesday.  Not because we're celebrating the Mardi Gras Season, but because the NAMM show was in town this past weekend.  This means that I have been eating and drinking way too much with good friends from far away lands, and my gym is laughing at me.  I do love seeing my peeps, even if it's only twice a year.  The NAMM show is a showcase of new gear for the musical merchants to peruse and handle.  This is a double-edged sword because there are musicians that go to NAMM to showcase how great they are, and it seems that NAMM is the ONLY place they play, then there are guys who are actually there to see Artist Relations reps and try new gear.  Sadly, it's always noisy, a bit pretentious, and becoming less and less 'exclusive' to attend, which, as we all know, once the general population can get in, botched licks from Metallica's 'Enter Sandman' aren't far behind.
NAMM is nice for me because I can catch up with old friends, sometimes make new ones, and I can see some really amazing toys.  Like this Union Jack Hofner bass, one of 30 in the world.  You may remember Paul McCartney playing one for the Queen's Jubilee.  I was smitten.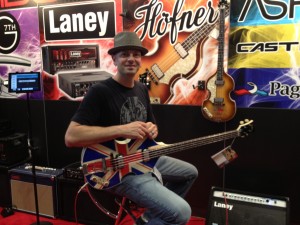 But let's rewind.  The touring caravan went International yet again, this time to the other side of Canada, to Saskatchewan.  We were at the Craven Country Jubilee for the second year in a row, and we were honored to be part of the kickoff party.  Travel to Regina was a little easier than to Prince Edward Island, with only 4 total flights rather than 6.  Customs on both ends went relatively smoother as well, which again, makes for a better trip.  I appreciated the in-flight movies and the stellar service Air Canada has to offer.  Get your shit together, American Airlines.  An occasional smile doesn't hurt….
Seeing the town of Regina was like seeing an old classmate that I knew but didn't really hang out with.  I was familiar with the area, could navigate my walking tour, and saw the familiar sights, however don't have an over excitement for the town, like others in Canada that I have experienced.  There wasn't a lot of time for any in-depth sight seeing, but Jefferson and I took a 5+ mile walk and found the Regina Parliament Building stunning as the sun dipped below the sky.  I also found authentic Canadian geese that didn't want to kill me, and I appreciated that.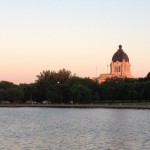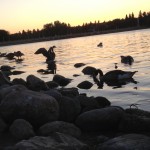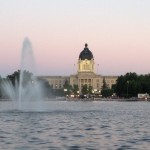 On show day, we drove through the Canadian countryside and set up for sound check at the Beer Garden.  I was a little skeptical hearing the words 'beer garden' as our show location, thinking of a small, festoon-lit courtyard of sorts where long tables sit with mugs of local brew as decoration.  I was a little disappointed when we arrived and were told that only 100 people were at the venue.  We drove over and spied not 100 but 300.  Suck.  Then Phil was announced, the sun went down, and out of nowhere, some 9000 people packed into the beer garden in this raucous beer-soaked party. We had at least 30 people on the side stage, including some NHL players.  Ah yes, more Canadian stereotypes.
Our 'after-party' consisted of a great bottle of Silver Oak in the hotel lobby after our return to town.  I know, we hit it so hard.  I was OK with a lighter celebration, for last year's red wine encounter still makes me shiver. Our lobby wasn't bad, either, with a 1030 flight out.  My only hang up with the Air Canada folks is how much they hated the notion of bringing my bass on board (in the US a law is now in effect allowing instruments on board), which meant I heard the dreaded 'gate check' phrase more than I wanted.  This has always made me squeamish, even though Sandberg makes great hard/soft bags.  So I took what could have been one final picture of my baby as she was in silent waiting for her fate.  I thought of happy things and took outside pictures not thinking of the baggage handlers that couldn't pass the refueling test and were stuck in cargo assessment…
My bass did make it to the States in tact, so everything else was downhill from there.  Arriving in town on a Friday is odd because usually we are long gone, however, having a weekend at home was a sweet surprise.  Being around meant domestic duties, however the aforementioned NAMM show and the surrounding social events took most of the weekend.  And why no tour journal yesterday?  Turns out I am co-producing a track that will be the opening theme song for a show on the Velocity Network.  I was surrounded with some talented folks yesterday, and I was in the studio all day.  Not a bad Monday.
So no big meaning of life entry this week, but with the shows coming up, I am sure that I'll be pondering some world-changing issues, like white or wheat bread for my flat-meat catering.  In the meantime, I will leave you with some 'current headline' food for thought: Everyone is truly equal.  When you think you are better than someone else, it actually makes you less of a person.
See you on the road.
---
---