Shinybass Journal entry 07-19-15
Happy Monday!
Have we enjoyed our weekend? My weekend was spent in a bus, as are many of my weekends. I don't mind so much, but I feel like a lake is in my future. Just a few quiet hours off the map to relax. Our bus has been rolling non-stop for the past month or so, and it's been a whirlwind of sweat, sound, and miles. We are headlong into the busy season, and, as we say in the South: Gotta make hay while the sun shines.
I'm a little behind in the current updates, but that's only because I've been incredibly lazy. OK, not really. Some of you look to this journal to see words of wisdom, or maybe little nuggets to get you through the day. My touring friends don't read this because they live this. The world has been turning in some crazy ways lately. The only advice I can give you all is not to try to change the world, but try to change yourself.
Last time we spoke, I was still enjoying a high-calorie food coma from Calderone Club in Milwaukee. The next run was for a July 4 celebration outside of Heinz Field in Pittsburgh. Ahh, one of my favorite towns. We were treated to a baseball game courtesy of the Pirates (they also took us on the field again), and my Uncle – a great driving force in my musical beginnings – was at the show as well. It was a great day indeed. These ivy leaves were bought by my brothers and myself to honor our grandparents, two of which were at Game 7 of the World Series in 1960.
I tell you, years ago I dreamt of just being in PNC park, but having been onfield 3 times now, I feel like a very lucky boy.
Our next stop was in Minnesota for a show at Taste of Minnesota. Our old friend Kip Winger was playing an opposite stage, so it was good to see him again. The 4 AM lobby call always hits us hard, but being home by noon helps my soul, so early flights are OK with me. And as a side note – we passed by Prince's complex on the way to the gig. Now eat the pancakes.
The week at home was downright crazy. On Tuesday I was on local Fox 17, showing off some new products for IK Multimeda, then on Wednesday I had meetings all day with people in town for the NAMM show. Thursday morning I attended the show for all of 90 minutes, which isn't nearly enough time, but I had a flight to catch. The boys had left the night before, so I needed to meet up with them in Chicago.
I flew from Nashville to Minneapolis to Chicago, only to get back on the bus and drive to an hour outside of Minneapolis. Oh well. The skyline of Chicago is pretty at night. Our show was in Redwood Falls, which is a fine little town with, well, Falls.
We then went to Rhinelander, WI, home of the Hodag Festival. This Festival is a staple of all country touring acts. I was a Hodag virgin once. Not anymore. I think this was my 3rd Hodag. It really is fun out there, and the crowd is insanely friendly. My best Hodag story was when we opened for Loretta Lynn, and I was talking with her right before she went on. They announced her, and she leaned over and kissed me on the cheek and said "I've got to go to sing, darlin'.", and walked out on stage. Priceless.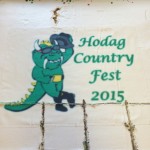 The next day we were back in the big city, doing a private show at the Adler Planetarium. Have I mentioned how much I love Chicago? The winters are a little bitter, but then again, it is winter. This particular day, it was a glorious summer offering. I had a great morning walk, an excellent brunch at Public House, and soaked in everything I could in the few hours we had in town. I even managed to squeeze in a visit with some good friends who had their boat docked close by. Win/win.
The private event also featured football Hall of Famer Dan Hampton, who happens to be a bass player as well. His hand is the one with the Super Bowl ring. Nice guy, and a great hang. Happy to meet good people.
So there's some fun stuff for your Monday reedin's. I look back at these landscape and landmark pictures and can't wait for the day when I can take my family to see the best of all this – not that I don't love it all – but there are some BBQ stands we don't need to visit. They can take my word for it.
What's on tap for you today? We revisited some of my travel, now it's your turn. Stop reading and start planning. You can leave that lawn until another time. How about you get in the car this weekend and go someplace you've never been (even if it's close). You won't get the time back, and yes, the lawn will still be there. I suppose that's your nugget of wisdom. No excuses. Just get out.
More updates to come. If you are in Nashville, we are on the Grand ol' Opry Tuesday night, July 21st. Love to see you!
See you on the road!
---
---