Shinybass journal entry 07-19-17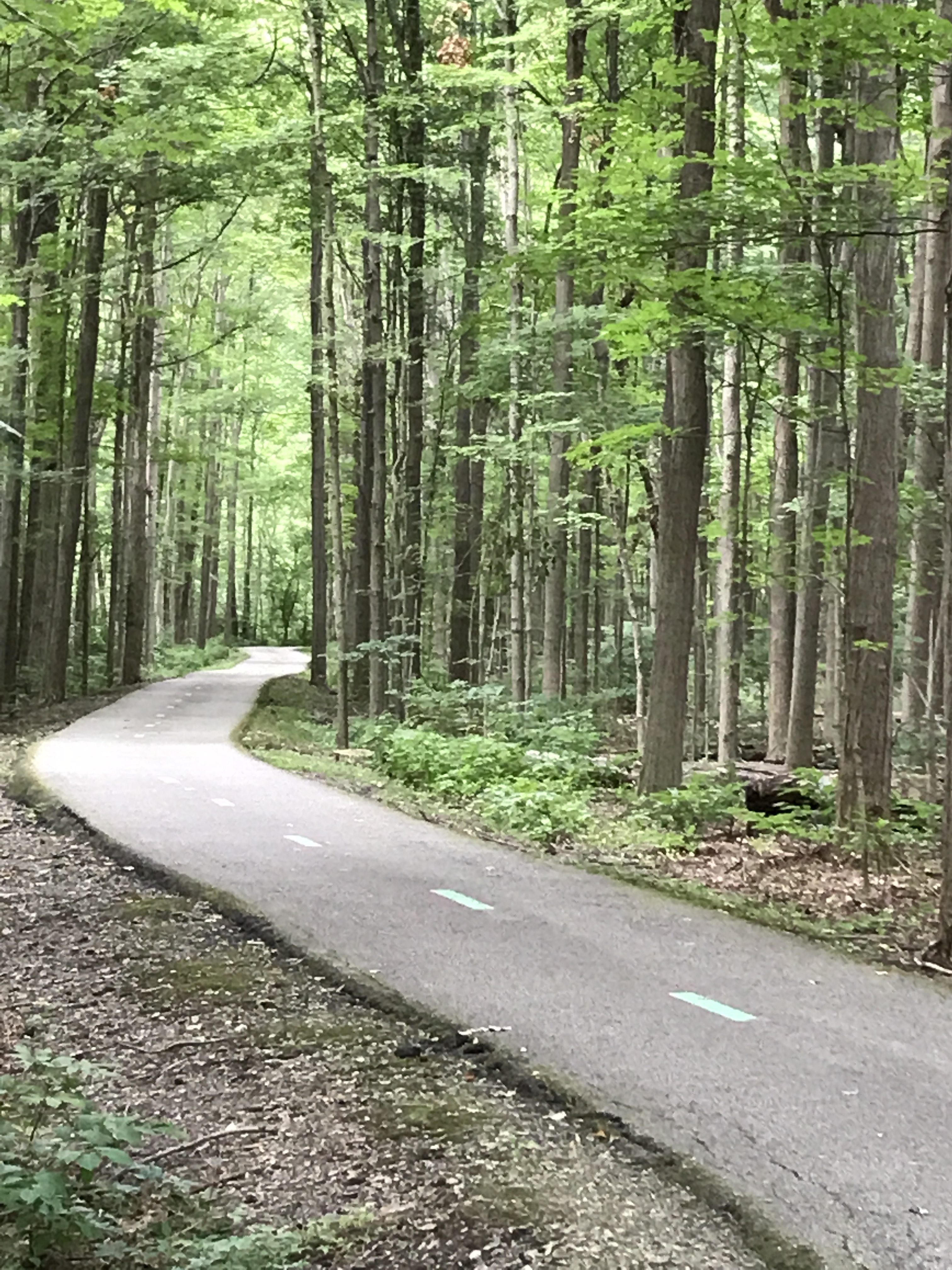 Well, we know where we're going, but we can't say where we've been.
Thanks David Byrne and company. I can relate. I can look at my calendar and say 'Oh, we're going here', and if you ask me about last week, I got nothing. That's why I take a lot of pictures, methinks. I don't think it's my line of work. If you ask my wife, I rarely pay attention or listen at home, so it's just me. Or men in general. Find me a man that listens, and I'll show you a man that is giving the rest of us a bad name. Knock it off! We love our bliss.
We started this run a week ago, and it didn't start well. The bus had some mechanical issues, and that pushed our bus call (the time we meet the bus) from midnight to almost 4 AM. Now, even after coffee I couldn't stay awake, so I left the house at 2 and slept in my car until the bus arrived. That pushed our whole next day into a spin, and left me with no time to explore the city of Richmond. I did, however, see family and friends (thanks Chris Kohlman for making the trip up), and we played 'Sweet Virginia Breeze' with Steve Bassett, one of the writers of our state song. Great stuff. And, of course, any family time is good time.
The next day we hit Jim Thorpe, PA, to play the fantastic Penn's Peak. Sadly the weather of the day was foggy, so we didn't see much of the Poconos, and since it was raining most of the day as well, my bike stayed in the trailer. We did manage a trip to the gym and a pretty kick ass show for several hundred of Pennsylvania's finest citizens. (On a side note – the tiny town of Jim Thorpe is quaint as can be, and although all we did is drive through, I will get there one day to stop and explore).
I woke up in Cape Cod. (That should be an opening line to a book. Nobody steal that…) Hyannis, Mass, to be exact. We played the historic Cape Cod Melody Tent, which is basically a circus tent with permanent seats, which is a fun way to go. Just about everyone has played this stage, as the venue has been open since '51. The sign reads like a 'Who's Who' of music, and when I saw Bob Marley and Louis Armstrong, I sort of stopped reading. Since I wasn't needed for a long time, I pulled out the Pedego and disappeared for a while. Oh, the water…
There's just something about that part of the country that's so, well, charming. And it's not necessarily The Patriots or the accents. Maybe it's the history. Maybe it's a boating lifestyle. It could be that you could get in a boat and end up anywhere in the world. Such a romantic notion that few of us actually do. I'll tell you, sailing is where its at. And somebody had better play 'Into The Mystic' at my funeral.
I have to give a special shout out to the folks at the venue. They were top-notch, and they took GREAT care of us all day and night. It was a real treat.
So then came a few days off, the first of which was in Cleveland, OH. Just south of 'The Mistake', actually, but not far from a long bike trail, and lots of outside. My trusty Pedego and I set out for an afternoon of relaxation.
The trails are fantastic: they run parallel to the Rocky River, and go for miles. About 30 seconds into my ride, I took a deep breath, looked around, and finally relaxed. Touring is not all the glamour its cracked up to be, that is for sure, and to have a few stolen moments off the bus alone, well, that's golden.
So I'm cooking. Exploring. Smiling, sweating, hydrating, sweating again. I am free. I am the wind. I feel infinite. I am almost to the end of the trail, ready to do a 180 for the same journey back to the bus. My bike suddenly feels funny. As fate would have it, my rear tire did not feel as infinite as I. So I am now the furthest spot I can be from home, and my tire is done. I walked the bike down to a public parking area and asked a half dozen people for a bike pump. No dice.
I read somewhere that you should count the blessings of the day, and write down what you are thankful for each night. When I went to bed that night, my list was long. I was thankful for the bike, the opportunity to get out in a different town, and the chance to exercise. I was thankful to have a job, a cell phone, and service in this parking area so I may hail an Uber. I was also thankful to have money in an account to pay for such services.
I could have spent the day mad or bitching about this and that, but when we see what is clearly in front of us, we can't help but be thankful. So thank you, kind Uber driver for getting me and my bike back to the bus (ANOTHER great reason for having a folding bike – it fits!), and thank you, Cleveland, for a great place to ride.
If I was a little disappointed that I wouldn't have the bike the next few days on the road, those thoughts disappeared quickly when I saw our next stop, and more importantly, our accommodations. We were in Grand Rapids, which is a fine town in which to stay, especially downtown in the swanky Amway Grand Plaza hotel. When we arrived, it turns out our rooms weren't ready. Not a big deal – there was a museum a short 2-minute walk away. Don't threaten me with a good time.
I spent a long time at the museum, which had interesting artifacts from a mummy to airplanes to a mockup of the city from the late 1800's, with my new friend Larry working an 1880's printing press, printing wedding invitations and bookmarks the kids can take home. The local history of Grand Rapids is interesting as well, and I even went back for the planetarium show later that afternoon. (Rooms still weren't ready). A 'must see' if you happen to have some time in Grand Rapids. Great place for the kids, too.
The hotel gym was fantastic, and after a long, much needed shower, I found a great little rustic Italian joint for dinner. A little summertime sidewalk dining is always in order, especially when there are no bugs to be had. The server gave me a tip on a local watering hole, so as the skies went to sleep and the vampires came out, our LD and I found Pyramid Scheme, which is a Pinball/punk rock/local bar. Half priced pints and 50 cent pinball on 30 machines? Score! And the second photo was taken from my hotel room. Not too bad.
So day 2 in Grand Rapids, and well, that means show day. For me, that doesn't mean 'sit and wait for load in'. It means 'What can I get into now?'. As fate would have it, the Grand Rapids Art Museum is free on Tuesdays, and since it, too, was a short walk from the hotel, I was all over it.
I saw a Manet, three Picassos (OK, two originals and a litho), and a great exhibition on Rube Goldberg, a famous cartoonist from 100 years ago. The collection was massive, and I'm glad I had time to soak it in. Plus, seeing 500-year old paintings in the morning seems pretty dang cool to me.
So then we played our little private show for about 700 people, got on the bus, and here we are. Posting a journal entry on a Wednesday. At least now you are caught up, and have a whole lot of pictures. In case you were wondering, yes, I meant to post that picture of my feet above. I just wanted to show my human side.
So after a ridiculously crazy build up to NAMM, then leaving, and now finally headed south to Nashville, I am ready to be home. It's been a week since I've hugged my family, and in Daddy/kid years that's an eternity. Go have fun today, hug the kids, and be thankful, humble, and kind in whatever you do.
See you on the road!
---
---