Shinybass journal entry 07-23-13
And now it's a blur…
Welcome to Tuesday, which is my new Monday, which actually doesn't even count as Monday because the touring whirlwind has begun the funnel spin.  The spin occurs roughly around this time every year, when touring acts are cutting huge paths across the country by bus, plane, and ferry, trying to soak up as much fried food and dust as our bodies will allow.  It's the season of big festivals and musical gatherings, where it is not uncommon to see as many as 6 acts on during the span of an afternoon.  There's a cholesterol-and-beer-soaked vibe to the whole thing, especially in the country touring circles.  The rock circles are beer-soaked as well, but I am sure that catering is more vegan and mineral water-based, a stark contrast to the fried pork chops and sweet tea we always seem to get.  I suppose it could be worse.  Touring bands in Scotland probably get haggis.
The boys started the week in Dayton, OH, where they performed an acoustic show for radio promotion.  We weren't needed on the show, so Jefferson, Brandon (our newest crew member), and myself hopped in a pimp leather-bound Yukon and drove up to meet the bus.  (Costco members, take advantage of the super-cheap rental car prices.  Here is your lesson for the day.)  The first real show for us was in Des Moines, Iowa.  If you asked me where we played this second, I honestly don't remember.  Now that I looked at the calendar, I saw we played the historic Val Air Ballroom, which has hosted everyone from Count Basie and Louis Armstrong to Conway Twitty and Tim McGraw.  I take away two memories from this venue – first, there are NO decent places to eat close by.  Second, I remember that Jeff was almost killed by a falling light truss/pole during sound check.  For being a Thursday show in a Saturday night-type venue, it wasn't bad at all.  And J Dawg is OK.  And why, oh why, do we always miss the fun shows??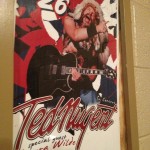 The next day began the dust bowl portion of the week, with high temps and dust swirling all over Davenport.  The Quad cities are often on the receiving end of jokes from Chicago folk, but Davenport is a fine little town with a scenic riverfront area, and a great minor league ballpark.  This year I marked our return with a 2 mile run (in 90 degree heat), and an outdoor workout session with Buddy, who is Darius Rucker's bodyguard/trainer.  The river was beautiful that day, and the sky marked our visit with a double rainbow.  We played with Kellie Pickler and D-Ruck, however, we blasted out to our next stop before Darius kicked off, but not before I was able to say hello to my old friend.  I told Darius that this country thing just may be working out for him…
Our next show was in Twin Lakes, WI at Country Thunder, where we were saddled up with Brad Paisley, Lee Brice, and Chris Young.  Our set was quick, (1 hour), hot (about 95 again), and without major incident.  We like that.  The same folks that run this festival run the Canadian ones (among others), so seeing good friends again is always a treat.  And being next to a 105mm Howitzer when the boss is firing it is pretty sweet as well.  No country music fans were injured during this demonstration…
So geographically speaking, Twin Lakes and Milwaukee are not far apart.  After the band and crew showered, the bus was parked around 11:30 in the Milwaukee city limits.  We ended up at our favorite restaurant – the Calderone Club for a late-night dinner and wine outside.  The weather was perfect – it reminded me of being in NYC in the summertime, without the noise or the attitude.  We then hit a late-night club (I'm still trying to figure out why), and ended up back at the bus a couple hours after we kicked off the night.
The next day we had an early sound check (love being the headliner!), which meant the day was ours.  A friend in the Brewers organization found us some decent seats for the Brewers game, so 4 of us enjoyed a relaxing afternoon at the ballpark, complete with brats and peanuts.  For those wondering, we didn't stay for the 13 inning marathon – we did have a show 🙂 Say hello to Hammerin' Hank!
We returned to the Festa Italiana  stages, and then the sky opened up.  What a buzzkill.  We usually have such a great crowd and massive energy from the crowds up in Milwaukee, and as the afternoon eased into the early evening, the rain was bringing everyone down.  Then, as if on cue, the rain stopped (10 minutes after the weather man predicted!), and we were ready to rock.  The rain sent a few folks home, but our crowd was rowdy, and I know our crew was ready to pack it in and get home, for it was a long day of set up, wait, tarp, untarp, wait, etc.  Plus with the 'throw and go' mentality of the run, I am sure a warm, familiar, bed (that is not traveling at 70 mph) was calling.  These guys make our egotistical existence possible, and do a tremendous job, week in and week out.  Thank you, men.
So tonight (Tuesday), back in Nashville, we are allowed to once again perform on the Grand Ol' Opry.  Humbled isn't the word when we perform here – and for some reason, we always play better on that stage.  (There – I went and jinxed myself)  Tune in to 650WSM AM tonight at 8:30 Central to hear all the wrong notes.
Thanks for supporting 'Love Is Alive', and keeping it on the charts!  We need to keep pushing it, so get on it, folks. We'll do our part and come see you  – lots of you in the coming weeks – if you'll help us out and call/email/ tweet your local radio stations.  It still really, really helps.
Enjoy this wonderful summer week, and stay cool out there.  Check www.philvassar.com for tour dates!
See you on the road!
---
---