Shinybass journal entry 07-25-14
Damn you, Bon Jovi.
JBJ was right. It's all the same, only the names will change. So prophetic, that Jersey boy was, being able to predict my life, this journal, and so much more. (Minus that Jennifer Nettles stuff…) When we traverse long airport walkways or motor across vast Midwestern wastelands, we aren't special. We aren't the first to do it, and we certainly won't be the last. I have been checking the analytic numbers – a LOT of you read this blog, and that makes me feel special. There is an endless sea of weary, malnourished guitar-carrying folk wandering the airports this summer, somehow you have decided to follow me, so on behalf of all touring players, I really, really try not to let you down. My stories are not unlike any others, and some guys have much, much better stories, however, I will keep fighting the good fight, and press on with pictures from this great land, and tales of no armrests or sleep. And speaking of…
It seems that our lives has been a blur for the past 2 weeks. I won't complain – it beats sitting at home watching my vegetables being eaten by the local wildlife. And I told our booking agent that I was buying him a map for Christmas. The next few paragraphs may explain.
In a perfect and ideal touring situation, shows would be spaced a nice 300 miles apart, and we would have easy rides from town to town, which would allow us to live a little whilst out. And whereas we see some things, man, the past two weeks, we mostly saw runner vans and airplanes. But again, no complaints.
A couple weeks ago, which seems like 2009, we started a run in Mansfield, OH. Not too terribly much to report from Mansfield, except that the interior scenes of Shawshank Redemption were filmed at the local prison. Shawshank, Blues Brothers, Full Metal Jacket, the first Indiana Jones, Star Wars are some of my 'that channel ain't moving' movies. And since time wasn't on our side, we couldn't even take the tour. But, Brooks was here. So was Red.
We finished our show then drove back to Nashville, where we caught a short flight to Los Angeles. We had hoped to be in Hollywood by 3PM, then in Santa Barbara at a reasonable time for a night off with friends and a tour of the Seymour Duncan factory. Instead, J Dawg and I were able to surprise a friend at her birthday party at the Rainbow Room, where we missed Pam Anderson by 15 minutes. Curses. We had to settle for seeing the lead singer of the Gap Band. Due to long flights and not so much sleep, I was in bed by 9:30. Rock star, I know.
After a wonderful early breakfast, I was able to get some work done on the roof of Le Parc hotel, which has an amazing view of the Hills. Enjoy.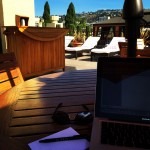 We trucked 70 miles or so to Palmdale, CA for our show at the Palmdale amphitheater. We couldn't have asked for a better night. The weather was perfect, the cupcakes a-plenty, and as an added treat, the 'supermoon' showed its pretty face behind the crowd as we played, so we had an extra treat. We packed up, then drove to Fresno, arriving very late (or early), and then had to be back in the van early for the additional mileage up to Sacramento. No sleep kinda sucks, and the van is not the best way to rest, either. We played the California State Fair, which was on a blistering hot night. I had 'double duty' that night. The sign language interpreter was in front of me. Her helper had a computer screen with our lyrics, and would cue the lyrics for the interpreter. Since we have no set list, I had to try (operative word there) and relay, in my terribly broken sign language, what song we were playing. The funniest moment came when we played Just Another Day in Paradise, and he couldn't understand me to cue up the lyrics. I acted like I was throwing dice at this point, just to try and make a connection. Nothing. But we had a moat around the stage, so that was sweet.
We then went to the hotel for 4 hours of blissful sleep before our flight home. We made it home Monday, and my Tuesday and Wednesday were called 'catch up days', then we were back on a plane to Portland, Oregon. Upon landing Jeff and I were picked up by an old friend, and he took us to some swanky and wonderfully Portland-type places for dinner and dessert. I regret that we didn't hit the Waffle Window for a to-go order.
A couple of things about Portland : First, a 7AM run on the river is fantastic. Second, they boast an Apple Store with more store frontage than any other one in the world. And third, they are wonderfully dog-friendly. I'm OK with all of these. We drove 70 miles out to Albany, Oregon to play a pretty decent-size fair, and after the show had to go to yet another hotel by the airport to sleep for about 4 hours. We had a 4:45 AM lobby call to catch our flight to Pittsburgh, connecting through Chicago. I don't mind that connection at all for two reasons : Chicago Dogs. (Yes, I had 2).
OK, and the Midway display in the concourse.
Our ultimate destination was Pittsburgh, where I was excited to see the Pirates in person. Alas, our hotel was a steep cab ride into town, and by the time we met the bus and made it to the hotel, I was the only one who wanted to go. But don't cry for me, Argentina. My uncle came out to the bus, and instead of the game, we opted for strawberry pie at Eat-N-Park. It all works out.
We then woke up in Indiana, PA, where we played 2 shows for the F.O.P. to raise money. It was a huge success, and I woke up in Nashville, which is a good thing. It seems we crossed the country a bit, and we did, so it was very nice to not have my shoes in motion for a day or so. The shows coming up are awfully similar : Chicago then Temecula, CA the next night. About that map…
After my decompression day, it was back to work. We jumped in the studio with Phil, who is working on some new music. We tracked at Black River Studios, opened by Roy Orbison, and owned by Ronnie Milsap. It was a fantastic day, and we found some great sounds. Below you see some shots from the studio, as well as my improvised 'marshmallow mutes' that I invented for one of the songs. Strangely it worked, and sizing them meant I nibbled them down. Tough job, I know.
The next morning I made an appearance on Fox 17 with my buddy Eric Dahl for his Rock and Review segment. We always have a great time, and he makes me feel very welcome and comfortable on the show. Thanks Eric! We'll do it again soon!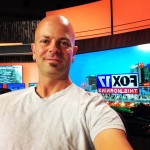 So there we go. Up to speed. Finally. Now I must pack. I'm mostly packing wine bottle carriers. These festivals in California can get a bit out of hand. Thanks for checking in, sticking with me, and for looking past the dark circles under my weary eyes. I suppose it's good training for the little one to be…
And on that front, all is well. Thanks to everyone who asks!
See you on the road!
---
---