Shinybass journal entry 07-26-11
Well how the heck are you? I hope your collective summers are going very well. I am not going to make any reference to the heat, because, well, every year it gets hot, and every year it gets cold. It's called 'seasonal change'. I am thinking of making a list of those who complain about the heat and show them the list in the winter when, (probably from the same folks), there will be grumblings about the cold. I guess I have never been on for idle chatter. We can talk about something creative, constructive, maybe. Or how it was so hot you had to jump in a lake and you hit your foot on the bottom and felt something sticking out, and you pulled out treasure. See? That's fun. Hearing 'It was so hot I had to cool off' is like saying 'I was hungry at dinnertime, so I ate something'. Fascinating, I know. My rant for the day? Social networking….
I really don't have a problem with social networking, in concept. I read that 7 million people a month are opting out of facebook, which confirms my belief that it is simply too much. There is too much living going on via the web as opposed to in the real world. I love staying in touch with people. I love playing games with my little brother online. I hate hearing nothing but negative comments out of so many people. Everyone has a bad day, everyone has anxiety, has thoughts on the government, etc, but how nice would the whole experience be if for one day every comment was positive? (Hmmm… maybe I should just get a bunch of friends that work with Up with People). But with the yin of the happy, is that pesky yang of the sad. Balance. Harmony and balance makes it all work, I suppose. I love the new VW commercial with the girl talking about setting up her parents with a page, and that they only have 19 'friends'. I think it speaks volumes.
So my fb check-ins have been way down over the past few weeks, and it's because I have been doing my best to live outside. Work disrupts that occasionally, but the past two weeks have been really good for me. I took some family time and went to Atlanta, then Maegan and I spent a wonderful afternoon atop Lookout Mountain, exploring old battle sites, and we took a tour of a $1.9 mil home overlooking the cliffs. It was nice, but not for me, really. I would rent it for a weekend, but to live there would be a little secluded. There was no parking for friends. I can't have that. If my house is that big, we should be able to accommodate 2 dozen folks for some game day action. And if you come over for game day, I will allow you to 'check in' on 4 square, but you can't reveal my secret salsa recipe.
But as always, I am getting off the mark. Life is to be lived. Last week was the NAMM trade show, which is a gathering of a bunch of new musical toys for geeks like me to run our hands over and pretend we can afford it. I love NAMM in the fact that I have made some truly great friends through the NAMM show, and ten years later, we are all still here and sharing stories over (way too many) drinks, and remembering the last time we got together, which was 6 months earlier at the last show. I missed my first show in like 6 years in January, so seeing my buddies again this weekend was pretty important to me. I am waiting on the cell phone pictures to be sent to me, so in the meantime, I will show you one of mine – Superstar Yankee-turned Grammy-winner Bernie Williams.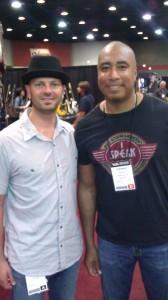 I am pretty much a geek when it comes to sports folk.  I have a few sports buddies, and I have been told it's a mutual admiration society – they want to be us, and vice versa.  And then we all just hang out and drink, so I guess we're not really any different.  I think the glaring difference is that if we win an award, it goes on the shelf.  If they win a championship, they get a fat ring to show off.  Maybe we should have Grammy rings.  Scratch that – Quincy Jones wouldn't be able to lift his arms.
So back on the road for this kid.  My summer vacation is over.  OK, not over, per se, beacuse I look at our travels as a never-ending vacation, but the chances for personal trips wane with the busy summer tour.  I am totally OK with that.  It's my path.  Besides, the effing squirrels ate all, yes all, of my cantaloupe, tomatoes, and are probably making a play for my watermelon as I type.  I really, really need that dog.
Below are a couple of video links for you – one is Phil's new video for 'Let's Get Together', the second is one I did to give you a little slice of life from the road.  I hope you are making plans to enjoy the rest of your summer.  Remember – get out and live life, and if you MUST be onlne, then do it long after the sun has gone down.  Outside is your friend.
See you on the road!
---
---