Shinybass journal entry 07-26-15
Good morning!
I'm currently enjoying the 2 cup of crafted coffee from the bus Keurig machine, and I have to say, I'm addicted to good coffee. My old soul has a hard time paying $4 for a cup of coffee with beans strained through elephant dung (It's actually like $9 a cup for that steamer), but buying in bulk and drinking it on my terms (which means all hours of the day) and not in a 'one-off' machine is my cup real cup of tea. The single serving size is for quitters. Man up and pour the big one.
But what to do once caffeinated? I hope you live. I had a great talk with a friend of mine, and he wants to know how I stay so positive all the time. I don't have a secret or a magic cup of coffee. I just look at each day as another chance; one more day to enjoy all the things of which I've been blessed. So many people don't want to get out of bed. 'I just want to sleep until noon…' Why? Do you know how big this world is, and how many opportunities await you every day?
I hear people say 'I'm not creative', 'I don't know what I want to do with my day', or 'I don't know where to start'. I'm not nudging you to write your novel or paint the Mona Lisa. I know what we need as humans is to interact, be outside, and stay in motion. Start by taking a walk. Then maybe take a walk on a trail system, maybe even one town over. A change of scenery does a lot of good. You'll have to figure out your path from there, but at least I (hopefully) got you off the couch.
Our treks are just about always an adventure, and this week was no exception. We started the week on Tuesday with a 3-song set at the Opry. For those scoring at home, I brought out the 'ragged P' bass, which gets all kinds of comments when I pull her out. She was made to look 50 years old, but it's actually a new build. The tone is pretty spectacular, but that is because of the excellent Seymour Duncan custom shop pickups. It ain't me. But I digress. The 3 songs always go too quickly, and it is always such an honor to walk the hallowed hallways of the Opry, and see that circle on stage. And for ONCE I could actually see Jake, since the house drummer had his cymbals lowered far enough.
The shiny bus rolled out for Jacksonville, NC, for a private show on a Marine base. To say that I like seeing military planes is an understatement. It's pretty badass seeing an Osprey in flight. Beastly, those 'planes' are. The stage was facing a lake, which housed a marina as well, so I had military aircraft, sailboats, and by a stroke of luck, a couple of English Mastiffs to pet, so I had a decent day. I also was able to rub elbows with comedians Tom Green and Mark Viera. Very nice gentlemen indeed. I am glad we could share the bill and play for the brave Marines that defend our freedom. Then, it was off to bed to settle in for a long ride.
The next day we had a show in Twin Lakes, WI. You read that correctly. It's only about 1100 miles away from our serene lake in North Carolina. It took a gaggle of drivers, and our trailer decided to have some bearing problems at 3AM, so we were awfully late arriving. The day waits for no one, so we unloaded, got our fancy stage duds on, and hit at 6:30. We shared the bill with Jamie Lynn Spears, The Swon Bros, Tyler Farr (no kin to Jamie), and Blake Shelton. Our crowd was incredible, but I have to single out some great fans who went through the trouble to make me feel special. Thank you, and thank you Wisconsin.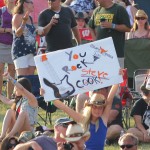 How's about we go on yet another road trip? The next few weeks are going to be crazy go nuts with shows across this great land of ours. Get out your dancing shoes and make your way out to one of our shows. I am looking forward to returning to Mississippi this week, as well as Dosey Doe's in Woodlands. Good ass coffee at that joint. (See how I went full circle there?)
Try and get out and enjoy this beautiful summer. We only get a handful of these in our lifetime, so make it count!
See you on the road!
---
---