Shinybass Journal Entry 07-26-16
The first turn is the hardest…
Some days we ride a 45-foot bus. Some days it's a 737-800. To start the run, we left a congested and very busy Nashville airport (Southwest will hopefully get it all together soon), and after a bit of a delay (which will become the theme of this entry), we headed West to Reno. For about half of our take-offs (and subsequent return approaches) from Nashville International, I can spy my neighborhood and sometimes my house from the plane. When the plane is climbing then takes a turn away from the house, that's when it sinks in that we're leaving. The bus is no big deal: we leave at midnight and sneak away like a thief in the night, and I'll talk with the family first thing in the morning. Seeing the house disappear from the plane window has such immediacy to it.
So we hit 37000 feet (approximation, of course) and headed West. We first touched down in Vegas but couldn't leave the plane – no, not because of that warrant – and finally touched down in Reno, former divorce capitol of the world (with Hot Springs running a cool second). We hadn't eaten since Nashville, so we hit the bright lights of the 'strip', which isn't really a strip at all, and had a great dinner and maybe played a few table games to feel more 'local'.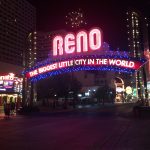 We played the next night in Yerington, Nevada at the Night in the Country, which is a big ol' camping and music festival held in the middle of nowhere (which is why we stay in Reno), and the 90 minute drive out isn't too bad at all. The runner van had a tire issue, so we pulled over in the first 'public' area we could. Just my luck, it happened to be the Bucklands Station, a former ranch and Pony Express station, built in the 1850's. I couldn't have picked a better place for a ten-minute pit stop. I read, I soaked, we drove on.
Spending the entire day on a festival site with no bus kind of stinks. We get very used to our luxury lifestyle, and without suitable napping locations, we have to improvise. I opted for a dip in the pool instead. Yes, a pool. Somehow they rigged up a massive above ground setup, with filters and all. No pictures of this one – I don't want to scare anyone. But I will share the repurposed shipping container they provided for our dressing room. Tiny Houses eat your heart out! It is also available for Burning Man. Inquire within.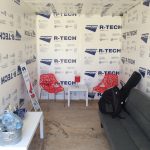 We played a very hot set with Tyler Farr and Chase Rice. We rightly enjoy seeing friends from other bands, and I made a new friend in Suzanne Alexander from GAC, a fellow dog lover, and all around good egg. We didn't get much of a chance to actually hear anyone else, however, since our flight was in the morning, so crashing in the hotel took a front seat. We'll throw things at you next time, gentlemen. A sunset drive back through the desert was a fine end to the day.
After breakfast, I realized I had a solid 3 hours until our lobby call (thanks Central Time baby 5AM body conditioning), so I Uber'ed (is that the right way to spell that?) downtown for a little pawnshop digging and maybe a bite to eat. I didn't find any treasures, but I did manage to get a few thousand steps in, take some great pictures, and found a four-faced clock. Boom. And I asked Siri for the right roulette numbers, and she didn't budge.
We arrived at the airport and checked in, only to be delayed. No biggie. Get us to Phoenix and Kansas City when you can. Well, after our touchdown in Phoenix, our flight was delayed again, so a 3 hour layover turned into 5. I am currently at 39,000 feet pretty tired of being at the mercy of the airlines today. I am glad I was able to get out this morning. It sounds silly, but if there's something you want to do (and have time for it), just do it. I hate that I didn't find a vintage bass guitar for sale, but I am happy I felt some sunshine on my face and enjoyed the swell of fresh air in my lungs.
When this bird touches down in a couple hours, we will (hopefully) be in Kansas City, where our trusty 45-foot long rumble buggy will take us to Nebraska for the show tomorrow night. It will be nice to get in my bunk – but even nicer to be in forward motion. This waiting around stuff is for the birds.
Ahhh…7 sweet, air conditioned Steelers-blanketed sleep for this kid. We awoke in…Nebraska? Hartington, to be exact. All 1600 residents. We actually had a pretty big crowd for our show, much more than 1600 (word travels fast, I suppose), and the sunset behind the stage was one of the prettiest in recent memory. The town wasn't very big, but the hearts of the people were, which is one of the things I love about small town America – people are genuinely nice and will do anything for you.
So there's all the news that's fit to print. Our journey of planes, trains, and automobiles has come to a close, and now we get to regroup, shower, hopefully eat some food that spent some time in the ground, and hug those babies. Yes, I finally used the plural. Sound the alarm. #2 is on the way! I am not really sure what to add after that, so I will leave it right there to simmer. More fun news to follow.
See you on the road!
---
---