Shinybass journal entry 07-30-14
We love to fly, and it shows.
The road, much like life, is much more fun with a few curves. The straight and narrow is not all it is cracked up to be. Gigs are as cut-and-dried as setting up in an arena, playing for a few thousand folks, then going home. Others are logistical nightmares, and one wonders why a band is even hired in the first place. Anyone who has ever been hired to perform has experienced both ends of the spectrum, from the skin-tingling to the skin-crawling. Sometimes the gigs are well-thought out, and other times we are left scratching our heads and wondering.
I've heard of bands flying across vast oceans to play three songs and come home. I've driven to the middle of a barren desert and played for no one. I totally understand why people feel the need for a band. Believe me, I appreciate the work. However, if you think you want a band at your wedding, think again. Just hire a DJ. I've played too many wedding receptions. Like 3. I'm not a fan of the 'hey play something we know!' crowd. Or even better – I heard of one Jersey wedding attendee asking the band 'What do you know that I like?' Ugh…
Luckily we have been able to play many more of the good gigs than the not-so-good ones. And scenery can make a not-so-good gig escalate into a great one in a hurry. I know this all sounds like a dramatic set up for a tragic recap of the weekends' shows. Quite the contrary, my good peoples. Quite the contrary.
We started out in Chicago for a private event, namely the Folds of Honor Foundation. Please take a moment and check out what Maj. Dan is up to with this incredible foundation. It is humbling to be at these functions and hear stories of military families and their struggles and road to healing with the help of Folds of Honor. Our venue was a massive tent set up over the ice-skating rink in Millennium Park in Chicago. We were literally in the shiny reflection of 'The Bean'.
Since I enjoy the walkabout, this time I took advantage of our location and soaked in some summer sunshine and enjoyed the gardens in the Park, just a stone's throw from the massive city. It's amazing where beauty lies if you just look a little closer.
I don't take any sides when dealing in International conflict. I don't know enough about the war in Israel to jump into a debate. I did witness a massive Palestinian protest while in town, which was a mile long. Not your usual afternoon sights.
The energy from the crowd kept everything rocking, and we really enjoyed being part of such a great cause. The lobby call was once again early – somewhere in the 5AM area for a flight to LAX. Needless to say, we were sleepy boys when we touched down. We were picked up and drove towards Temecula for a show in wine country. It sounds terrible, I know. We really were pretty tired, but not really able to get much sleep before the show at the Wilson Creek Winery. Showtime hit, and the adrenaline kicked in hard core. The perfect weather, along with the perfect crowd, and the perfect wine made for a tremendous night. It was great to see our California friends as well.
Now the more than crappy part – a 2AM lobby call. You read that correctly. We went back to the hotel for a 120 minute nap. Then a 2 hour drive back to the airport, where we checked in at 4AM when the airport opened. Yikes. I was asleep from runway to runway. Why the early flight? We had to get back to Nashville for a show at the Country Music Hall of Fame. We were performing our normal set, then to close the set the legendary Charlie Daniels joined us. Surreal doesn't even describe the opportunities that pop up in my life. Charlie is great to talk with, and it is pure joy to screw up his songs. I've been a fan for 35 years. Mr. Kix Brooks closed the show, but since a bed was calling my name, I didn't stick around too long.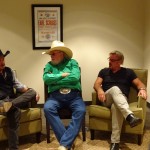 So there's the latest AND the greatest. We are crazy nuts busy right now, and that's a great thing. (Hence the Saturday journal entry). Wait until next week when I talk about midnight Emergency Room visits and even more trips on Southwest Airlines. Until then, please be careful out there, and enjoy this fantastic summer!
See you on the road!
---
---