Shinybass journal entry 07-31-12
What makes you smile?
Good morning!  First of all I need to start with bad news.  After the band was dropped off at the airport in Chicago, our tour bus had a blowout on the highway, and our driver, while trying to keep this massive beast from doing any damage or hurting anyone, maintained enough control to keep the bus upright and had to put it in the woods.  There were no band members on board, and we are awaiting word on whether or not the bus will be a total loss.  My one real morning off is about to be spent pulling personal effects and cleaning out the inside of the ol' girl, which threw a wrench in my kayaking plans this morning.  Good news to all this is that no one was injured in this wreck.  Judging by the look of the bus now, I don't think that would have been the case if we were on board.  This could have been bad. So as we count our blessings today, make sure you count yours.
And speaking of counting blessings, last time we checked in, I was in a Panera bread shack somewhere in the middle of Ohio.  We had just finished a huge festival in Milwaukee, and I spent the day in the movie theater and practicing music for an upcoming show.  Days off are tough sometimes.  They try to get the bus in an area where there are things to do, like a mall, but my ideas of 'things to do' differ slightly from the average bear.  I would rather get out than in, and 'shopping' is not my idea of a 'leisure activity'.  But we make the most of what we have, and I knew that the next day off (which would be 48 hours later in the exact same spot) would be better.  But first, on to New York.
Our show was on Long Island, which may have been a first for me.  I don't remember spending much time up  that way, but I loved the weather, the New York attitude of the people didn't disappoint, and the backdrop for the day was painted with sailboats and blue skies.  After lunch, we took a little detour off the main drag and drove by the Amityville Horror House.  It has been remodeled, so it looks like any other Cape Cod-style home on the street.  I would live there, especially since it has deep-water access.  The crowds gathered, and whereas we thought our show was at 8, it was actually at 7, which meant no shower for the band – post afternoon football. Oh well – it was a wildly successful and fun concert, more so for me because my good friend Michael Breed from the Golf Channel came out to spend some time with us.  His energy is enough to power a small village.  I am hoping he gets to Virginia for Phil's golf tournament. After an (hour) drive to a hotel for showers, we were off once again to the middle of Ohio.
This go-round, I was on the hunt for a rental car to be anywhere but at the mall on this day off.  I realized very quickly that the Football Hall of Fame was using the bulk of the rentals in the area, so after lunch we were able to commandeer a little 4-knocker to get us to our destination of the day : Cleveland. Why would anyone want to visit the Mistake-a by the Lake-a? Well, it had been some 10 years since my last visit to the Rock and Roll Hall of Fame, so J Dawg and I went to check things out.  I was greeted by this display in the lobby, which honestly would have been plenty, but the Beatles exhibits awaited, along with a treasure trove of artifacts.
An added bonus for the day – the USS Cod, a WWII-era submarine on display about 500 yards from the Rock Hall.  Again, the $7 is totally worth it for me to walk through an amazing artifact.  It very much reminds me of the tour bus, which I call the sub all the time.  It was a wonderful taste of what awaited me the next morning in Osh Kosh, WI…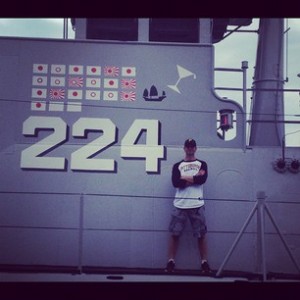 As the bus pulled into the airport grounds in Osh Kosh, I was immediately in heaven.  There were planes as far as the eye could see – actually some 10,000 planes were in attendance for the EAA fly-in, and my head was on a swivel.  Even after flying above the grounds, walking the grounds, and riding a golf cart around the grounds, I didn't see half f the show.  Did I mention 'flying'…
Upon arrival, I was shuttled to 'Warbird Alley' where countless vintage aircraft were parked.  It looked like a WWII flight line out there, with all kinds of wonderful planes at the ready.  I was told that my chance to go up would come in the form of a great pilot named Tim who had a T6 trainer.  After an easy brief, we were on taxi, and a few minutes later, we were above Lake Winnebago, making turns and even getting a barrel roll in.  My smile was probably visible from the ground…
After coming down from that adrenaline high, we drove out to Appleton, about 20 miles away for the cherry on the day – a ride in a B17 bomber.  I have been enamored with the B17 as long as I can remember, and this ride ( and the one I took a few hours earlier ) were both on my 'Bucket List'.  I am a firm believer in this list, and I am getting to cross more and more of these things off all the time.  In a word, the flight was incredible.  It's a pricey endeavor, but if you have the chance to ride in one, don't pass it by.  They are making money every day.  They AREN'T making these beautiful planes anymore.
And like a child spending the day at the playground, I didn't want to leave.  I had a nightcap with a bunch of old pilots, and had a great conversation with another T6 pilot from Chicago.  I was amazed as to how comfortable the whole hang became.  They were all welcoming and nice as can be, even though I was an 'outsider'.  And remember, these planes can cost up to a million dollars each.  Yes, a million, so this is their playtime…
The next day we had to hop on a short 4 hour flight down to San Diego.  The KSON radio events are big, and this one was sold out.  We were with The Farm and Lee Brice, neither of which I saw (we like the down time before a show, and stay at the hotel as long as we can).  By the time we hit, the crowd was in a frenzy, and we fed off that energy as well.  After a nightcap in the hotel bar, I was taking my tired bones to bed, which happened to be 14 stories above the beautiful water.  Not a bad way to wake up.
We found the local equivalent to the Pancake Pantry (long lines and great food), and I took a nice long walk around to let the pancakes settle.  Again, I haven't had much time on the ground in San Diego, so I was really liking the quiet of the Sunday morning, and the serenity of a solo walkabout.  Ironically, we left Chicago's Midway airport, then docked by the hotel was the carrier USS Midway. Creepy, I know.
As I shared the week with my family, my brother remarked – 'You are having a pretty good week!'. Well, yea, it was a pretty good week.  I know we get to do a lot of really cool things, and it is never lost on me.  I appreciate every chance I get to see something special and unique, even from 5000 feet.  A couple of things I learned this week – the planes are noisy as hell, and there isn't any 'talking' without shouting or radios, so Hollywood ruined that.  Second, whatever it is you want to see or do before you leave this rock is possible.  100% possible.  The old adage of 'Where there's a will, there's a way' applies to so much.  Make it happen.  Just make it happen.
And now I must lay down my proverbial pen and head to the bus lot to assess and clean our little accident victim.  We'll be using rentals for the next few weeks, and we may even get a new bus.  That is always fun.  I do like this one, though, since I just found where Phil stashes his oatmeal.  Big shows on the horizon, so come on out!
See you on the road!
---
---