Shinybass journal entry 08-05-14
Look at me! No, wait. Don't.
WARNING! GRAPHIC PICTURE AHEAD. OK, there's my internet disclaimer. I don't think the picture is that bad, however, when paired with the story and the sound effects, one may get a little squeamish. We'll get to the gory details in a few. First, the weather. Hot. OK, back to our program. If ever I share too much or get too deep for my own good, somebody stop me. I realize that by having a 'blog' (I really hate that term) I have launched myself into 'look at me' status. I really try to maintain the balance of information, personal insight and travel highlights. Some frown upon this combination, with the 'professional' bass player/producer/videographer side of me suffering because I'm not talking about gear or promoting my latest instructional video. Well, since I don't have an instructional video, then we're in the 'safe' zone, aren't we? I really just want a chance to vent, share, and hopefully inspire – without all that other baggage. It will creep in, especially as I am at home sitting on 950 copies of my CD after printing 1000. So get ready.
So back to the sharing part. Touring, of which I do a lot. This week I posted a journal entry in the middle of the whole sha-banga-bang, and that was not only different, but slightly awkward and painful. Lemme 'splain. The first show of this run was in West Allis, WI, home of the Wisconsin State Fair. If you know PV and your Wisconsin history, you know that he usually plays Summerfest, and that this year, he took a radical left turn to break that 12 year tradition. We had a ton of friends in the area for the show, and our visit was made extra special by being able to sneak away and have lunch at the Calderone Club, the absolute best Italian restaurant anywhere. ANYWHERE. Trust me on this one. We had a great soundcheck, everyone was loose and in a great mood, we ate a nice dinner, then, well, things got ugly.
Trying to loosen up a little before dinner, J Dawg and I threw the football around back stage. About 5 minutes in, I mishandled a pass, and the middle finger on my right hand felt like a needle shot through it. I looked down, and the tip of my finger was at a 90 degree angle. To say it hurt was an understatement. I attempted to pop it back into place, and it went from 90 to 45, but it still sort of dangled there. Remember I have to be on stage in 90 minutes. I spoke with the EMT's, and they didn't want the liability of popping it back into place, so I took some Advil and a shower, and played the show. My finger felt like it was going to fall off, but nobody in the crowd would have cared. They didn't plunk down their hard-earned money to hear my sad story, so it really doesn't matter. That's the sad truth of what we do.
I visited the ER at about 12:30 AM outside of Milwaukee, and the staff was fantastic. I found out I have a hairline crack in one bone, and the tendon is torn. SWEET! Through it all, I was very grateful that our runner took time out of her evening to get myself and our social media guru Jay to the ER, and that we keep Advil on the bus. Thank you, Elmbrook ER for your help!
So what then? I have this finger that is supposed to stay immobilized for 6 weeks, and I sort of use it for a living. My middle finger is actually the most important finger on my right hand, since it is my primary striking digit. All of a sudden, I am now un-learning 30 years of how to play bass f0r the next show. (And typing this with limited range on my right hand – I hit the delete button a lot…) But again, the fine folks at the shows don't really care. Bloomington, Illinois didn't care. Nor does the camel at the petting zoo. But he did want my coffee, which is how I managed him to stay so still. And no, he didn't spit. Camels won't spit on your if they think they are going to be fed. Or at least that's what I told myself. On a side note – the kind people of Bloomington were amazing, and I am glad the rain held off so we could play our full show.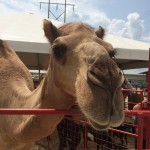 The next day we had a corporate show for an insurance company. These shows are private, so apologies to our Milwaukee fans who wanted to come out. The day started with Phil and I heading out for breakfast, and found a spot called the Grasshopper Cafe in downtown West Bend. This place had amazing everything. The town was hosting a huge farmer's market, so there were lots of people out, lots of fresh food to buy, and a few side attractions. These musicians were playing Beatles songs, and had no idea the man who stuffed their tip jar has had 26 Top 40 hits. Kudos, boss.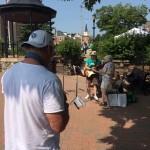 I saw this little plant coming through the pavement, I really thought it amazing, especially as people shuffled by without giving it a second thought. I posted the picture on Instagram with the caption 'What's your excuse?', and I think it went over most folks' heads. This little guy found a way to break through, against every bit of resistance. I like the attitude.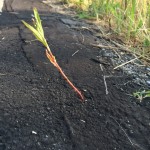 The show was fun, the after show food less-than-healthy, and the finger enjoyed its new surroundings during show time – a gaff tape wrap to keep it immobile. The finger only hurts when I am breathing. (I know – cue the violins…)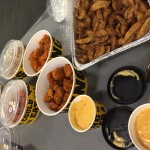 The next day we were booked in New Bedford, MA, a former whaling village, now home to Battleship Cove and the Lizzie Borden house. I thought it interesting that the Borden house is now a B&B, for the truly adventurous and semi-macabre. On this trip East (flying out of Chicago), we were not treated to any local sights – with the exception of one of the largest Portuguese festivals in the world. The celebration – the Feast of the Blessed Sacrament – was celebrating its 100-year anniversary. They had a ton of food, lots of Madeira wine, and a ton of people. We were sort of stuck on site all day because of traffic and our distance to the hotel. It all worked out, though – we had a fun show, and enjoyed celebrating with a few thousand of our closest friends. And I think I have a new idea for my BBQ pit…
After a long week, and a long day, we were allowed to get a 3-hour nap and catch our flight home. We ended up being delayed in Baltimore by about 90 minutes, and to our crew of zombies, it was rough. And it wouldn't have been so bad had we flown directly home – those hour and fifteen minute flights are terrible since no real sleep can be had. Ah well, it's all for the love of the game.
So I took a little break this morning (Tuesday)  and visited a local Orthopaedic specialist, and yes, my finger is screwed up. I have to keep it splinted 24 hours a day for at least 6 weeks. There is a peice of bone floating around in my finger, and hopefully that will heal up as well.  Thanks for the twitter love and support, and I will keep you all posted as things progress.
So there's your week in review. Lots of miles, lots of memories, and a little bit of pain. Kind of like life.
All right – next up – Oregon! I hope I don't get cholera on the Trail!
See you on the road!
---
---