Shinybass journal entry 08-12-13
Hi-Ate-US!
Three weeks is a long time.  It's been about that long since I logged into my blog site and typed out my stream of consciousness attempting to tie words together to make a complete, albeit a run-on, sentence.  My road to good intentions was filled with many distractions, from mountains to plains to baseball to music to bear to beer to sunburns to more music to sleep to eat to breathe to bike to live to learn to love.  We only put like 10,000 miles on the bus for this trip, so no big deal.  Bear (or bare) with me as I scribby-scroll through my calendar to see exactly where the hell we have been and what we've been doing for the past, oh, 21 days.
This long train started in Memphis.  After that we journeyed up I-81 for a show in upstate, NY.  When I say upstate, we were about 30 miles from Canada.  Keep that in mind as I continue this journal entry.  We then played a fantastic Sunday afternoon show in Webster, MA, at the Indian Ranch resort, which is one of the oldest resorts of its kind in the country.  The first three shows were pretty inspiring, with the band hitting on all cylinders, even with the thought of the upcoming 2000-mile trip looming in our headlights.  We were scheduled for a West Coast run.  The problem with touring the West Coast, of course, is getting out there and making it worthwhile.  Generally we don't drive to California for one, or even two shows – those become 'fly dates'.  This time, we had some other stops, such as Idaho, Wyoming, and Utah, hence the need for a bus.  Plus, I don't think Wyoming has an airport yet.  Weren't they just admitted to the union, like twenty minutes ago?
When traveling cross-country, it is imperative that your bus driver sleep.  Lack of sleep not only has legal ramifications, but also safety concerns, so we stop the bus for 10-12 hours in a random location and let the driver sleep before venturing onward.  And sometimes the days off are more exciting than show days.  And even better since I brought my bike this run.  Day off #1 was spent in Toledo, where I bussed it downtown and caught a Mud Hens game, biked about 12 miles, took in some historic sights, then had dinner with a dear friend.  Those make for good days off.  Here's some sunshine, and the largest wooden fort in the country.  You are welcome.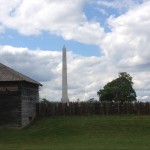 Day off #2.  Des Moines.  Next.
Day off #3, Cheyenne, Wyoming.  Now we're talking.  I had visions of horseback riding, maybe punching cattle (whatever that means), and riding on the range while eating beans.  I settled for the Wyoming State Museum, the Governor's mansion, and a 2 mile run at sunset which was (literally) breathtaking and beautiful.  The downside – riding the bus back from downtown with the locals, who seemed to have a penchant for a mixture of Sudafed and Drano.  Showered and relaxed, I had dreams of our next stop – Wendover, NV.
I have been to many spots in my day, however, Wendover is a first for me.  It's just a few miles from Salt Lake City (where we had an uneventful day off after Cheyenne).  The drive is was amazing, watching the landscape transform from having some green to desert to salt.  Wendover is unique for a couple of reasons – first – the Bonneville Salt Flats are not far away.  Second, Wendover was a vital base during WWII, and according to MacArthur, trained the best aerial gunners in the armed forces.  The Enola Gay and Bockscar both trained here, and for you movie buffs, the air base became Area 51 for the movie Independence Day.  I was excited to be walking in the footsteps of history.  Bonus points if you knew who the pilot was who signed this A-bomb before I mentioned it…
Another great reason I love this touring crew are the field trips, and the short drive to the flats was worth it.  Here I attach a couple of Roman candles to my feet to attempt a record of some kind.
The show in Wendover was better than I hoped, and we were off to Rock Springs, Wyoming for yet another show.  We could definitely feel the elevation as we played, and a long day turned into a really wonderful night, with White Mountain as our backdrop and the cool air keeping a few thousand people (as well as us) happy.
As fate would have it, our trip to Idaho was rescheduled for February (Can't wait to show you the pictures of me in a parka!) So we took our new found day off and parked in Vegas.  Ahhh…a couple buckets of beer (AFTER MY RUN AND WORKOUT!) and it made for a very relaxing, sunburned, and needed day off.   And if you want a very nice, unpretentious Vegas stay, check out the Green Valley Ranch.  Really, really relaxing, yet crazy if you want it to be.  I opted for chill.
Next it was off to San Diego for a private function for Folds of Honor, a remarkable charity doing some amazing things.  We had the good fortune to perform with two extremely talented kids from the program, and I look forward to getting more involved with the organization in the coming months.  After our show, we ambled off to KC Barbeque, where some scenes for the movie Top Gun were filmed.  The mega-yacht pictured below next to our bus is the Luna, a 200-million dollar craft.  It is 337 feet long and boasts a crew of 40.  If any of you are looking for a gift idea…the house is from Old Town San Diego, which is a fine tourist destination, home of the best tortillas I have ever had in my life.  Granted we were about 6 blocks from Mexico at one point. (remember that Canadian reference from earlier?) #miles
Back on the bus (not on the boat), we headed back to Utah for yet another leg of this journey.  Winding through the high desert and the rocks yet again, I was floored by the endless beauty, but began to long for the green grass of home.  I don't let it get me too down – Facetime has helped that a bit – and of course we are never really out of touch.  As we pass these mountains, I wish we had time to stop and explore, but I must remember that I am here to work.
The day was ours in Utah, so I was able to get a decent breakfast, workout, I saw a baby bear that was a little too close to the local golf course and had to be relocated, and met some very friendly horses that didn't want me to leave them fence-side.  Then the temperature dropped to 50 at showtime, and a bunch of dumb under-prepared musicians were a little less sweaty than usual.
Our last show was in Grand Junction, a great little town surrounded by beauty and extremely friendly.  After a hop to the Denver airport, I was home.  Home.  And somehow I managed to only buy a few thousand souvenirs, stay under my 50lb weight restriction in my bag, and bring home some relatively clean clothes.  I know it sounds a bit hurried to shove 3 weeks into one blog, but rather than give you every detail, I thought the Cliff's Notes' version would suffice, and I'll get deeper next week.
I will share things that I have learned, however.  First, I have come to enjoy running, and by running in these little towns, I can see things I wouldn't have normally experienced. I dig.  Second, seeing that mega-yacht owned by a Russian billionaire was funny.  We all long for wealth and riches, but that thing, as cool as it was, looked like a major headache.  Mo' money, mo' problems.  I'll ride, not scrub. I know the owner isn't scrubbing that thing, but heavy is the head that holds the crown.
I also learned that time is very precious.  Old friends are wonderful to reconnect with, and sharing a cup of coffee and talking is still pretty damn cool.  Too often we are wrapped up in ourselves (myself included), and it's just good to be with good people.
I appreciate you letting me take some time off from this journal in the middle of busy season, which, of course, is NOT the time to get lazy, however, it felt good to get away, so to speak, and also to be 'back'.
Thanks again for reading.
See you on the road!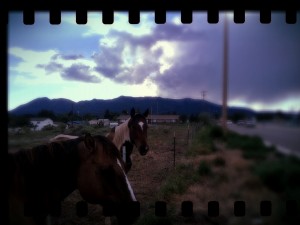 ---
---